On the far upper end of the vacation rental world are people who forgo hotels and traditional inns to rent their own baronial estates with sweeping views and all the over-the-top comforts befitting a celebrity. They are the 1 percent, or those who want, if only for a weekend, to feel what it's like to live like the 1 percent. That includes all the accoutrements: outdoor fireplaces, pizza ovens, big pools, bocce courts and home theaters.
This is the market that Liza and Patrick Graves sought to tap when they moved to Sonoma about 20 years ago. Inspired by their own experience renting getaway homes from Connecticut to Europe, places where they could cook their own meals with fresh ingredients from the farmers market and meet locals, they saw an untapped potential in the high-end homes of the Sonoma and Napa valleys. Many were second homes and sitting vacant much of the year. In 2003 they launched Beautiful Places, a vacation-rental company headquartered in Sonoma and specializing in "luxury villa rentals." They currently have 35 to 40 in Sonoma Valley and Healdsburg, a few in Napa, and a growing portfolio around the world.
"This is nothing new. If you read a lot of the famous classic writers, they were always renting homes in far-off places," Liza Graves explained. "Many of the high-end homes in Wine Country have been purchased by second-home owners, people who want to use their house, but only one or two weeks every year. Many of these people want the chance to use their property some of the time and recoup some of the costs by renting it out. Houses are much better if they're lived in than if they're vacant. If your house sits vacant most of the year, it's going to deteriorate faster than if the systems are being used."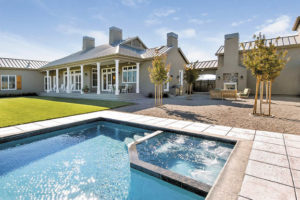 Her exclusive listings include the old Sebastiani family home perched on a hill above the winery in Sonoma, and the popular Villa Carneros, a plantation-style house set in a vineyard with luxury appointments, including a formal dining room and wine tasting room. Also hot is the Vineyard Knoll Estate in Glen Ellen. Showcased three years ago on TV's "The Bachelor," it boasts a grand piano and a free-form pool and spa with panoramic views of the Mayacamas Mountains.
Not all houses are over the top in luxury, but each must have, as Graves puts it, a certain "je ne sais quoi" that sets it apart.
She said she carefully vets houses and guests to weed out bad apples or anyone thinking about throwing a big party in a rented villa. No more than two people per room are allowed.
While big parties are a no-no, Beautiful Places, which also serves as a full concierge service, will arrange for private chefs and accommodate extra-special requests, such as for the couple who wanted to put on a Medieval-themed dinner party, complete with costumes, drumsticks and dancing to a live trio.
"We had a 60-year-old woman who was getting remarried. She had her girlfriends for the weekend and she wanted someone to teach them pole dancing. We found somebody to do that.
"We do get a lot of unusual requests, but that's what makes it fun because you're helping people to have a vacation or reconnect with their friends or family," she explained.