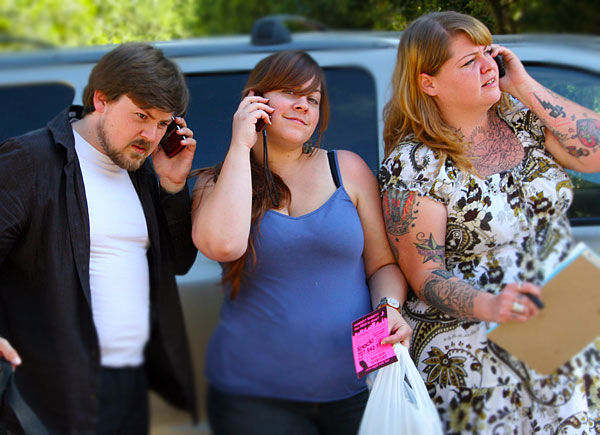 Knock Knock.
Who's there?
Your dinner, a movie, some wine and a carton of Ben & Jerry's for later.
It's Knock Knock Santa Rosa.
If you've ever been pregnant, sick, babysitting, indisposed, on house arrest, tipsy or just plain tired, you can appreciate the idea of a friend who'll pick up and deliver to your doorstep whatever you're craving, anytime you want, with a smile. Knock Knock is that friend.
Available by Tweet, Facebook, text or phone call, the cheerful crew at this we'll-deliver-anything start-up spend their days and nights running out to Sonoma County restaurants, stores, gas stations and minimarts then delivering the goods to local doorsteps. Seem like a ridiculous luxury? Hardly. Within Santa Rosa, the cost is a $10 flat fee for one stop and $3 for each additional stop (with a few conditions*), and the time frame's usually about a half hour. Outside Santa Rosa (they now deliver to Rohnert Park, Healdsburg, Cotati and Sebastopol), it's $15.
And in case you missed it: They'll pick up and deliver anything legal from 9am to 3am daily. Anything.

Which is where the wheels start turning. Yes, they'll return your videos. Yes, they'll bring you beer (as long as you're legal, junior). They'll go get you Thai food and a tasty bottle of wine to go with it. They'll bring you cough medicine and tissues at 2am. They'll do your grocery shopping, pick up your patio furniture and drop off your dry cleaning. Suffice to say co-owners Matlock Zumsteg, Melissa Gordon and Jinx Rhodes haven't turned anyone down yet.
Their oddest requests so far: Octopus for a late night sushi session, a roll of antacids to a refluxing bridal party on the town and a combination gasoline/cookies & milk run. They don't deliver beer after 2am or people — meaning they're not a taxi service and it's a cash-only biz, so you'll need to have some bills on hand.
What's really sustaining them isn't the beer-set, but restaurant and grocery delivery.  "Restaurants can't afford to staff delivery, and that's where we come in," said Melissa. The trio have a staff of independent drivers dispatched by "hub" workers who answer phones and social networking requests 18 hours a day. Unlike other restaurant delivery services, they'll go to any restaurant that's open and get you anything off the menu. In fact, they'll even help you order if you don't know what you want. They also go to grocery stores and even farmer's markets for fresh goods.


To test out Knock Knock, BiteClub gave some pretty unclear lunch requests — some noodles with bbq beef and spring rolls from Pho Vietnam. Thirty minutes later, two boxes of vermicelli arrived, still warm and just what we wanted. Solid.
The idea behind Knock Knock was inspired by Pink Dot in Los Angeles, a market that delivers groceries and other goodies around town. Anyone who lived in San Francisco or New York during the dotcom boom remembers fondly Kozmo.com, the hipster bike messengers who would deliver magazines, movies, food and just about anything else until their sad demise in 2001.


Just two months old, Knock Knock has the modest goals of trying to promote local, sustainable businesses and helping the creative trio (and their staff) make ends meet. Start-up costs for their web presence and business permits from the city were about $150, good news for the part-time documentary makers, improv actors and W-Trans contractors who just months ago were brainstorming how to pay rent. "Necessity is the mother of invention," said Matlock.
"We're just trying to be so helpful for your $10," said Matlock. "Just tell us what to do, because we never ask 'Can we do it?' We just figure out how."
Want Knock Knock to deliver something? Find them at knockknocksr.com or on Facebook . First-timers need to call 543-1110 to get the details on delivery. Currently, they're a cash-only biz but plan to be able to take cards in the near future.
*This is a business, after all. Orders over $50 have an 15% service fee and big jobs (like picking up patio furniture) may cost a little extra. But Melissa says they're willing to negotiate to figure anything out.
Subscribe to Our Newsletters!