Under $40
Gravenstein Apple & Clove Soothing Bar Soap – $6 for 4.75-ounce bar
The Soap Cauldron / Three Sisters Apothecary
Located in The Barlow, Sebastopol
707-888-5659, soapcauldron.com
Nothing says Sebastopol like the smell of fresh Gravensteins. This sensuous soap combines the sweet smell of apples with the spicy scent of cloves, creating an aroma to cleanse the senses as well as the body.  The combination of calendula, lemon balm and Shea butter will nurture the skin and leave it feeling soft. And knowing that this soap is made using extract from locally grown apples? Priceless.
Carob-Dipped Dog Cookies – $1.75 for two
Three Dog Bakery
526 Broadway, Sonoma
707-933-9780, threedog.com
For the dogs – Lick 'n Crunch cookies look good enough for humans to eat, yet they're baked for Bowser. Surprise man's best friend with a smorgasbord of scrumptious treats that will leave him begging, sitting and staying for more. Lick 'n Crunch cookies come in four flavors and are dipped in natural carob and sprinkled with nuts. Other baked coogies include Woofy Pies, Drooly Dream Bars, and Christmas-stocking cookis personalized with a pet's name. Warning, dogs might have to hide these treats from their humans.
Sarracenia "Abandoned Hope" – $18.75
California Carnivores
2833 Old Gravenstein Highway, Sebastopol
707-824-0433, californiacarnivores.com
Don't let this delicate plant fool you. It's quite dangerous … to meaty little insects and even rodents. Cultivated by Peter D'Amato, the local author of "Savage Garden," this particular hybrid graces the cover of the book on carnivorous plants.
Parasol Recycled Hummingbird Feeders – $25-$55
Urban Garden
2313 Magowan Drive, Santa Rosa
707-543-7037, myurbangarden.com
Hummingbirds won't be able to resist the sweet watering hole made created for them from vibrantly colored recycled glass.  Several styles are available, each combining whimsy with traditional feeder design.  Whatever the choice, one of these feeders makes any garden something to hum about.
Antique Monogram Pendant with Pearl Chain  – $29.99
Summer Cottage Antiques
153 Kentucky St., Petaluma
707-776-2873, summercottageantiques.com
Local artist and designer Nanine creates one-of-a-kind jewelry using antique pieces on a delicate chain. These particular necklaces utilize a monogrammed pendant, perfect for a daughter, wife, bridesmaid, friend or other special gal.
Zombie Survival Kit – $35.97
Plan B Survival Store
513 David Clayton Lane, Windsor
707-837-5681, plan-b-survival.com
Even if there's no such thing as the zombie apocalypse, it's better to be safe than sorry. Plan B Survival Store sells Zombie 3-Day Survival Kits, equipped with high-calorie food bars, a whistle, a hammer and seatbelt cutter, and everything else one might need to survive 72 hours after a disaster. Be prepared for other emergencies as well; the store has multiple supply kits for every dire occasion.
Primula Glass Top Espresso Coffee Maker – $44.98
Hardisty's Homewares
1513 Farmers Lane Plaza, Santa Rosa
707-545-0534, hardistys.com
There's plain old coffeepot coffee. And there's coffee that becomes an experience to remember. Just as enjoyable as the rich taste of freshly brewed stovetop coffee is the sound of the bubbling brew as it steeps to perfection. The aluminum chamber heats the brewing coffee evenly, and the heat-resistant glass pot makes it possible to see when the coffee is done.
$40 – $100
Brighton Jewelry Love Affair Necklace – $46
Images
9061 Windsor Road, Windsor
707-837-0160, pierceyourears.com
Holding fast to traditional ways of jewelry making, Brighton is famous for its original designs, hand-sketched by artists who are involved in the creation process from beginning to end. This is true of the Love Affair Necklace, a pendant with two intricate designs blended into one, creating an affair to remember for an anniversary or gift of love.
Pluie Pluie Children's Raincoat – $46.50
Reverie Baby
2406 Magowan Drive, Santa Rosa
707-544-4630,reveriebaby
Keep any toddler dry and crowd-stopping adorable when the rains hit with these fashionable raincoats. When dressed in styles including leopard, striped, outer space and more, tykes will be the talk of the town. Raise the cuteness ante by pairing a coat with a matching umbrella and boots.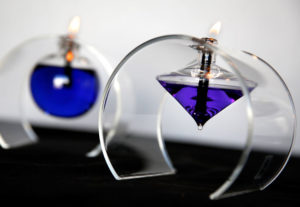 Arch Light lamp – $47.50
Wolfard Glassblowing Co.
6782 Sebastopol Ave., Sebastopol
707-823-9994, wolfard.com
The intricate design of this hand-blown lamp will have guests musing about the effortless suspension of the cone-shaped oil reservoir, hanging from a delicate arch. Enhance the beauty with colored oil, or keep it pure with clear.
Reversible Puffer – $49
Fideaux, Outfitters for Dogs & Cats
43 North St., Healdsburg
707-433-9935, fideaux.myshopify.com
The weather is cooling down and our furry friends can't stop shivering on their daily walks. Keep the pup warm with this reversible puffer vest, made in vibrant fall colors of orange or brown. It fastens with Velcro, and there's a hole in the back for the leash. Fido won't just be the warmest pet on the block; he'll be the most stylish, too.
Ivory and Rum Pink Floral Tiara – $85
Tallulah
|226 Healdsburg Ave., Healdsburg
707-473-9277, mytallulah.com
Whether it's getting ready for a wedding or just preparing to clean the house, every girl deserves a tiara. This ornamental crown is made from ivory porcelain and fabric flowers, embellished with rhinestones, Swarovski crystals and a mixture of faux and freshwater pearls in muted rum pink. It's sure to make every moment feel royal.
Over $100
Blackthorne Forge Table Scroll Clock – $150
Artisana
146 North Main St., Sebastopol
707-829-3036, artisanafunctionalart.com
Combining functionality and creativity, this copper-faced timepiece with a natural, oiled-metal finish offers a bit of whimsy to the workspace. After all, not everything has to be so serious.
Trois Earring – $163
Robindira Unsworth
115 Petaluma Blvd. North, Petaluma
707-773-3147, robindira.com
Inspired by her worldwide travels, Unsworth is personally involved in the creation of the hand-crafted jewelry in her store. Of note are her Trois Earrings, an elegant design that dangles a pointed, oval-shaped topaz surrounded by peridot and blue quartz and encased in 22-karat gold vermeil.
River Rock Cairn Fountain – $189
Eminent Design
450 First St. East, Sonoma
707-935-8880, eminentdesign.net
There's no sound to this fountain and rock garden as the water cascades over the perfectly shaped stones gathered from the river. This sculpture brings nature indoors and fosters peace of mind.
Recycled Rooster Art – $300
1212 13th St., Santa Rosa
707-542-4782, kingsflowernursery.com
Give any garden something to crow about with this quirky piece of country art. Using scrap pieces from metal barrels, this upcycled lawn art is not only quintessential Sonoma, it's eco-friendly.
Bombay Chest – $1,260
Cokas Diko Home Furnishings
529 4th St., Santa Rosa
707-568-4044, cokasdikofurniture.com
Bring a little sophistication into the home with this hand-painted, five-drawer chest, artfully weathered with a crackle finish. Standing 31 inches high, this distinctive piece will add spice to a bedroom, living room, office or den.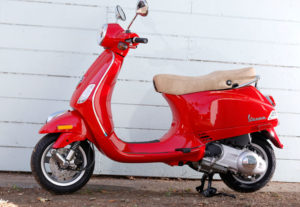 Vespa LX 150 – $4,399
Revolution Moto
518 College Ave., Santa Rosa
707-523-2371, revolutionmoto.com
Break free from the mold by taking this sexy little number for a spin. Once we realize how much we're saving at the pump, we'll have a hard time ever going back to four wheels again. This Vespa comes in an array of colors such as dragon red and sky blue.