When John Franchetti announced he was splitting with longtime Rosso Pizzeria partner Kevin Cronin in December, fans of his rustic Italian cooking were concerned. But as it turned out, things only improved for Santa Rosa diners.
After Franchetti stepped away from the two Rossos in Santa Rosa and Petaluma, he was able to focus more on his baby: Rosso Eventi + Rosticerria, which the duo had opened in early 2014 in Santa Rosa.
First order of business: change the name to Franchetti's Wood Fire Kitchen to emphasize flame roasting. Second, expand the menu for more Cal-Italian dishes and new dinner service. Third: amp up the fun. We can play Ping Pong next to the dining tables, a fittingly offbeat activity when we're dining in what's also a catering commissary in an industrial/office park at Dutton and College avenues.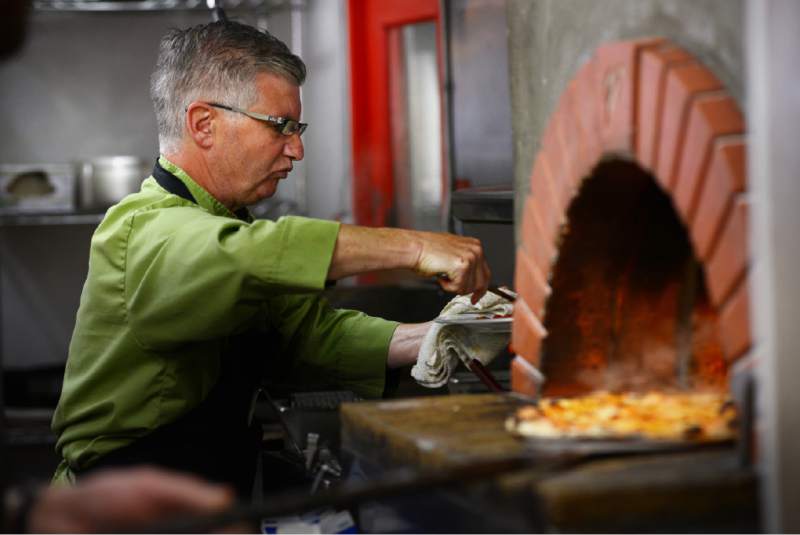 Wisely, the chef didn't change the backbone of his menu, keeping his signature breakfast hash, upscale sandwiches and thin crust wood-fired pizza. But now we can savor that hash ($12.75) as lunch, too, in a tumble of fire-browned potato chunks, bell peppers, onions, mushrooms, chicken, thick cut bacon and a crown of two over-easy eggs sprinkled with chopped scallions and herbs. It's a big, bright mix-up, all mounded in an iron skillet, then presented on a wood board.
Rosso Eventi was planned primarily as workspace for Franchetti's burgeoning catering business, and the layout still feels workman. From the order counter, guests can peek into the 2,500-square-foot kitchen. In a clever touch, a towering potted tree near the front door is on a wheeled dolly, so the space can be completely rearranged for private parties.
The dining room has been dressed up a bit, including a corner nook set with lounge chairs and board game tables. Yet we still choose from a paper menu printed and tacked to the wall, grab a number and wait for food delivery to our table. Casual, yes. At one busy lunch hour, Franchetti's wife Gesine was juggling multiple tasks between kitchen and counter, and I got a cheerful "Here's your sandwich!" as a summons to pick up my food.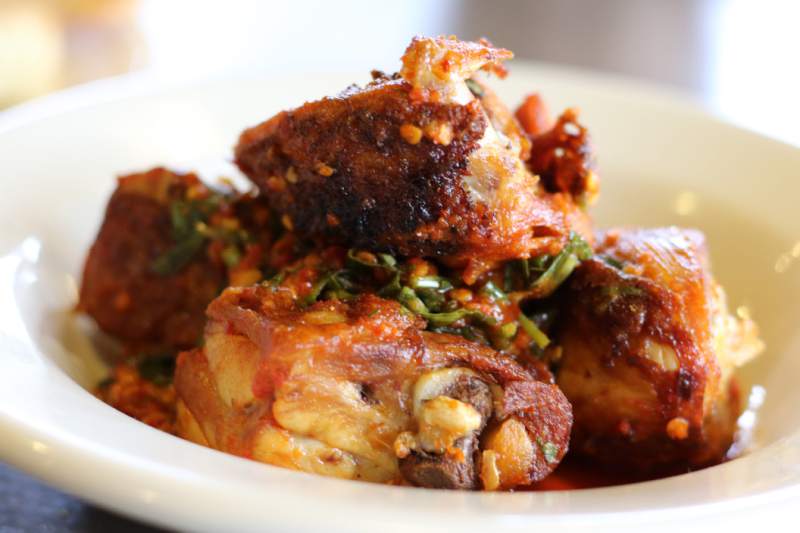 As I dipped my tri-tip ($10.25) into a cup of hot jus, though, etiquette didn't matter. The ciabatta here is perfect, chewy crusted and savory. Thick-cut beef is study enough to hold up to the bread, slicked with earthy chimichurri, garlic aioli and a bit of caramelized onions, while a side of homemade potato chips adds crunch.
Whap-whap-whap, a Ping Pong ball bounced back and forth nearby as my companions and I nibbled on creamy omelet folded with Swiss, feta, spinach, roasted onion, sun dried tomato and spicy Italian sausage with a side of home fries ($15.75). Like the setting, our meal was a bit-of-this-and-that, part breakfast, part lunch, featuring a juicy Rocky chicken sandwich slicked in chile mayo and a layer of sweet apple slaw ($9.75), plus another Franchetti hallmark — his excellent veal and pork meatballs tucked into sourdough with rich pomodoro, parmesan and the secret weapon, burrata ($11).
For good measure, we also got the Manchester 92 pizza ($17 11-inch, $19 14-inch). I remember my first bite of such pie at the newly opened Rosso in 2008, and it's still one of the best in Northern California. Think crisp crust spun lavash-thin and christened in a hell-hot oven, emerging bubbly and puffy-edged under a mantle of pepperoni, Italian sausage, prosciutto, mozzarella and caramelized onions.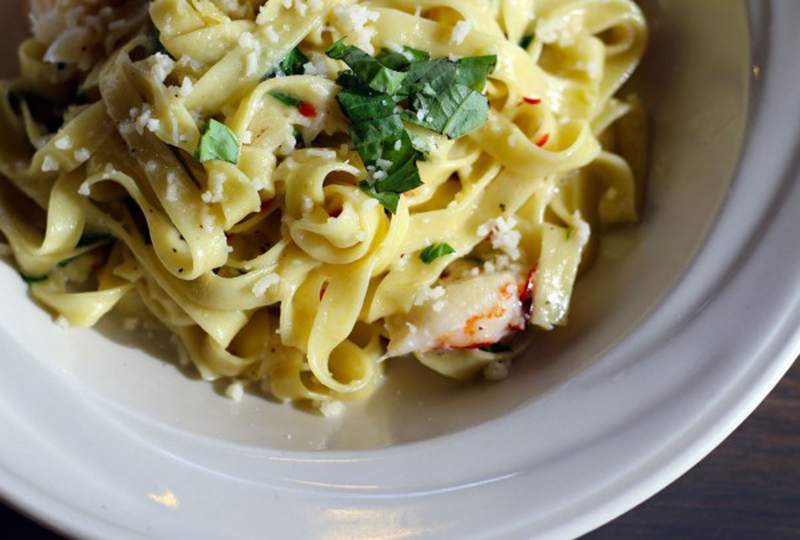 Dining can seem pricey for the basics, but let's keep in mind that this is boutique food, with attention to detail. Even the milk for the Sonoma Roast organic coffee from Taylor Maid Farms is served in a chic carafe kept on ice; never mind it's self serve ($3). Wine comes in a plain glass from a short list of seven whites and seven reds, yet they're friendly six-ounce pours for some interesting choices like Pieropan Soave Classico ($8, Veneto, Italy).
The best bargains — and the biggest evolution from the Eventi roots — come with the entrées, when Franchetti flexes his cooking muscles for plates like Kurobuta pig roast ($22). The premium, buttery meat is cooked on the bone for deeper flavor, paired with sautéed spinach and roasted potatoes and finished with a scattering of pine nuts and raisins. It's home cooking if you came from a really, really good home. Spicy roast chicken is another simple success, thanks to the sneak-up heat of Calabrian chile paste brightened by a drizzle of lemon oil ($15).
You might never guess that such a relaxed space offers homemade pasta, either, but it does, thanks to the catering operation economics, delivering flair like fettuccine laced around chunks of sweet Dungeness crab, mushrooms and sherry-kissed sauce ($22). As with the chicken, I wish I'd had bread to sop up the last good bits.
Sometimes the place looks disjointed. On one visit, bare tables were arranged mish-mash, and the drink station was sloppy. On another, the dine-in bar counter was arranged with fresh flower vases, and tidily arranged tables were set with rolled cloth napkins. Who knows, décor might depend on whether or not an event is in the works.
But here's one thing we can always count on. Chef John Franchetti's soul-warming cooking is better than ever.