To the rest of the world, it briefly appeared that Sonoma's wine industry had gone up in smoke. Heart-stopping images of a demolished Paradise Ridge Winery in Santa Rosa, video of air tankers dropping retardant on flames raging on the hillside behind Ledson Winery & Vineyards in Kenwood, and early reports that Gundlach Bundschu Winery in Sonoma, one of California's oldest, had been destroyed, gave outsiders an ominous impression.
But ultimately, surprisingly few Sonoma wineries suffered significant damage when the catastrophic fires ripped through the region in October.
And the local winemaking community begins a new year resolute in their intention to continue honing their craft, to put their talents to work for fire victims and rebuilding efforts, and to make sure the world is well aware that Sonoma is open for business.
The industry did not emergefrom the firestorm unscathed;most notably, the Byck family's Paradise Ridge buildings were destroyed. But their 15-acre vineyard and metal art sculptures remained intact. Firebreaks and aerial strikes saved Ledson and several otherHighway 12 wineries, and within days of the fires, Jeff Bundschu, president of "Gun Bun," was enthusiastically welcoming visitors to the winery, tales of its demise proving false (though his parents, Jim and Nancy, lost the family home on the property).
Jeff Kunde evacuated family, horses and dogs from Oakmont to his Kenwood winery, Kunde Family Winery, and hunkered there for nine days. He knew if he left, he wouldn't be allowed back in.
Family and staff slept in the tasting room, and winemaker Zach Long took advantage of a generator installed in 2016 to keep the fermentations, and the business, going.
Kunde grilled meat from the winery freezer and cooked farm eggs on foil to feed the troops. "It was surreal," he says, "eating steak and eggs and drinking wine from our cellar, as fire crews battled the flames all around us. Helicopters were a constant, the pilots using our irrigation reservoirs for firefighting.
"It was a fateful decision for me to evacuate to the winery and not Santa Rosa. We saved ourharvest." A few Kunde vineyard blocks were singed, but as with most Sonoma vineyards, the majority of grapes had alreadybeen harvested — 90 percent, according to Sonoma County Winegrowers president Karissa Kruse — at the time of the fires.
More positive news: The Russian River Valley, Dry Creek Valley and Petaluma Gap wine regions were largely unaffected by the fires, except for smoky skies and evacuation advisories that never became mandatory. Northern Alexander Valley had a few scares, east of Cloverdale and Geyserville, but firefighters kept flames away from homes and wineries.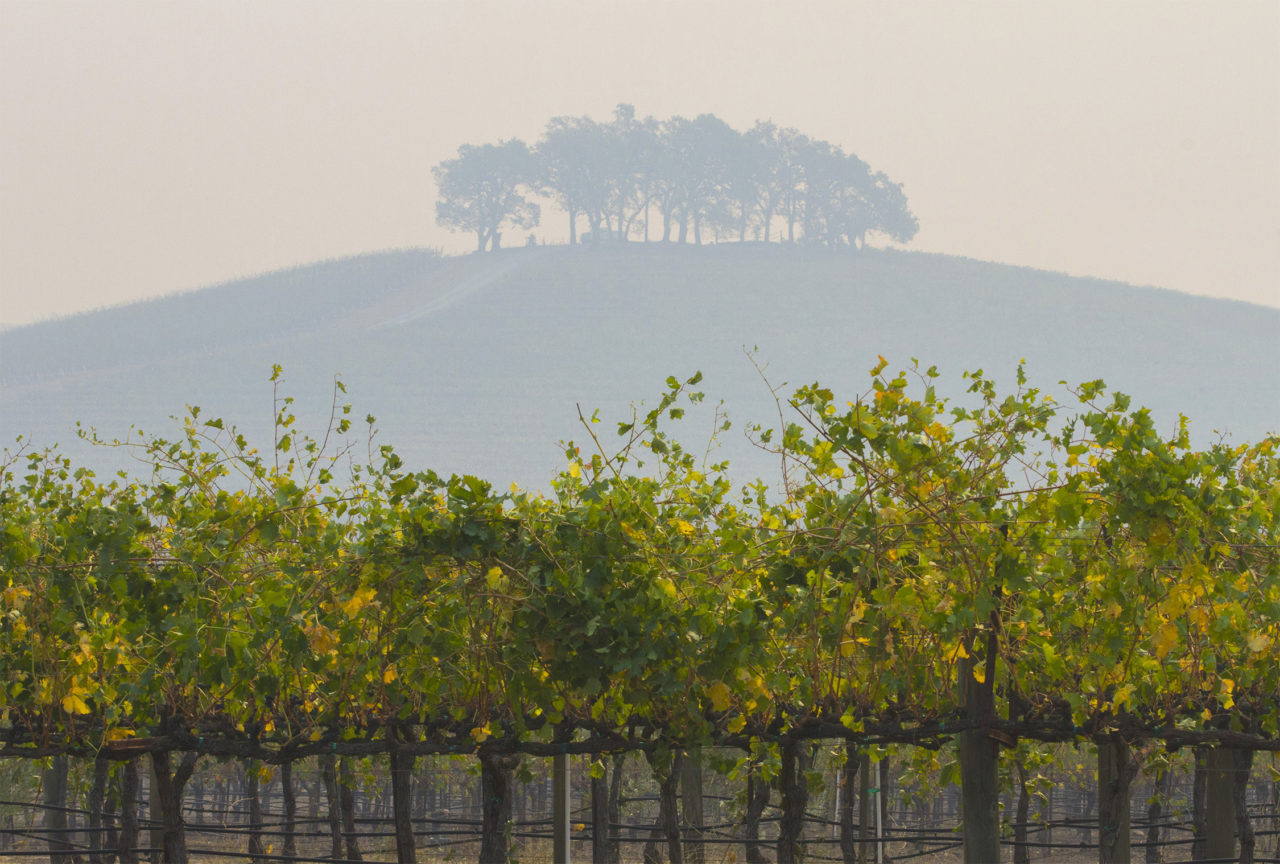 Vineyards as Firebreaks
An early November drive on Highway 12 from eastern Santa Rosa through Glen Ellen showed scorched hillsides, intact wineries and startlingly alive, green-leafed vines, with only a few rows burned. "Grapevines play a fantastic role in slowing down fires," explains Santa Rosa's Rhonda J. Smith, viticulture farm advisor for UC Cooperative Extension.
"There typically is a lack of fuel load in a vineyard, compared to structures and landscaping. Most growers had mowed their vineyard rows down to a stubble after the June rains, leaving no easy fuel for the flames."
Paradise Ridge co-owner Rene Byck says he will rebuild his Fountaingrove winery, known for its breathtaking views and art installations. He takes heart from the fact that the estate vineyards survived, bottled wines were secure in a warehouse, and that wine sales continue at a satellite tasting room in Kenwood.
On Sonoma Mountain, Bettina Sichel of Laurel Glen Vineyard lost one acre of Cabernet Sauvignon vines to flames, although she found an upside.
"Those vines were planted in the 1970s and suffered from eutypa, a trunk disease," she says. "We were getting just one ton of grapes from that block and were scheduled to replace the vines at some point. Mother Nature speeded things up for us."
Sichel and her husband, Brian Dickson, and their two children lost their Soda Canyon home to the Atlas Fire in Napa Valley. She marvels that most of her Sonoma vineyard was saved, and that the
Laurel Glen tasting room in downtown Glen Ellen also escaped damage.
She rues, however, "losing two weeks of the biggest tourism month of the year" while her tasting room was closed. "That's a cash hole we'll have to fill."
That's a concern shared by many others in the Sonoma wine industry — and the county as a whole. A study commissioned by Sonoma County Winegrowers and Sonoma County Vintners, released in 2014, found that grape-growing, winemaking and related businesses contributed $13.4 billion to the local economy — nearly two-thirds of the county's gross product.
"If I had just one thing I'd like you to write, it's that Sonoma remains open for business," Kunde said in November. "The biggest impact of the fires on us is that people aren't coming. We've had parties cancel their trips. But look around our property and you wouldn't knowwe had a major fire here a month ago."
Vintage 2017 in Sonoma is truly "the harvest from hell," a phrase commonly used in the wine business for difficult years. Yet Kunde remains astonished at how relatively little physical damage was done to his grapevines, his wines and other wineries.
"We have remarkable firefighting efforts to thank," he says. "And we met neighbors, people we didn't know before. One woman evacuated from her home wandered in and ended up helping us soak oak barrels so they wouldn't burn. We made new friends. And the generator I bought last year, which kept the winemaking going for nine days before electricity was restored? I actually got it for fire protection. But it ended up saving our bacon for winemaking, providing the power we needed."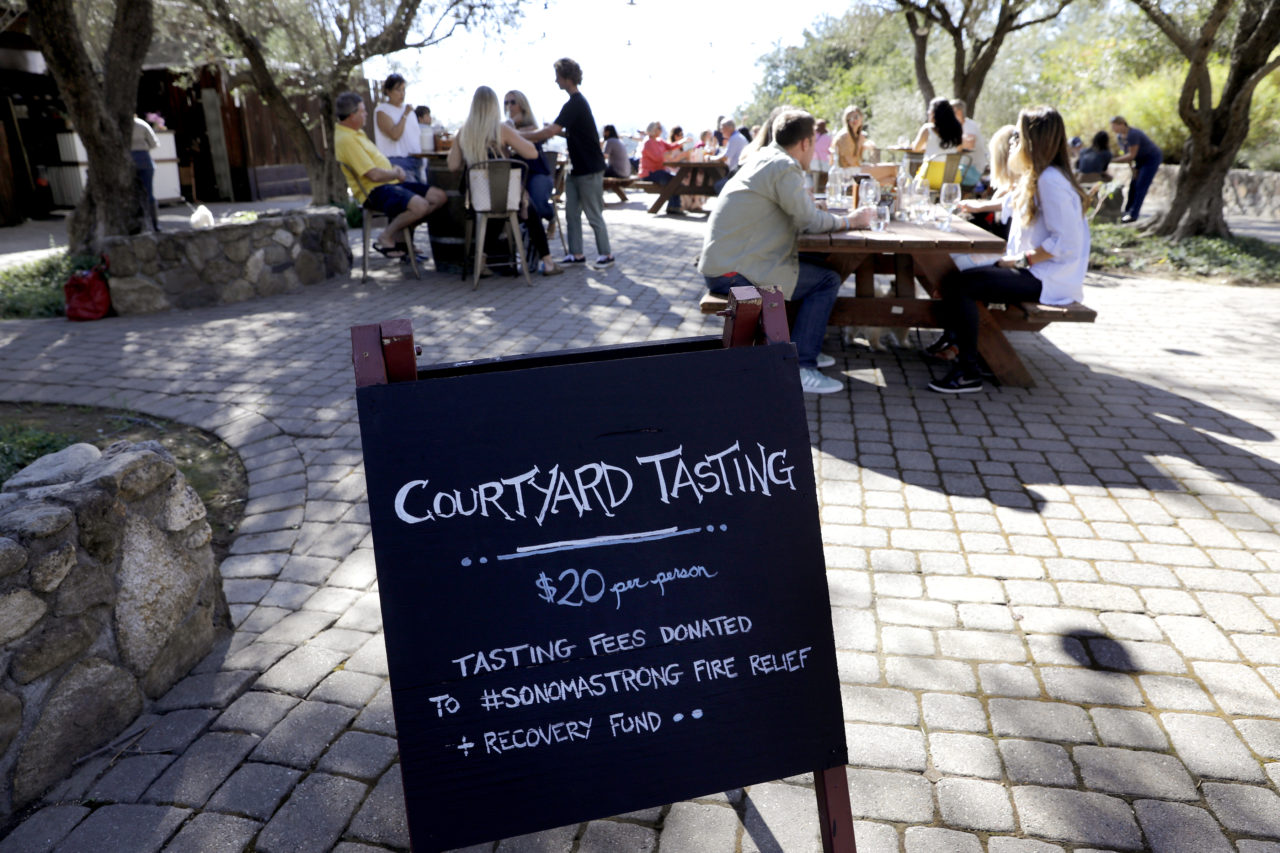 Fundraising Kicks In
Winery people have always known how to throw a good party for a great cause, and the fires brought out the best in them.
Hamel Family Wines in Glen Ellen, which was threatened by flames on three sides but survived major damage, hosted a concert by Rock & Roll Hall of Famer John Fogarty, raising $1.2 million for fire victims relief. Kelly and Noah Dorrance, owners of Reeve Wines in Dry Creek Valley, raised more than $222,000 in a drawing for vacation stays in Healdsburg, Laguna Beach and Hawaii.
E. & J. Gallo Winery, which owns several North Coast brands — among them Sonoma's J Vineyards & Winery and MacMurray Estate Vineyards — pledged $1 million, to be shared by the American Red Cross California Wildfires Relief Fund, Community Foundation of Sonoma and Napa Valley Community Foundation. Numerous wineries have waived tasting fees and offered discounts to fire victims, and have promised
percentages of sales to firerelated causes. The John Jordan Foundation and Jordan Winery, in Healdsburg, teamed to donate $25,000 to the Sonoma County Grape Growers Foundation to establish a housing recovery fund for farmworkers and their families displaced by the fires.
Says Noah Dorrance, "It's been an amazing, heartening silver lining — but not surprising — that our community has rallied, that people are marshalling their resources to try to help out."