Cornerstone Sonoma marketplace offers a sumptuous sampling of Wine Country experiences: outdoor art installations, gardens, shops, restaurants and tasting rooms — there's even an art gallery, which currently houses a collection of Salvador Dalí bronze sculptures and prints.
Everyone can find a little bit of inspiration here. For gardeners and chefs, the edible elements of the Cornerstone gardens will be of particular interest. Here, leafy greens, herbs, fruit and other crops blend into the garden landscape in a way that makes them look deliciously decorative. Raised beds spill over with pretty plants: fava beans, different kinds of kale and collard greens in spring; basil, tomatoes and towering corn stalks in summer.
The Cornerstone gardens offer plenty of proof that edible plants can also be ornamental, an idea that has started to influence landscaping projects large and small.
Stefani Bittner of Homestead Design Collective, a landscape design firm based in the East Bay, designed and installed Sunset magazine's test gardens at Cornerstone in 2016. The test gardens are divided into distinct garden rooms: the Cocktail Garden, the Farm Garden, the Gathering Space, the Backyard Orchard and the Flower Room.
"For me, the garden is an extension of your living space — it makes sense that gardens give back to you with harvest," said Bittner, adding that herbs, vegetables and flowers also give back to visiting pollinators, like bees and hummingbirds, and to lucky neighbors.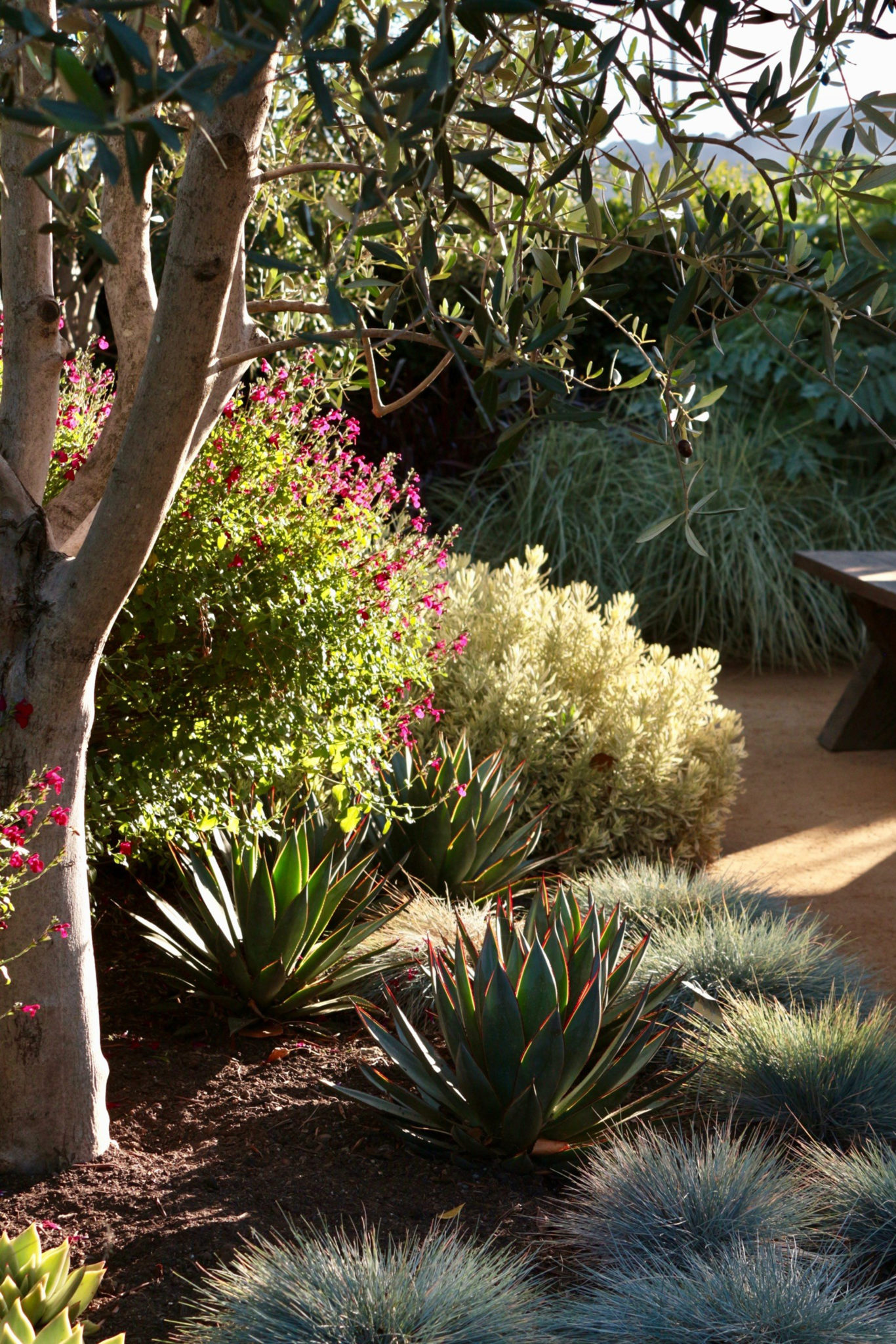 In Cornerstone's Backyard Orchard, an s-shaped path is lined with some 20 fruit trees that produce crops at different times of the year, from apricots in early summer to apples in fall. Raised produce beds and fruit trellises frame a greenhouse overlooking a field of wildflowers in the Farm area. And, in the Cocktail Garden, a bay laurel hedge serves as a green wall framing the seating area, while its leaves serve as ingredients muddled into drinks.
Recently, Bittner has been getting lots of requests for edible or "kitchen gardens." Sometimes she has to steer clients away from thinking that they can grow most of their food themselves. "Farming is a full-time job," she reminds them.
While Cornerstone's edible gardens do provide a small yield of food, their main purpose is to be inspirational and instructional. But there is now an effort underway to plant more crops in the outer areas of the Cornerstone property, in place of vineyards. The aim with this expansion is to diversify the crops while also providing fresh produce to onsite Folktable, a new restaurant by Top Chef finalist Casey Thompson.
Cornerstone landscape manager Benjamin Godfrey and the property's lead organic farmer Christopher "Landy" Landercasper are heading up the new effort. The duo will begin offering informative tours of the gardens every Friday at 1 p.m. starting this week.
Edible gardens for beginners
There are many benefits to mixing decorative and edible elements in your garden design.
"By creating a beautiful space that you want to spend time in, you'll interact with your plants more," said Bittner, who likes to blend indoor and outdoor living by creating gardens where clients can "sit next to the harvest" they'll soon bring into their kitchens.
Bittner offers advice to edible garden novices in The Beautiful Edible Garden (2013 Ten Speed Press), a how-to book that she co-authored with Bay Area landscape artist Leslie Bennett.
Bennett's Oakland-based firm, Pine House Edible Gardens, designs, installs and maintains edible gardens throughout the greater San Francisco Bay Area. Her work has been featured in Sunset Magazine, Better Homes & Gardens and Martha Stewart Living, among other publications.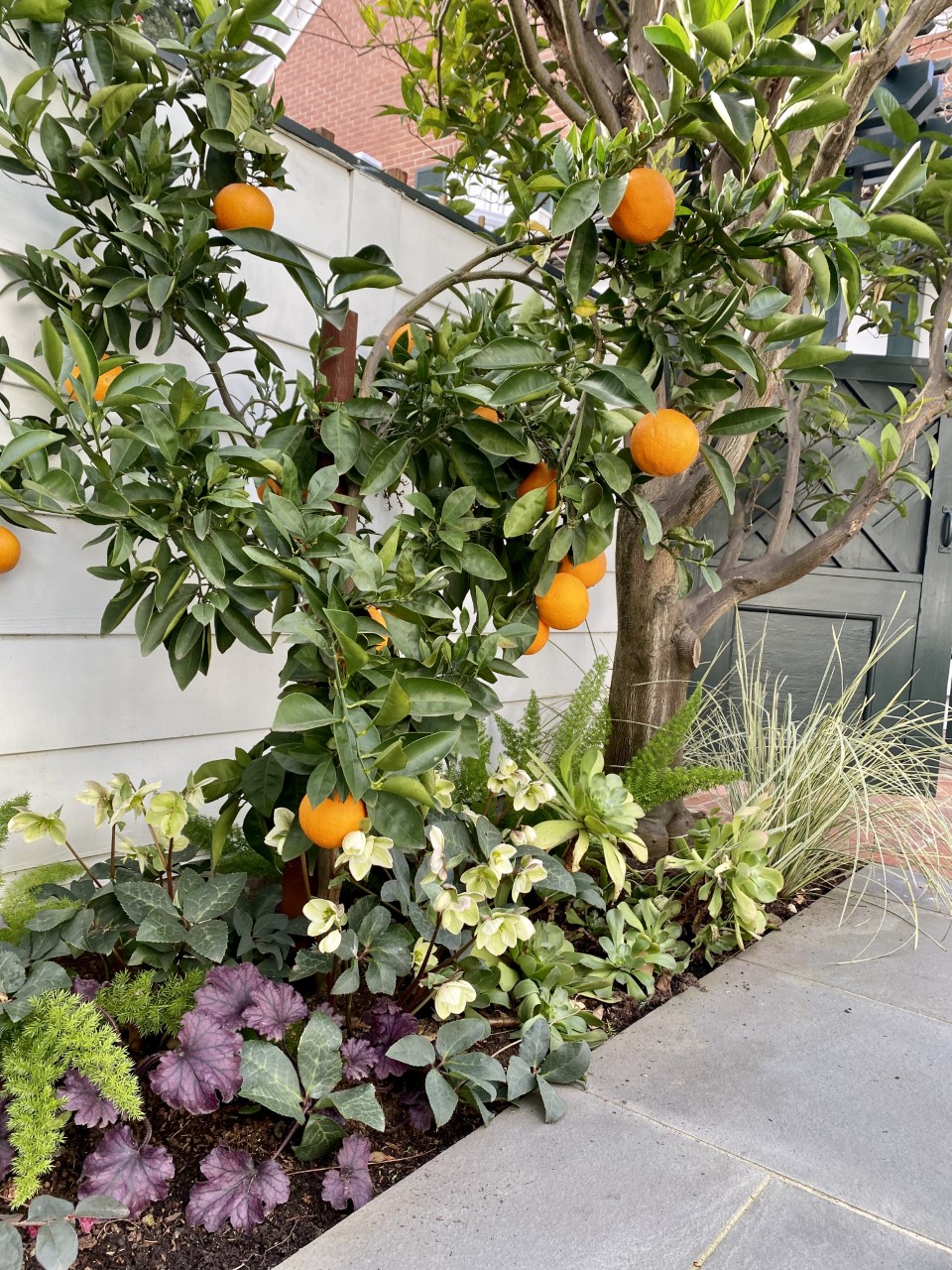 To Bennett, a garden can be "a meaningful and life-impacting space," which is why she designs each garden with intention and works hard to bring lush green spaces to more people. Since 2018, she has designed and installed a series of low or no-cost gardens for Black women in the East Bay through her project Black Sanctuary Gardens.
"I think the most exciting thing about (small edible gardens) is how much food you can grow," said Bennett, who enjoys the little bit of extra thought that goes into planning a garden in a small space.
Bennett likes to emphasize the beauty of the plants by contrasting different shapes, textures and colors in her edible garden designs. Bright mustard greens are paired with a dark Swiss chard. Trellised crops, like tomatoes, add height to the design while culinary herbs make for evergreen borders — she likes to let English thyme or oregano cascade over container edges. (She recommends using large containers, and less of them, to help keep the garden space from looking cluttered.)
To add a splash of color during dormant periods, Bennett suggests incorporating prolific producers like citrus trees in large containers, especially the sunny-colored Meyer Lemon. As a filler in those pots, she makes an inspired choice: strawberries!
Sometimes, Bennett will add a few non-edible flowers to frame the food. She currently grows Icelandic poppies in her own garden. Her reason for choosing them is a good one: They make her really happy.
For more information about Black Sanctuary Gardens and to make a donation, click here. Follow on Instagram at @blksanctuarygardens.
Cornerstone Sonoma, 23570 Arnold Dr, Sonoma, 707-933-3010, cornerstonesonoma.com.