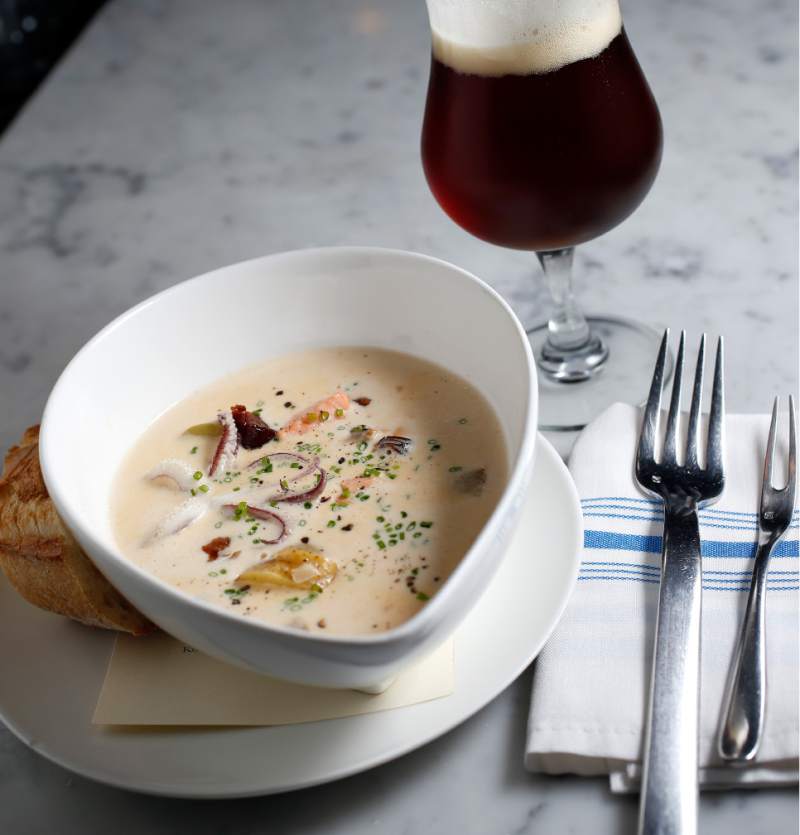 In New England, a bowl of award-winning chowder can be found around every corner. But honestly, there are not many worthy of the honor. Most arrive at the table in the midst of a perfect storm: either so thick that your spoon stands at attention, or so overcooked the clams taste like rubber bands, if you can find them at all.
Here on the North Coast, there is no shortage of seafood chowders that are less anchored in tradition and more attuned to what's fresh, what's local and what's really tasty. Think applewood smoked bacon rather than salt pork, and smoked salmon rather than clams, simmered in a savory broth of delicious Sonoma County cream.
In advance of the 13th annual Chowder Day in Bodega Bay Saturday January 30th — a progressive tasting event and contest among a baker's dozen of restaurants and seafood shacks — we talked to eight local chefs who work on the North Coast to see how they improvise on the age-old theme.
Chowders have a long history that reaches back to the rustic seafood stews of coastal England and France. The European stews crossed the Atlantic with the colonists, evolving to include seaworthy staples such as onions and potatoes, salt pork and seafood such as cod, oysters and clams.
"Authentic chowder is characterized by generous chunks of local seasonal ingredients served in a moderate amount of broth," wrote the renowned New England chef Jasper White in his cookbook, "50 Chowders." "Another basic characteristic of chowder is its ease of preparation — even chowders that take more than an hour to make don't require anything more than keeping an eye on the pot."
The chowder at the Duck Club in Bodega Bay, made by native New Englander Jeff Reilly, is one of the most traditional that you'll find around these parts.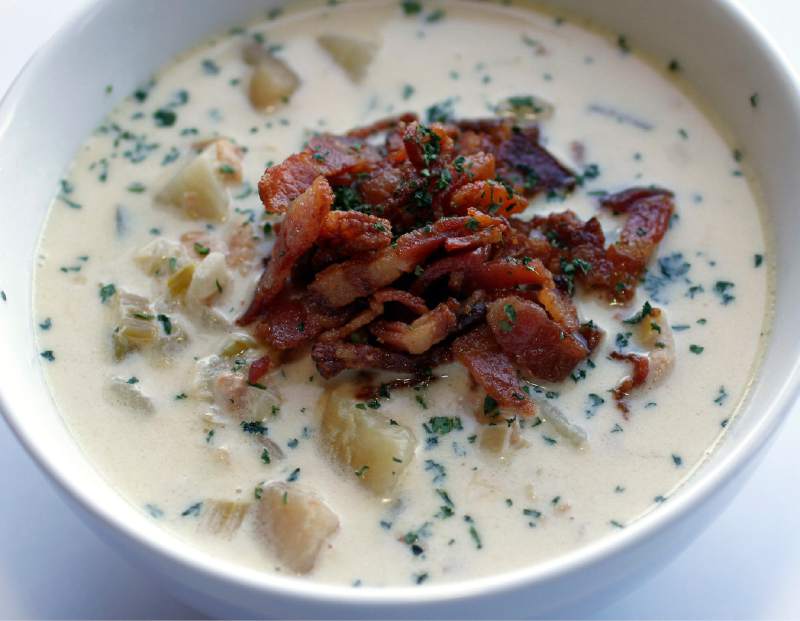 "The consistency is key, and the balance between the salty and the creamy and the textures of the clams and fish," Reilly said. "We use Clover butter and cream, and that does make a difference."
Reilly renders the fat from applewood bacon by putting it in simmering water, then sauté s the vegetables in the bacon fat. He makes sure the bacon gets nice and crispy but not overcooked. The chowder is thickened slightly with a small amount of butter and flour.
"We use just enough roux so it coats but it doesn't feel thick and pasty," he said. "We cook the Yukon golds separately until they are just right."
The tender clams are thrown in at the last minute so they don't overcook. Reilly also adds salmon and halibut, if he has them on hand.
Chef Richard Whipple of the Heritage House in Little River, who previously cooked at the Sea Ranch Lodge, also makes a traditional clam chowder he learned from a New England chef he worked with at the El Dorado Hotel in Sonoma.
"I use applewood smoked bacon," he said. "And I finish it with a good, dry sherry … that adds a sweetness and a nuttiness."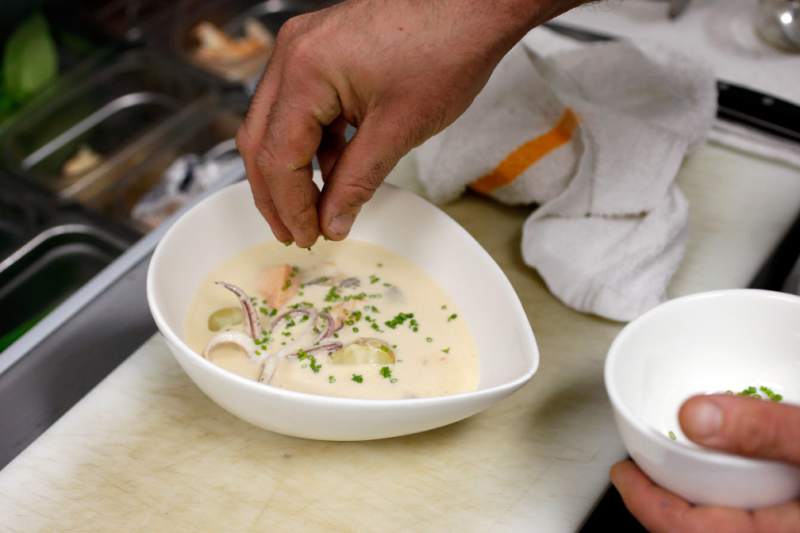 For the clams, Whipple prefers to use large ones that come chopped up and frozen, rather than canned clams. But if you're making your own chowder, you may consider throwing in a few fresh clams as well.
"Sometimes you can get fresh clam strips at Santa Rosa Seafood," he said. "And I love the Manila clams."
The Hog Island Oyster Company of Marshall serves a Hog island Manila Clam Chowder at its Napa and San Francisco oyster bars that features only whole clams, in the shell, farmed by the company in Tomales Bay.
The Hog Island chowder starts with a base made with a mirepoix, bacon, potatoes and potato water, but adds no flour for thickening. The base is poured over the clams to cook them, then the cream is added at the very end.
"Where I grew up, nobody puts flour in the chowder," said Hog Island Co-founder John Finger, who helped develop the recipe.
At The Birds Cafe in Bodega Bay, Melissa Freeman makes a clam chowder fresh every day, also skipping the flour. Instead, she uses a "secret ingredient" as a thickener and two kinds of potatoes.
"We use Russet and red potatoes," she said. "The Russets break down a little more, and the reds hold their shape."
Brandon Guenther of Rocker Oysterfeller's in Valley Ford also uses potatoes to thicken his clam chowder instead of a butter-and-flour roux.
First he makes a white mirepoix with leeks, celery and potatoes, which he purees, then he adds another layer of mirepoix with carrots, leeks, celery and potatoes that stays chunky. He adds them together and deglazes with some Amontillado sherry, then adds more sherry at the end.
"We do everything twice," he said. "And the potatoes, the cream and the clams are important."
Guenther uses butterball potatoes grown locally, really good cream and a combination of chopped ocean clams from a can and whole Manila clams from the Tomales Bay Oyster Company.
At Seaside Metal in Guerneville, the made-to-order Seafood Chowder may be the most unusual around, since it showcases big pieces of everything BUT clams, including squid, mussels, shrimp and fish. The recipe calls for a touch of flour but no butter.
"My chowder is a little different," said Seaside Metal chef Mike Selvera. "It's not a bread-bowl thick, stick-a-spoon-in-it chowder."
Selvera created the chowder about 10 years ago when he opened Bar Crudo, a casual seafood restaurant in San Francisco. He makes the cream-based stock ahead of time from onions and celery, white wine and mussel stock, which is sweeter than clam juice. He also uses Nueske's applewood smoked bacon from Wisconsin.
"It's actually very thin and flavorful," he said of his chowder. "And it's not like you're trying to find the chopped clams. It's a whole mussel, a whole squid."
At Nick's Cove in Marshall, Chef Austin Perkins also creates a thin but flavorful chowder by sweating the fat out of salt pork, adding vegetables, then canned clams and clam juice.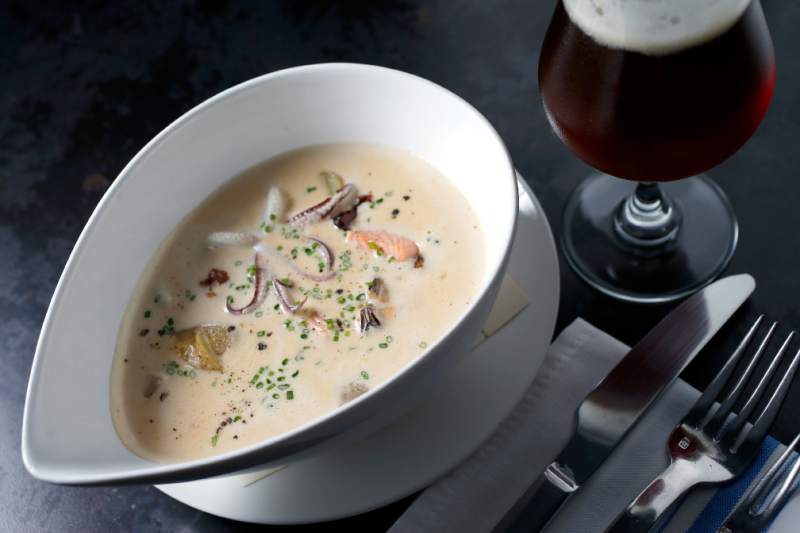 "You want it to taste like clams, more than anything else," he said. "We make a bechamel sauce on the side, then fold it in at the end."
The Nick's Cove chowder comes garnished with a handful of tasty Nueske's bacon, which gives it a caramelly, smoked taste.
At the Estero Cafe in Valley Ford, owners Samantha and Ryan Ramey have their own smoker, so they serve a Wild Smoked Salmon Chowder made with potatoes, bacon, onion, celery and cream.
"We smoke a whole wild Pacific salmon in the smoker, and we do a classic broth from the salmon bones," she said. "We make everything from scratch."
The couple uses all-organic cream from Clover, and local bacon from the Sonoma Meat Company in Santa Rosa.
"I thought I would be sick of chowder by now," said Samantha. "But I'm really not."
___
New England native Jeff Reilly serves this classic chowder at the Duck Club at the Bodega Bay Lodge. If you do not eat meat, you could cook the onions and garlic in 2 ounces canola oil.
Bodega Bay Fog Chowder
Makes 10 servings
1/3 pound Applewood smoked bacon, small dice
1 large yellow onion, small dice
1/2 bunch celery, small dice
2 tablespoons chopped fresh garlic
1 tablespoons chopped fresh thyme
8 ounces dry sherry for cooking
16 ounces heavy cream
48 ounces clam juice
3 bay leaves
1/2 teaspoon white pepper
4 cups Yukon Gold potatoes, peeled, diced into 1/2-inch pieces
1/4 pound sweet butter
1/4 pound flour
1 bunch Italian flat-leaf parsley
1/2 pounds fresh halibut, diced (optional)
1/2 pounds fresh salmon, diced (optional)
3 pounds chopped sea clams
Fill a heavy bottomed, two-gallon pot with 2 cups water and bring to boil on medium heat. Render the bacon until there is no water left, and continue to cook bacon until lightly crisp.
Add in the onions and celery to the bacon and bacon fat, stirring with a wooden spoon, and cook until onions are translucent. Add garlic and thyme and cook for 2 minutes. Add sherry and bring to a boil and reduce liquid by half. Add cream, clam juice, bay leaves, white pepper and bring to a simmer.
In a separate pot, cook the Yukon gold potatoes in salted water for about 8 minutes or until tender, and set aside. In a small saute pan, melt butter and whisk in flour, then cook on low heat for a minute and a half to make the roux.
Bring the cream and clam juice mixture to a slow boil, whisk in roux and let boil for 2 minutes. Continue stirring.
Turn off heat and add fish and clams to the cream mixture.
Let sit for 10 minutes. This will poach the fish and clams without overcooking them. Add warm, cooked potatoes and garnish with chopped Italian flat-leaf parsley. Serve in bowls.
___
This recipe for a seafood chowder is from chef Mike Selvera of Seaside Metal in Guerneville. Manufacturing cream is heavy cream with a higher butterfat content of up to 40 percent.
Seaside Metal Chowder
Makes 8 servings
For mussel stock:
2 pounds mussels
1 bunch thyme
4 garlic cloves, smashed
2 cups white wine
For chowder base:
2 tablespoons rendered bacon fat
2 yellow onions, medium dice
1/2 bunch thyme, picked and chopped
1/4 bottle white wine
1/4 cup all-purpose flour
1 gallon manufacturing (or heavy) cream
1/2 tablespoon Old Bay seasoning
1/4 cup mussel stock (see above)
— Crystal Hot Sauce (to taste)
— Salt, to taste
For chowder:
1 cup bacon, small dice, cooked
1 cup potatoes, small diced, cooked
1 cup mussels, cooked
1 cup raw fish (tuna, salmon or cod) cut into small pieces
1 cup prawns, cooked
1 cup raw squid, cleaned and sliced into rings
For mussel stock: Add small amount of oil to a pot on medium heat, and slightly cook garlic and thyme. Add mussels and white wine, turn heat to high, and cover. Once mussels have all popped open, remove pot from stove and let cool.
Remove all mussels from shell and reserve for chowder. Strain the liquid from the bottom of the pot and reserve.
For chowder: Warm bacon fat in a large pot on medium heat. Add onions and thyme and sweat onions until translucent.
Add white wine to the pot, turn heat to high, and let reduce by half.
Mix in all-purpose flour and cook on medium heat for30 seconds. Add cream to the pot and finish with Old Bay seasoning. Let chowder base simmer for 20 minute sto reduce.
To serve: Add mussel stock, Crystal hot sauce and salt to chowder base. Then add in bacon, potatoes and all seafood except the squid, Once the fish is cooked, add squid right before serving.
___
The following recipe is from Nick's Cove chef Austin Perkins, who prefers to use Vince's Sea Clams from the South Bay, which are chopped and frozen.
Nick's Cove Clam Chowder
Makes 8 servings
1 1/2 ounces salt pork (salt cured pork belly)
4 cups medium diced yellow onion
4 cups medium diced leeks
4 cups medium diced celery
8 cups Yukon gold potatoes, large dice
2 1/2 pounds sea clams, chopped
1 15-ounce can ocean clam juice
1/4 pound sweet (unsalted) butter
1/2 cup all-purpose flour
1/2 quart milk
1/2 quart manufacturing (or heavy) cream
1 1/2 teaspoons freshly ground nutmeg
2-3 bay leaves
1 bunch thyme
1/4 cup kosher salt
— Flat-leaf Italian parsley, for optional garnish
— Applewood smoked bacon, for optional garnish
In a large soup pot, begin rendering salt pork over low-medium heat. Add the chopped onions, leeks and celery and sweat 5 to 10 minutes, until lightly softened. Add the 8 cups of potatoes, and stir to combine. Next, add the clams, all their liquid, and the clam juice. Cook 20 to 25 minutes, until potatoes are cooked and soft.
In another medium pot, melt the butter. Add the flour and cook the roux, whisking constantly, until the mixture bubbles and smells of shortbread. Add the milk, again whisking constantly, and bring to a boil. Cook down about 5 minutes until the bechamel starts to thicken dramatically. Add the cream, and again bring up to a boil.
Reduce heat, add the peppercorns, bay leaves, salt, nutmeg and thyme. Over a low heat, cook the roux mixture 20 to 30 minutes, whisking occasionally and checking to make sure nothing sticks to the bottom of the pot.
Strain through a chinois, or other fine-mesh sieve, directly into the large soup pot, and stir to incorporate.
At Nick's Cove, the chowder is garnished with freshly chopped parsley and applewood smoked bacon.
You can reach Staff writer Diane Peterson at 521-5287 or diane.peterson@pressdemocrat.com. On Twitter @dianepete56.