While tourists jockey for a spot at one of several inside tasting bars, local families at Francis Ford Coppola Winery relax outside in lounge chairs, sipping slushy iced coffees, enjoying a dip in the pool and pondering lunch: Will it be a poolside panini, or maybe Argentine short ribs at Rustic, the winery's restaurant?
A summer day at Coppola presents delightful options. If you're a member of the wine club, you'll get an opportunity to buy tickets and reserve poolside cabines (cabanas) before the season opens to the general public. The pool has become so popular that Friday, Saturday and Sunday reservations sell out months in advance, but there are last-minute cancellations, so it's always a good idea to call.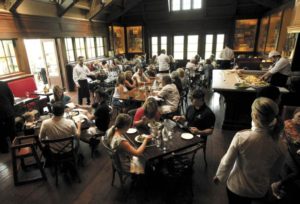 A premium reservation ($180 for the general public, $145 for wine club members) allows guests to choose their lounge chair location in advance and comes with juice boxes for kids, a four-pack of Sofia sparkling wine minis and the current issue of Zoetrope: All-Story magazine, along with the standard cabine amenities: pool passes for four, use of four towels, poolside service and an outdoor wine tasting exclusively for cabine guests. Try to arrive right at opening time of 11 a.m., so you don't miss a moment.
Day pool passes ($10 to $30) are also sold but cannot be reserved in advance; weekdays offer the best chance to score a day pass but again, call ahead.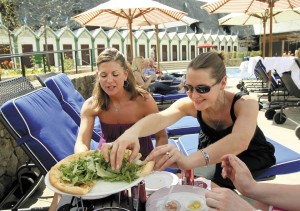 After lunch, taste some wine, swim, nap and maybe take a stroll through the two-level tasting room to see the movie paraphernalia, from Francis Coppola's notes during auditions for "The Godfather" and Vito Corleone's desk, to Oscar statues, costumes and props. The sun will have sunk low enough that the bocce courts are shaded and it's time for a game, which one can play with a glass of wine in one hand and a ball in the other.
There are also checkers, chess and backgammon games, Scavenger Hunt Bingo for children, and a teepee that serves as a kids' library. Special tours and tastings have themes, such as music's influence on wine's taste, and "tasting in the dark" led by Hoby Wedler, who has been blind since birth. They range from $20 to $75.
The tasting room and pool close at 6 p.m., so allow time for a final swim and a shower in the cabine and change for dinner if you wish. Rustic is open daily from 11 a.m. to 9 p.m.