For Laura Hagar Rush, Qu'est-ce Que C'est is the name she gave her Sonoma Aperitif brand beverages in response to U.S. regulations that prevent her from calling them aperitifs.
One of the region's newest delicacies, Hagar's ethereal blends of wine and vodka infused with fruits, herbs and flowers are aromatic and refreshing, meant to be sipped before a meal to whet the appetite and awaken the senses. But the federal definition of an aperitif allows only the addition of herbs and spices to wine and spirits, not fruit. When Hager learned this, she came up with Qu'est-ce Que C'est (kes-kuh-say) as a fanciful name for her beverages.
Hagar produces her elixirs at her new winery, Sonoma Aperitif, in Penngrove, in the former tasting room of Eagle Ridge Winery on the old Denman Creamery property. Her inspiration came in a singular moment in Berkeley, where a friend was making aperitifs in a garage and offered her some.
"When I tasted one made with bergamot," she said, "I thought, 'Why have I never tasted this before? Why doesn't this exist?'"
Hagar, a graphic artist and writer, set out to create it, first by immersing herself in the story of aperitifs and then experimenting with batch after batch in her own garage in Forestville.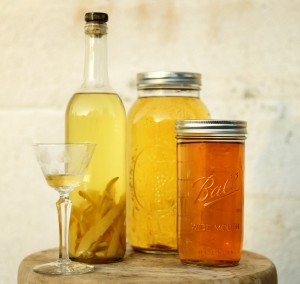 Fruit aperitifs have a history that goes back centuries in Western Europe, where they have long been made throughout the French countryside and in Spain and Italy. Their ancestors include fruit ratafias, vins maison and vins de grand-mére, delicate drinks typically made at home with family recipes passed down through generations. In recent times, French feminists, eager to shine a light on the creativity of their female predecessors, have generated new interest.
With history and those few tastes in Berkeley to guide her, Hagar realized that it was essential for her to find the right wine to infuse. "A wine needs to be lively and have plenty of acid," she explained, adding that Sauvignon Blanc, the classic choice, and Pinot Grigio both work. Chardonnay doesn't, as infused flavors turn flat when mixed with Sonoma's signature white wine.
While classic aperitifs such as Campari (very bitter and best with soda or in cocktails), Lillet (white and red blends of wine and fruit liqueurs) and licorice-flavored Pernod are produced to exacting (and secret) recipes to have consistent aromas and flavors, Hagar's aperitifs are seasonal, relying on whatever is fresh at any given time of year.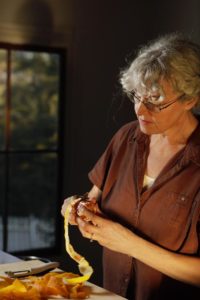 The Grapefruit Qu'est-ce Que C'est, for example, is light on the palate, a little bit bitter, a little bit sweet and a whole lot refreshing. More substantial is the Vin de Noix, made from green walnuts, vanilla, nutmeg and other spices infused into Syrah wine.
For fruit, she gleans from farmers markets, friends' trees and those of strangers. Unharvested fruit signaled to her that some rare varieties (she used yuzu, a hard-to-find citrus, from a tree in Sunnyvale for her first batch) might be hers for the picking.
Now Hagar's citrus comes primarily from a test orchard established 20 years ago in Forestville by UC Davis. After more than a dozen varieties of citrus were planted to see what might grow this far north, the trees were given just minimal care, with no special protection during freezing temperatures. The only variety to truly thrive is the Japanese tangerine, but some of the other trees, though struggling, still produce delicious fruit and the farmer invites neighbors to pick whatever they can use.
Hagar keeps her eyes and ears open, watching for trees laden with fruit and listening to recommendations from friends. Last fall, she found black figs and an unidentified variety of pear in Penngrove, not far from her winery. Before long, it was one of her newest creations, a beguiling drink with the perfume of fig in the aroma, a hint of pear on the first sip, and a rich fig flavor throughout. Adding sparkling wine, a traditional way of enjoying these aperitifs, makes an irresistible cocktail.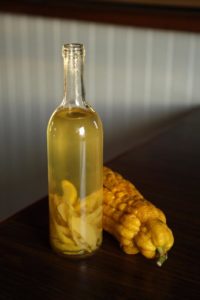 The aging room at Sonoma Aperitif is filled with dozens of 5-gallon carboys, glass jugs filled with wine and sliced or crushed fruit. Some will sit for two or three weeks, others longer, before they are siphoned off, cold-stabilized overnight, and in some cases, strained through cheesecloth, bottled and labeled by hand with Hagar's beautiful drawings.
Sonoma Aperitif was bonded in the spring of 2014 and made its first sale, of Grapefruit Qu'est-ce Que C'est, in mid-November, after the long approval process that led to the unusual moniker. The goal is to produce about 600 cases a year.
The Grapefruit aperitif is available year-round, with a second signature release each season. Small-batch bottlings are produced when Hagar is inspired by found fruit.
And she is at work on additional products. Aperitif jams, made from a blend of macerated fruit from the infusions and fresh fruit, await legal approval. Soon there will be shrubs (blends of macerated fruit and vinegar), and Hagar is experimenting with making her own vinegar to create these refreshing, nonalcoholic beverages.