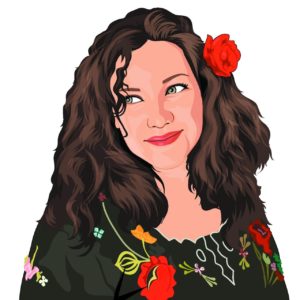 Spring Maxfield is a curator, event planner and supporter of all things art. Hyperconnected yet not at all into self-promotion, she would rather tout an emerging Sonoma artist than her own work.
Her degree in art history and art practice and master's in museum studies attest to her abiding interest in art. The Santa Rosan, who is married to ceramic artist Todd Baricklow, has added vibrancy and creativity to the Sonoma arts scene, staging underground gallery shows, co-founding the Great Handcar Regatta festival in 2008 (which at its peak drew 20,000 participants), and serving on numerous art foundation committees.
In late 2015, Maxfield joined two other Sonomans in working for three weeks at Syrian refugee camps on the Greek island of Lesbos. She hugged kids, delivered supplies, handed out shoes and made 1,200 cheese sandwiches on one day — anything to offer relief to those who fled the furious fighting in Syria. So it's not surprising that Maxfield, when asked about who she would invite to dinner, said: "While dining with people is lovely, what I really want to do is see people in action. What makes them tick, what motivates their work? It is incredibly hard to narrow the list down to just three Sonoma crushes, as there are so many hidden gems and people who are following their passion with such intensity that they radiate creative energy."
When pressed, she chose these women.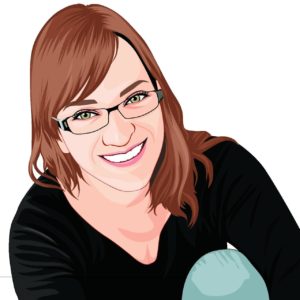 "I would definitely have dinner with Amanda Janik. Watching a writer work is probably not as interesting as talking to one. But judging by her writing, she would definitely be hilarious. I've seen her stand-up comedy at the Mortified North Bay show in 2015 and other venues, and have never laughed so hard."
Janik lives in Santa Rosa and has two kids. At 11, she began writing in a diary, and in her early 30s reread those words and found them "hilarious." She joined Mortified Nation (getmortified.com), which encourages people to share their embarrassing moments of childhood in blogs, podcasts, Facebook and live performance. "Share the Shame" is its motto. Janik turned her early-life diary angst into a comedy routine and has performed at dozens of shows. Get to know her better at amandajanik.com.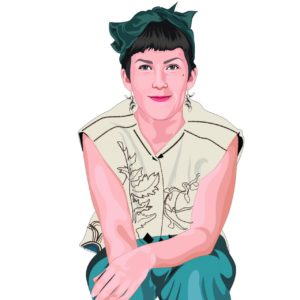 "Catherine Sieck is an amazing artist whose work enthralls me. Her delicate paper cuts must take hours upon hours of painstaking labor. I have spent way too much time trying to decipher the narratives that play out in each piece."
Sieck's work can be seen at catherinesieck.com. Using only her imagination and a sharp blade, the Santa Rosan cuts out remarkably layered portraits and folk-tale depictions far more complex than the technique would suggest. Each one is an original. She also creates shadow puppetry and murals that can be seen throughout Sonoma.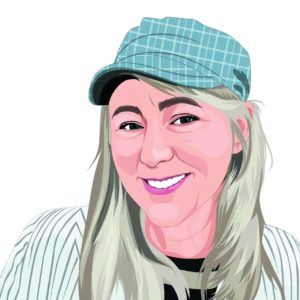 "Theresa Hughes of Dorothea Couture (would be an) interesting dining partner. Her handmade wedding dresses and accessories are mind-blowing. I would love to be a fly on the wall at her studio as she hand-stitches each pleat and tuck." Hughes' custom wedding dresses and restored and restyled pre-owned gowns have made her a much-soughtafter buddy of brides to be. Working in a small Santa Rosa shop, she and her team do everything by hand, from dresses to veils to headpieces. She also has a line of silk cover-ups intended for wearing at chilly evening receptions. Her own wedding, to David Farish, "was an all day and night affair," Hughes said. "We had a blast, but I was exhausted and went to bed long before my guests."