In the world of sweets, the Parisian macaron has been crowned the successor to the cupcake.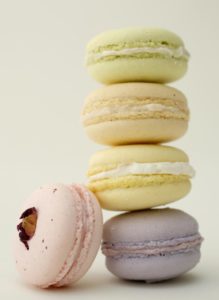 The sexy sandwich cookie, brought to France from Italy in the 16th century by Queen Catherine de' Medici, tempts with a crunchy outer shell of nut flour and meringue that yields to a silky center of buttercream.
They are devilishly difficult to make, yet easily found in Wine Country's many bake shops. At Patisserie Angelica in Sebastopol, Condra Easley prides herself on baking pastel macarons that are lighter than air. She learned her craft alongside Pierre Hermé, the "King of Macarons," who launched the cookie to fame at the legendary Ladurée bakery in Paris in the late 1990s.
Easley makes the shells with all-natural flavorings and a cooked Italian meringue. The cookies come in a dozen flavors, including pistachio, Earl Grey, raspberry rose and the best-selling salted caramel.
The delicate cookies need to be kept cool and eaten fresh. Like a summer cloud, they tend to disappear quickly.