It looks a bit like organized chaos as riders prepare for Levi's GranFondo in Santa Rosa.
Climbing long, steep roads and barreling down exhilarating descents, a sea of cyclists will wash over western Sonoma on Oct. 4, riding in Levi's GranFondo, an event that underscores the area's exploding cycling scene.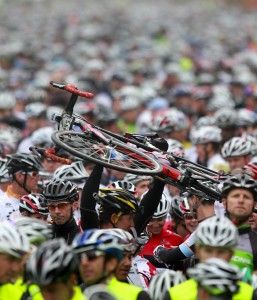 The GranFondo ("big race" in Italian), celebrating its sixth year, draws 7,500 riders from all over the world for what has become one of the premier cycling events in the U.S. The brainchild of Santa Rosa's Levi Leipheimer, a decorated former pro cyclist who was among the world's elite, the event is a spectacle that draws both professionals and amateurs who ride side by side on the traffic-controlled course, hailed as one of the most beautiful and challenging in the country.
Just don't call it a race.
Sure, riders are timed. And yes, all participants are launched in a mass start at Santa Rosa's Finley Center, giving everyone a seriously peloton-like experience for the first 20 miles. But there are no prizes for crossing the line first; the reward is in the doing, fundraising for mostly local charities (nearly $1.2 million since 2009) and a great after-party.
GranFondo has three routes: the family-friendly, 30-mile Piccolo; 60-mile Medio; and the big daddy, the 103-mile Gran route. The Gran, with its 9,000 feet of climbing, is a lung- and leg-scorching roller coaster covering some of Sonoma's most remote and gorgeous roads. Four thousand riders on this route are expected to emerge from the redwoods of Cazadero, climb King Ridge Road, and make their way to Highway 1 and the ocean, before one last climb up Coleman Valley Road and their return to the Finley Center.
There, an all-day festival greets GranFondo riders and any other interested revelers, with restorative carbs (beer), locally grown grub, live music and activities for kids. There is no admission charge for the festival.
A spot in the Gran ride costs $160, the Medio $140 and the Piccolo $80. The ride sells out every year, so sign up soon.
 (707) 560-1122, levisgranfondo.com