For the past ten years, Napa Valley's BottleRock culinary scene has been the place to see chefs rocking both behind the food booth and on the culinary stage.
This year, the Williams-Sonoma culinary stage has a particularly stellar lineup of internationally known chefs, including Jose Andres, David Chang, Roy Choi and Andrew Zimmern, who will pair up with performing bands for general silliness. But, and I say this delicately, there's a noticeable lack of local chefs rocking inside their food stalls and a real dearth of creativity on the menus.
Unless, that is, you love fried chicken sandwiches or barbecue pulled pork. These comfort food classics dominate food stall menus, comforting, easy(ish) to make and at a price point under $20. They're absolutely fine, but meh.
For a decade, BottleRock has been an annual highlight, with new restaurants popping up and menus reflecting the innovation and farm-fresh local food Wine Country is known for. Every year has been more and more impressive, with new chefs and new restaurants putting their best feet forward.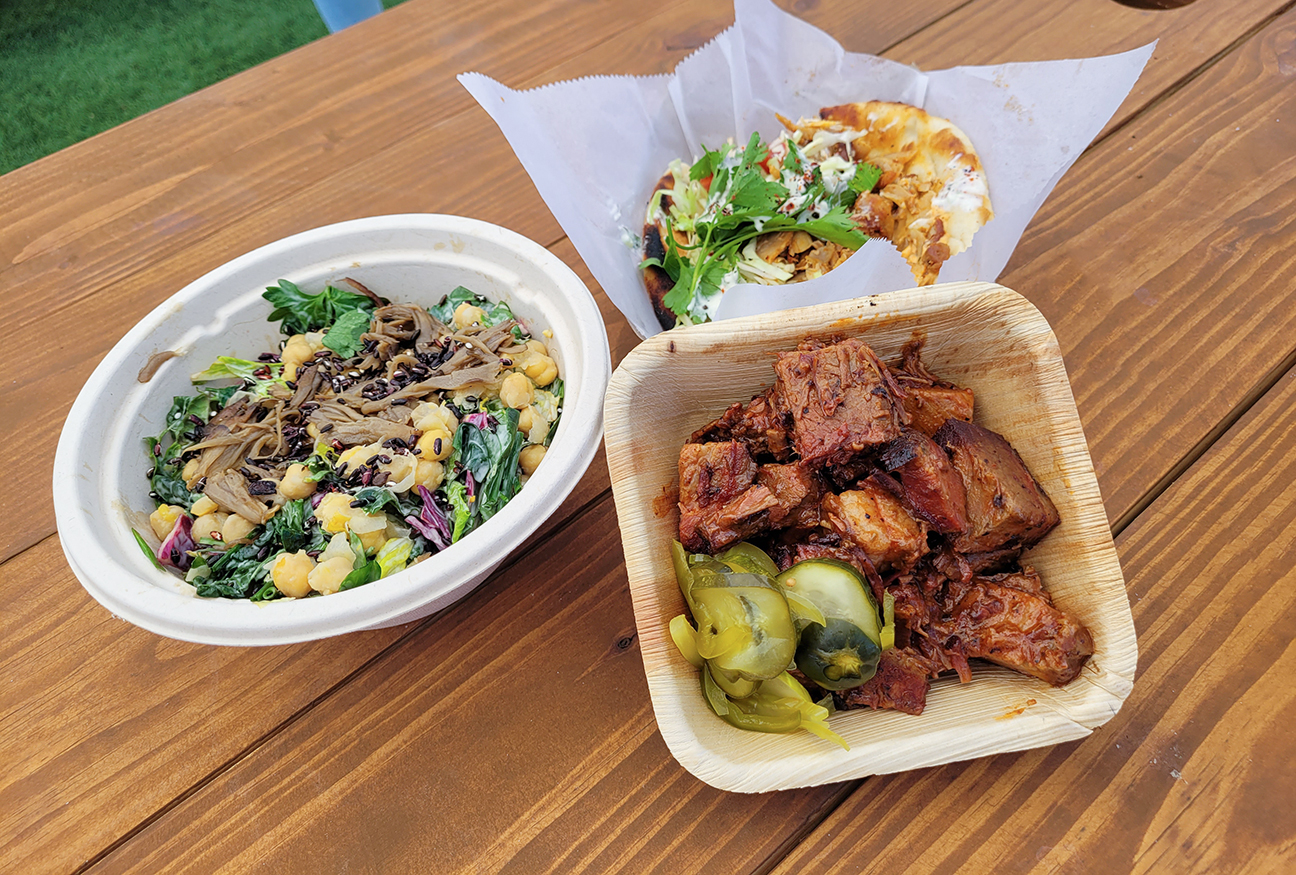 Maybe I'm jaded after a decade of covering BottleRock, but fried chicken and barbecue definitely seem to be a popular formula. Not especially exciting, but it seems to be the right mix of familiar, gut-filling and priced reasonably.
It's a natural progression as the event becomes more accessible to larger crowds. Complicated food that needs tweezers and plating isn't festival food, admittedly.
The food offerings at BottleRock will always be music to my ears because Wine Country just knows how to eat. But I challenge the chefs to stay tuned into their creativity.
Here are some solid bets because you're going to get hungry.
1. Compline, Duck Fat Fries, $14: I'm not sure if fries cooked in duck fat are all that much better, but these are certainly some excellent fries if you're hankering for a little greasy goodness. The Togarishi aioli served with them is incredible.
2. Tarla, Chicken Pita Gyro, $18: This is undoubtedly the best value I've found. It's a big, meaty gyro with shredded lettuce, onions and garlic sauce. Easily sharable. The frozen lemonade is a great thirst quencher.
3. Stateline Road Smokehouse, Maitake Mushroom Salad ($18): I wanted this to be a solid win for the much-anticipated Napa restaurant from Michelin-trained chef and Kansas City native Darryl Bell. Unfortunately, the Kansas City burnt ends were dry and the sauce was not exceptionally flavorful. The salad ($18) was the best bet, with a citrusy dressing, chickpeas and a refreshing mix of greens.
4. Gerard's Paella, $24: Local chef Gerard Nebesky travels the festival circuit, providing much-needed fuel for the hungry masses. His large plates of paella are rib-sticking and still a fantastic value.
5. Buckhorn BBQ, Garlicky Pulled Pork Sandwich, $18: A soft roll stuffed with tender pulled pork will keep you rocking for hours. A few pumps of their sweet sauce make this the barbecue I'm after.
6. Press, Best in Show, Ahi Tuna Nachos, $22: For the price and the ingredients, I'd call this a shareable value. Fresh tuna, fermented peppers, radishes and black lime chips with a drizzle of crema were a favorite of the day. Do not order the buttered pretzel. For $5, yes. For $15? Nope.
The VIP area offers some higher-end options that include wood-fired pizza and high-low corn dogs with caviar. Of everything we tried, the poke nachos ($20) were the most interesting.
Masahuru Morimoto's new Asia Napa restaurant is represented, but the gummy dim sum samplers underwhelmed. The restaurant stall also offers an 8-ounce container of orange chicken ($24). Really. Orange chicken.
Mustard's, Gerard's Paella and Tarla have repeated menus inside the VIP area.