"You have to be able to look back in time," says Kirk Andrade, known to many as the Barn Doctor.
Standing in a dark redwood barn in west Petaluma, surrounded by dusty vintage cars and mounted deer antlers, he stops talking and listens.
Swallows fly in and out an open window. Sunlight shines through slits that have widened over time. Winds gust and the barn resists with a gentle creak and sigh.
"They definitely talk to you. They have conversations with you," says Andrade, who has spent nearly half his life restoring old barns. "They are growing pains, and it's almost like setting a bone. You've gotta work it into place to line it all up again. And as you're doing it, as it's bending its own nails and boards are cracking, it's fighting to stand up again."
All across Sonoma County, old barns — some dating back over a century — are stooping and sagging like old men as they bow and return to the earth. Once a first refuge against the elements, barns offered shelter from wind and rain, dry storage for hay and a roof overhead for cows. A rural cathedral that symbolized farm life, the barn was often the first structure framed against the land, a place where the farmer would live with his family among the farm animals while the first house was being built.
Now, on many farms, they're barely more than a pile of kindling.
But in recent years, a select few have been tapped for restoration and revival.
"Once they're gone, they're gone," says Andrade. "So if you can save them, you better do it while you can. Because at some point, it's too late."
During the past decade, barns have increasingly doubled as wedding destinations for couples lured by their romantic rustic nature. But that's only one idea employed by creative new barn owners who convert their old-growth timber piles into textile showrooms, guest living quarters, entertainment spaces and even yoga studios. The farmers who originally built them with their own hands might scratch their heads today, but just as the barns were once the center of communal life 100 years ago, they're being reborn as gathering places that bring people together, much like the barn raisings and barn dances of lore.
Here's a look at a few local barns reinvented in ways their original builders might never have imagined: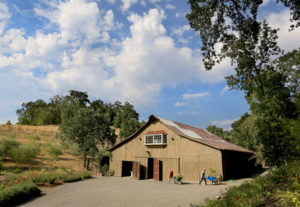 – Sandra Jordan's Prune Ranch Barns
When the Healdsburg designer bought her Eastside Road estate more than two decades ago, the fire department wanted to use the half-dozen old barns on the property as "target practice for practicing taking old buildings down." But Jordan wouldn't allow it.
The former creative director at Jordan Vineyard & Winery, who reinvented herself as founder of the boutique textile and design business Sandra Jordan Collection and Sandra Jordan Prima Alpaca, needed all the extra space she could find.
So she decided to restore the six dilapidated barns that were originally part of a prune orchard.
"You see the bones and then you say, 'I want to make it better,' " she says. "The building will tell you what to do. You just have to stare at it long enough."
With an eye on preserving rural Sonoma heritage, she recrafted each barn as uniquely her own, pulling from her Peruvian roots. You can see it in the cast-iron Peruvian coat of arms, featuring alpaca and quinoa symbols, and in the Lima street lights in the foyer of a barn.
The main office was converted from an auto-body garage barn. A former chicken coop and later pig sty now serves as guest living quarters, known simply as "Hog Heaven." On a hillside, the former horse stable has been recast as a photo studio, professional kitchen and barrel room for the syrupy balsamic vinegar she ages on the property.
But the piece de resistance is her showroom barn, housing a massive art gallery and music room, where she's hosted Santa Rosa Symphony benefit concerts. It's a towering two-story haven for reclaimed treasures she's collected over the years. Inset in the walls are French wooden grape-picking baskets the size of conga drums. Jordan found a massive collection of deer antlers in North Dakota. Riddling racks were rescued from Domaine Chandon winery. And, of course, the walls are upholstered in soft baby alpaca wool.
"You can't buy this, you can't make it from scratch," she says, standing in the entrance to the barn. "You can't create this kind of charm."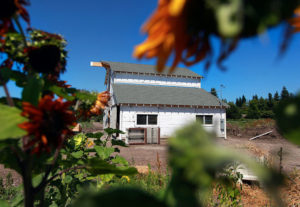 – The White Barn at Tierra Vegetables
In 2009, when Sutter Medical Center began building a new hospital along Highway 101 near the Wells Fargo Center, construction workers ran across an old barn that had been used most recently as a workshop at the neighboring concert hall. Instead of razing it, they donated it to Tierra Vegetables farm.
But that was just the beginning of the journey, as Tierra Vegetables co-owners Wayne James and Evie Truxaw raised $45,000 in donations and $25,000 in loans to carefully deconstruct the barn and reassemble it on a new foundation at their farm on Airport Boulevard in north Santa Rosa.
"Under the raised floor, we found a beam where someone had carved '1924' into it, so we think that's the year it was built," says Truxaw.
She's standing upstairs, surrounded by shelves of drying red onions. The second floor is where they store vegetables such as garlic, onions and winter squash. And the downstairs has been reworked as the Tierra Vegetables farmstand, complete with an old painting of Luther Burbank they found hanging in the barn.
"It's been a huge labor of love," says James. "But I'm glad it's still part of the local community. It feels like it should be here."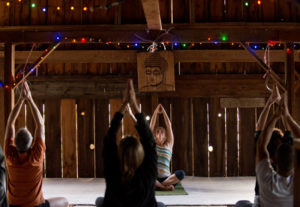 Angelman remembers as a kid playing hide-and-seek with her grandfather on the upper floor of her family's nearly 3,000-square-foot barn.
Decades later, she would inherit the ranch her family settled in 1853 near the town of Bodega.
But by 2007, the crumbling old-growth redwood barn "had become hard to look at anymore," she says.
After several contractors recommended she knock it down and build a new one, she hired Andrade to save the barn.
Marveling at his work nearly five years later, Andrade says, "Fortunately the skeleton was still intact. It was just a matter of getting all the lines straight again and pulling it back into shape."
Today, while her son, Che, raises goats below, making cheese from their milk, Angelman uses the second floor as a yoga studio where students meet every Sunday. A wooden portrait of Buddha looks out from the back wall, framed by beams strung with Christmas lights. In the winter, the soothing sounds of nearby Vina Creek (named after her mother) filter through the barn slats.
"It's really a sanctuary," she says, standing not far from one of the corners where she once hid from her grandfather behind hay bales. "It's like you're outside even though you're inside. It's a part of the surrounding nature and envelops you in the same way."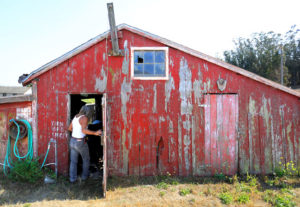 Busy restoring other people's barns, Andrade spent five years restoring the chicken barn and horse stable where he once played as a child on the west Petaluma farm his grandfather settled in the 1940s.
"People see barns like this every day and they take them for granted," he says. "It's our heritage, our agrarian roots."
It may be hard to tell from the weathered exterior of the long, narrow ramshackle barn, but inside Andrade has created an intimate, creative studio space reworked from items he's salvaged from throughout the Bay Area.
A 10-foot farm table is made of Douglas fir he scavenged from a Water Street warehouse near the Petaluma River. An island counter was formerly the ticket counter at the Petaluma rail station. A pew came from a Marysville church. A few girders once held up a barn in Novato. A few panels of stained glass were rescued from an 1880s Petaluma house. And the stove that heats the space is a converted sandblasting pot his father rescued after working on the Golden Gate Bridge as superintendent of the machine shop.
In restoring his old family barn, Andrade took the same approach as when he's working on other farms as the Barn Doctor.
"I can read how the years and gravity have taken effect over 70 to 80 years. It's up to me to reverse that in a much shorter time span," he says. "Usually, they've already had people tell them it can't be saved and I'm their last resort."
Bay Area freelancer John Beck writes about entertainment for The Press Democrat. You can reach him at 280-8014, john@sideshowvideo.com and follow him on Twitter @becksay.