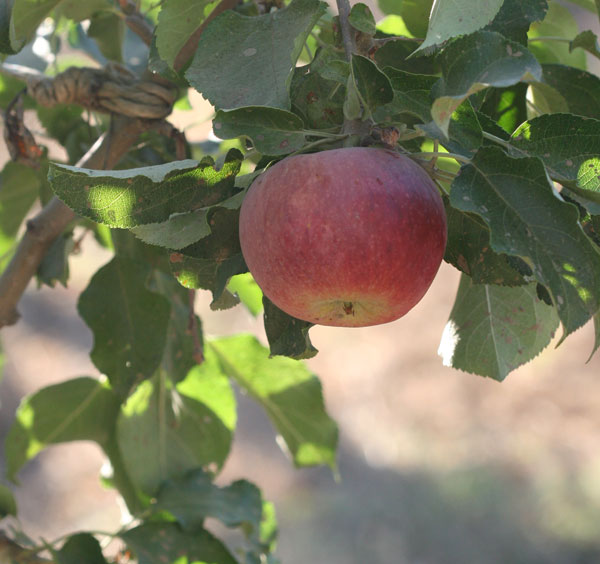 Before there were grapes, there were apples. Acres and acres of apple orchards dotting Sonoma County like our own little Eden. In the early 1900's, there were thousands of apple farms covering 11,000 acres in the county.
As nights turn crisp and days shorter, fleshy stone fruits and tart berries have always made way for autumn's favorite harvest. But here in Sonoma County, the apple harvest has dwindled to a trickle as ancient orchards have been ripped out to make way for vineyards and prices have dropped so low that it became more economical to let the fruit rot on the branches.
Although only about 3,000 acres of apple orchards remain (mostly in West County) the news isn't all bad when it comes to this historic local fruit crop. With the help of Slow Foods and a handful of farmers dedicated to reviving heirloom apples, there's a ray of hope on the horizon.
Here's where to enjoy our local bounty this fall…
Apple Pie Workshops: From Orchard to Oven
Kathy Tresch is among anew generation of orchardists who, after seeing trees being ripped out with fruit still on the limbs, decided to start Olympia Orchards. In conjunction with her husband and their family dairy, the family now has more than 500 young heritage apple trees with 50 varietals of apples including Wickson, Jonathon, Kidds Orange Red, Cinnamon Spice, Fuji, Honeycrisp and of course Gravenstein. For two weekends in September, they'll welcome guests for a three-hour Apple Pie Workshop, where guests will tour the orchard and pick apples straight from the trees for their own pies. Chef and food writer Meloni Courtway will teach the secrets of perfect pie crusts, and help guests bake pies in an outdoor oven at the ranch. The cost is $48 per person, and lasts about 3 hours. Sept. 12 at 11am and 3pm, Sunday, Sept. 19 @ 11am. Register online at www.tworockranch.com.
Gabriel Farms: One of the few U-Pick farms in the county, Gabriel Farms is a favorite for families and schools. Reservations are required, as this is a working farm, but you can usually let them know a day or two ahead. Eight varieties of organic apples, Asian pears, juice. Their jams and preserves make the trip well worth it. 3175 Sullivan Road, Sebastopol, 707-829-0617, gabrielfarm.com.
Apple-Ation Brandy: If applesauce and cider seem too humble an end to our historic Gravensteins, consider a little apple brandy. Local winemaker Guy Davis distills several varieties of the historic apples from Dutton Ranch into Apple-Ation, an ultra-premium apple brandy. It's a labor-intensive process of hand-picking and sorting the apples, then fermenting them (with seeds, skin and stems), then distilling the essence of the apple mash and finally oak-barrel aging. It's strong stuff at 80-proof, but even straight, there's no mistaking the powerful apple aroma and flavor — the epitome of fall, Apple-Ation Brandy is available through the winery in limited quantities, as only 1800 bottles are made each year. 52 Front Street, Healdsburg, 707-433-3858.
Mom's Apple Pie: From August through November, all pies are made with local Gravenstein apples. 4550 Gravenstein Highway North, Sebastopol, (707) 823-8330. Kozlowski Farms: Local Gravenstein treats throughout the year, from cider to pies. Available at the farm or in many local grocery stores. 5566 Gravenstein Hwy. 116, Forestville.
Apple-A-Day Ratzlaff Ranch: Owner Ken Ratzlaff is a third-generation apple grower with more than 900 acres of apples. Though most are sold commercially, he sells both conventional and organic ciders at the ranch from August through December. Call ahead for availability. 13128 Occidental Road, Sebastopol, 707-823-0538.
Gina's Orchard Apple, Pear and Cheese Tasting: On October 3, this ancient orchard opens to the public for a tasting of more than 20 varieties of apples, European and Asian pears including rare heirloom varieties. Growers will answer questions about growing, cooking and preserving different varieties of fruit. Local cheese makers represented include Bellwether Farms, Bodega Artisan Goat Cheese, Redwood Hill, and Two Rock Valley Goat Cheese. $20 per person, 1 to 4pm.

Read this: Frank Browning and Sharon Silva's new book, An Apple Harvest, Recipes & Orchard Lore is an ode to the crisp fall fruit. Part history and apple family tree (featuring pix of various varietals), the book also features dozens of apple-licious recipes from main courses to desserts — with, of course, the required apple dumpling and tarte tatin entries.