Dry Creek Valley can get very dark at night. Homeowner Lisa Malloy says it's so dark she can easily see the Milky Way from her stargazing tower, a weathered metal edifice tucked at the edge of her backyard: a field of tall, feathery grass and agave.
"We wanted a stargazing dynamic because we just love to look at the stars," says Malloy, a designer who moved to the dreamlike property with her husband John and their Newfoundland dogs four years ago.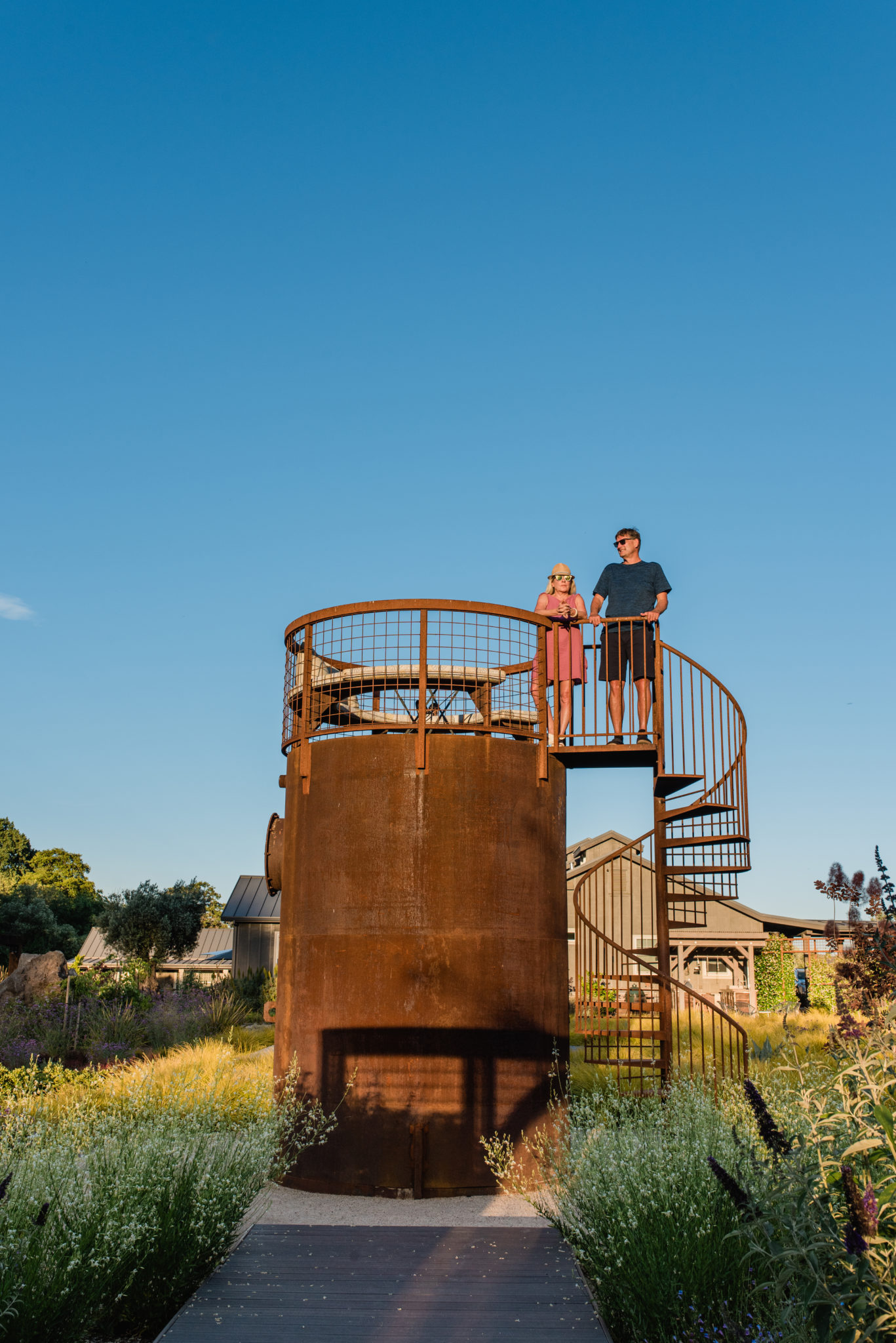 When they bought the home, Malloy knew the empty, dirt-packed backyard would need imagination and a sense of surprise. She found a like mind in Healdsburg landscape designer Jake Moss, of DIY Network and HGTV fame, and hired him to reshape the space.
Soon after, Moss, who is known for an inventive use of salvaged materials and a somewhat madcap approach to design, came across a rusty water tower that had been sitting around for years. Relocating the structure to the Malloy home, he repurposed it as a stargazing tower, with a staircase spiraling around the outside for a custom, steampunk-style look. Now the Malloys can ascend the stairs and take their seats at the top for a bird's-eye view of the night sky — a view so fine they feel no need for a telescope.
Much of the acre-and-a-half area Moss worked with is set aside as the Malloys' septic field. Moss had the idea of turning it into a meadow of tall, tufted perennials, punctuated by an occasional agave and smoke tree. For the meadow, he selected Lomandra, an Australian native which looks like a grass but is actually a member of the asparagus family. It grows in clumps to about 3 feet tall.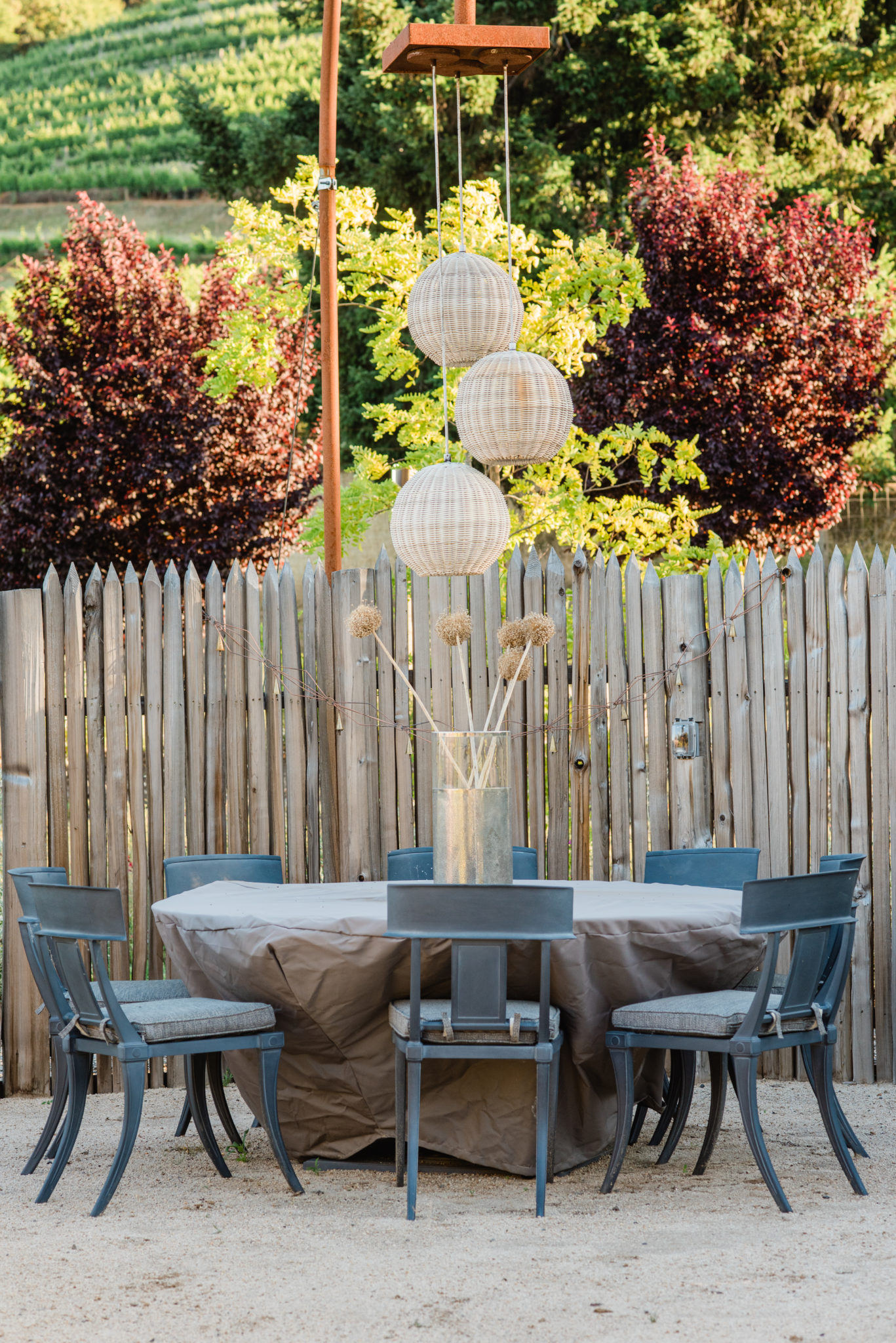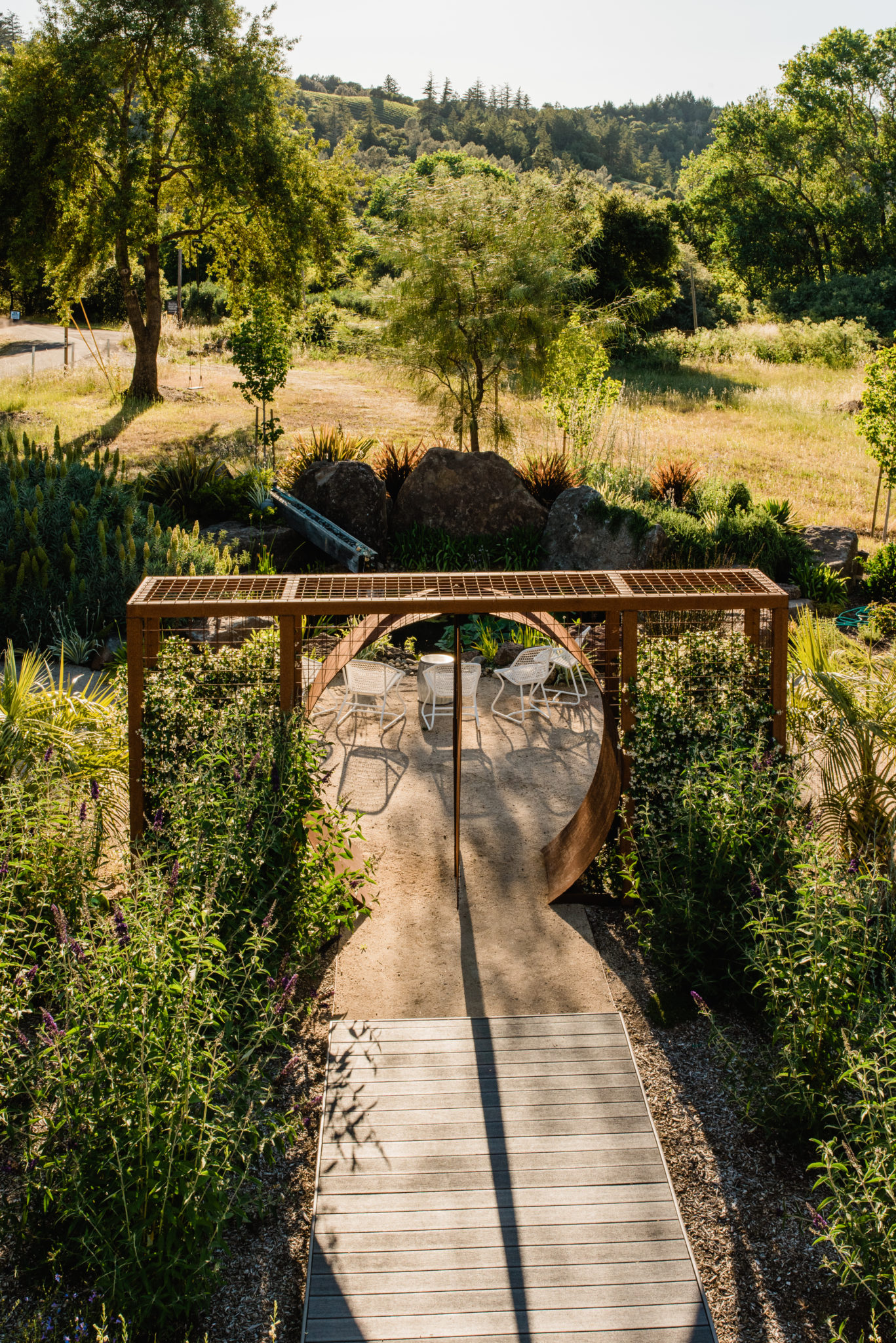 "It's just a nice open swath of texture, and it's evergreen," Moss says. "That's one of the reasons I wanted to use it. And it's a very hardy plant. If you're going to plant 300 or 400 of them, you want to make sure they're really hardy."
Through the sea of grass, he built a long, wide boardwalk. And set within the middle of the boardwalk is a sunken firepit that places guests deep within the grassland. Lisa and John have packed as many as 25 people around the firepit at night for stargazing parties.
"The cool thing about this is, when you're sitting in here, you're grounded to the landscape around you," Moss says. "It puts you into a different perspective.
Moss loves nothing more than to salvage weathered old pieces of wood and dream up new uses for them. At the Malloy home, he used large reclaimed timbers for a pergola that runs along one side of the landscape and repeated the look with a series of floating benches with concealed legs. At one time, the timbers had been used to help transport heavy machinery over mud and other unstable surfaces while building tunnels for BART.
"They have holes where the nuts and bolts used to go through. They have an interesting story and have kind of a cool, beat-up look to them," Moss says with obvious enthusiasm.
The extended pergola is a great space for outdoor dining, long enough for a massive table to accommodate a large number of friends and family. "It's such a fun visual to have a great big long table," says Malloy.
More surprises come at the entrance to the garden, along the side of the house. A small, private courtyard is set along a curved copper wall, surrounded by fragrant star jasmine, with openings that provide a hint of the magic beyond. A wall of water falls serenely down the middle. "This is a very windy zone,"
Malloy said. "We wanted a little protection, and then to create something interesting beyond."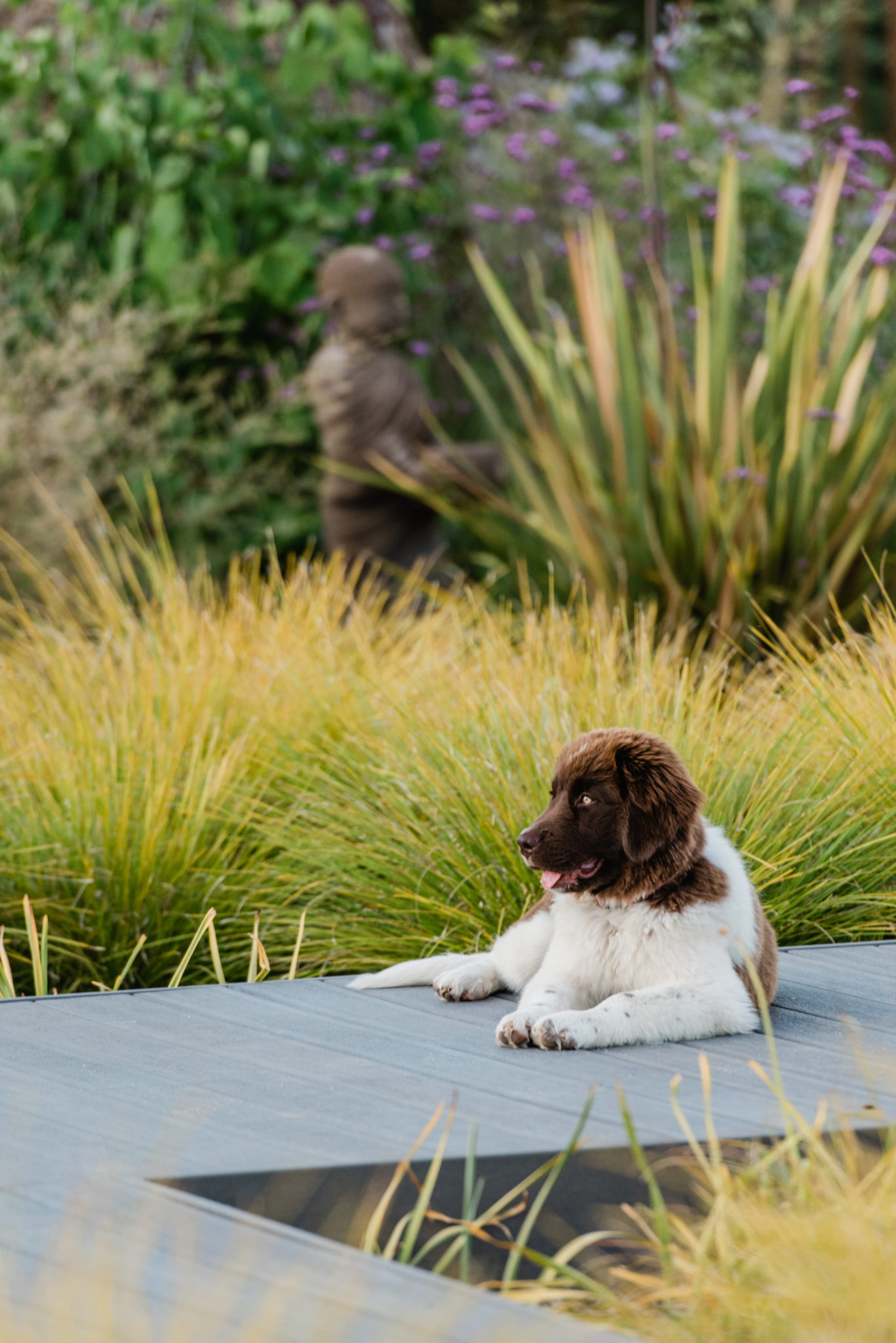 Tucked into a niche between the pergola and the grassland is an outdoor shower — perfect for people and for the couple's two Newfoundland dogs, 9-year-old Rosie and five-month-old puppy Olive. The shower gets plenty of use hosing down the dogs after they've been wading and splashing in Dry Creek, which borders the home. Around the shower, Moss carefully selected lava boulders to fashion a natural wall that gives the feeling of being under a waterfall somewhere in the Southwest.
Moss used reclaimed metal panels to create doors to the Malloys' new vegetable garden. He sketched the door design himself and had it laser-cut. Behind, a series of Cor-Ten steel veggie planters repeat the rusty metal patina of the stargazing tower.
The bottom disc of the water tank used for the tower was cut out and used to fashion a round, 15-foot swiveling door that leads from the tower area into yet another secret garden — a pond complete with lotuses and other aquatic plants.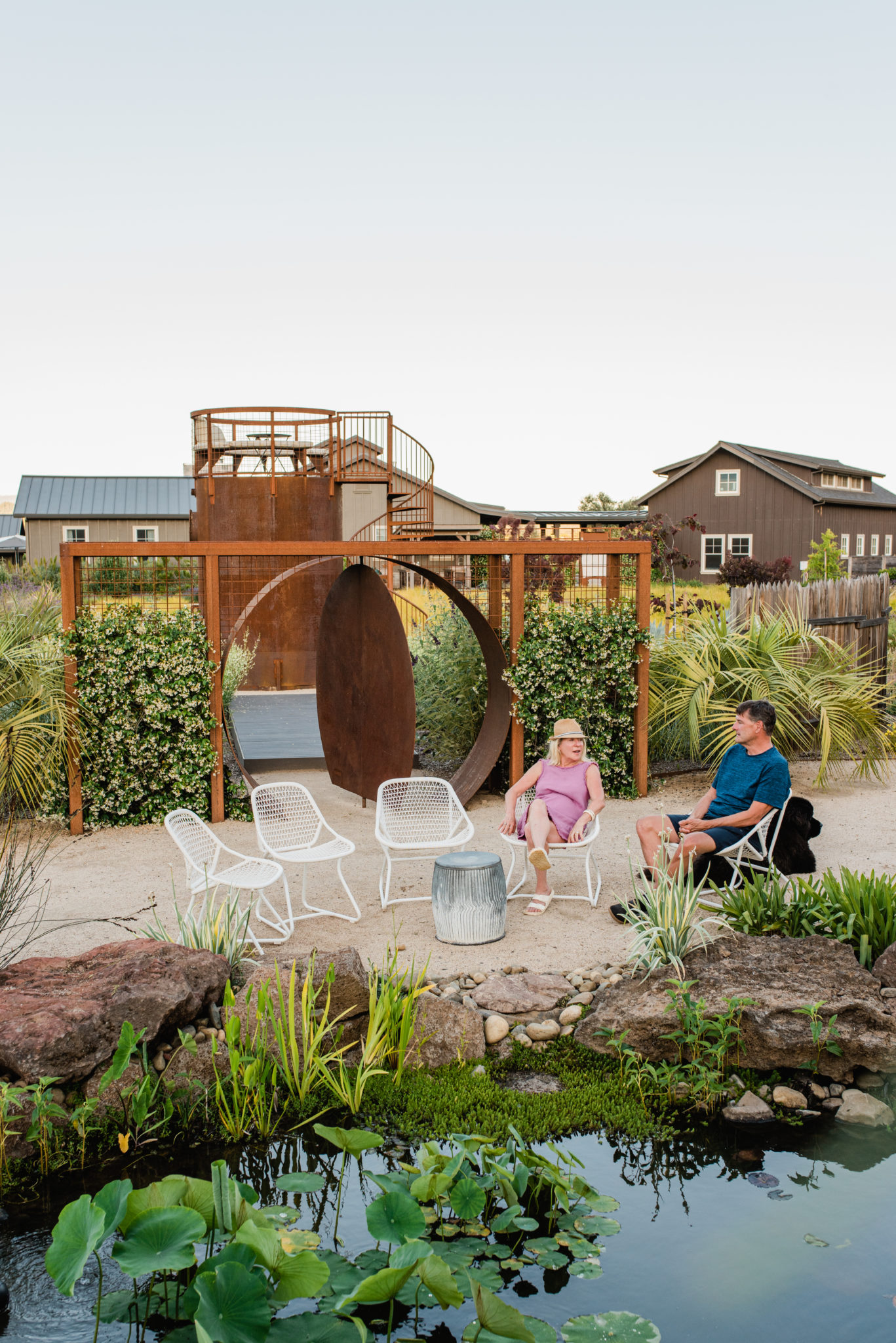 Moss brought in massive boulders, some as heavy as 10,000 pounds, to border the water garden.
This is John Malloy's special place, a place that conjures up memories of time he spent in Thailand. "He gets in there and tends it," Lisa Malloy says. "We have frogs and toads like you can't believe. It's so much fun."
Resources
Garden design: Jake Moss Designs Healdsburg, jakemossdesigns.com, 707-324-9228
Landscape maintenance: MIX Garden Healdsburg, mixgarden.com, 707-433-4327