Alan Petty was irritated.
He was watching his rugby squad run a passing drill at Elsie Allen High School in February last year, and in his studied opinion, the ball was hitting the ground far too frequently. This was not the mark of the storied program Petty has built here over two decades and against all odds — a foreign-born sport anchored by student-athletes from diverse backgrounds at a campus that draws from one of Santa Rosa's poorest neighborhoods.
"Seven drops is loser shit!" Petty boomed. "When one person drops the ball, we all drop the ball. Be perfect or get lost."
Petty is a tall, sturdy, stoop-shouldered man with a graying goatee. A former collegiate rugby player at Long Beach State and Cal, he has led the Elsie Allen squad to 11 league championships and two state titles. He commands respect on the field, and usually carries himself with a quiet calm. So when Petty blows steam, his athletes pay attention.
Seeing one lazy pass too many, he ordered his players to perform a dance of thigh-burning lunges. And so, as lanky cross-country runners from an exclusive private academy across town circled their track, the Lobos lunged.
Lobos Rugby Club doesn't look like most other school teams in Sonoma County, and not just because of the wide range of body types. The fluid roster of some 30 kids is composed of boys from well-to-do households, first-generation Mexican immigrants from the neighborhood, a few black and Asian students, and, most notably, a large contingent of Pacific Islanders, for whom the sport has deep cultural roots.
When families come to watch games at Elmer Brown Field on the Elsie Allen campus, it's one of the few settings in Wine Country where you can expect vineyard workers, cops, and corporate executives to mix freely and casually.
The boys on the squad don't seem to dwell on such things, at least when they are on the field. During their practice, much of their banter was predictably irreverent. "Someone tell me why Osei smells like perfume?" one of them said with an eye roll, needling teammate Dominic "Osei" Walker, a freshman at the time. But even here, one thing was clear. There is no social hierarchy on this field. Petty and his assistant coaches push everyone equally.
"You can come from any background, come to rugby, and nobody cares where you're from," said Jaden Groesbeck, the ginger-haired son of a health care executive. Last year, he was a junior at Maria Carrillo High School, another public campus across town that draws from a wealthier area of eastern Santa Rosa. "They don't judge you. Which is really cool."
The players of Lobos Rugby don't enjoy the glory that is showered upon most high school football and basketball teams. Their games are sparsely attended and rarely chronicled in local media. But Elsie Allen rugby has become important, even iconic, to those who come through the program. Petty and his team have established a proud bloodline and a culture of excellence, defying the deep socio-economic divides that shape Santa Rosa.
"I always tell everybody I have two families," said Manny Leighton, who lived in Napa but had joined the Lobos for his senior season. "Even though it's my first year, I tell them when we're down, 'We have 20 years of tradition that we have to make up for right now. Twenty years of guys who played before us. Come on, let's go.'"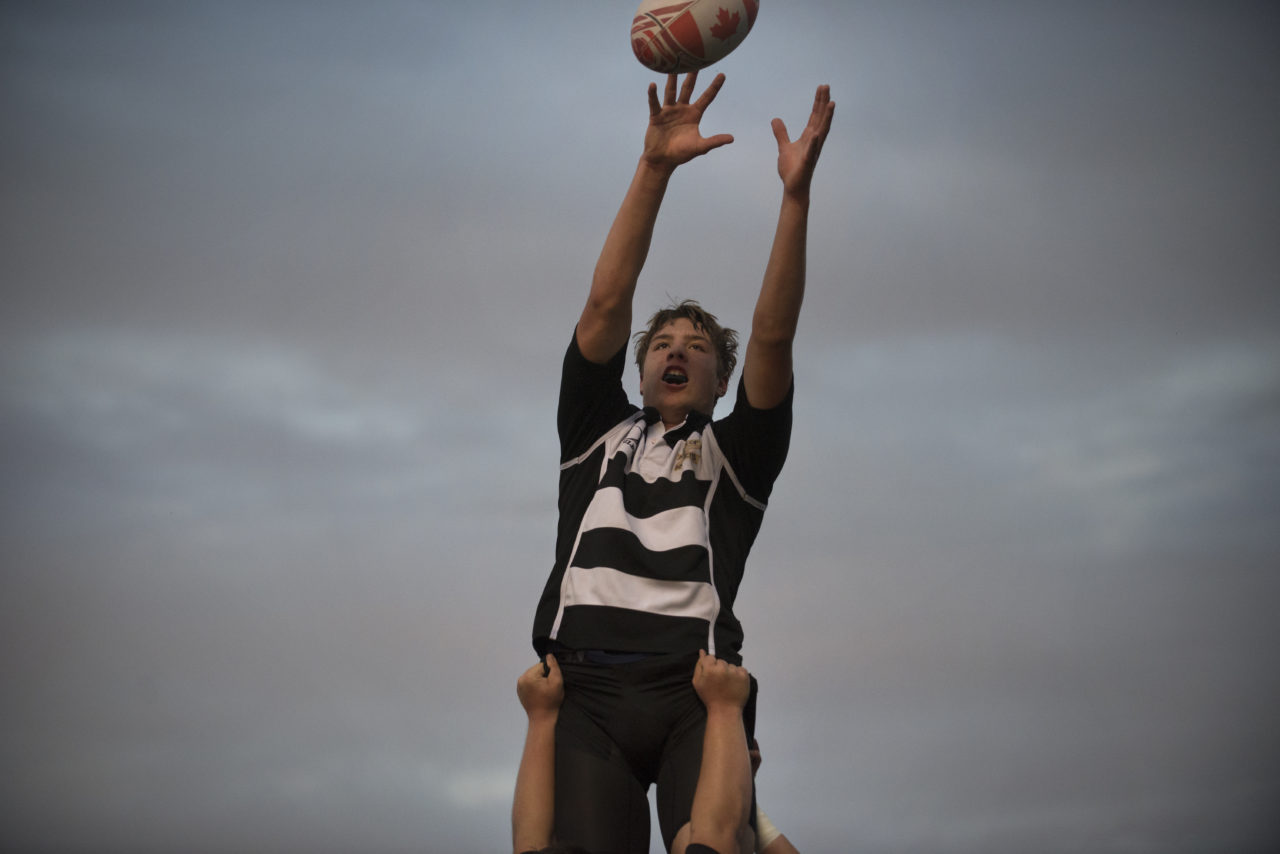 In the front-office lobby of the Elsie Allen campus in southwestern Santa Rosa hang 50 flags from countries across the world, representing the home nations of the school's roughly 1,100 students and their families. More than 60 percent of the student body is Latino, but the administration translates its parent forms into 11 languages.
"I have some classes where there's not one white kid," said Petty, 52, who teaches history at Elsie Allen and lives in eastern Santa Rosa. "Then I go to church in Rincon Valley and everyone is white. A lot of people who live next to you would never cross 101."
That's Highway 101, the north-south axis that splits Santa Rosa and has long demarcated a line between the city's more affluent and politically powerful neighborhoods on the eastern side and less wealthy, more ethnically diverse areas to the west. One clear metric of division: No member of the Santa Rosa City Council for at least a generation has lived anywhere near Elsie's base south of Roseland, a predominantly Latino neighborhood, though that could change later this year under Santa Rosa's new system of district elections.
The Elsie Allen campus is lovely, with clean, modern classrooms surrounded by playing fields that give way to pastureland. Elsie features a state-of-the-art Performing Arts Center, a laptop computer lab, and honors and Advanced Placement classes across an array of subjects. The arts program has won honors from Congress, while one-act plays developed through the school's drama program were performed at the Edinburgh Fringe Festival in Scotland in 2011. The Elsie Allen Drum Line is fire.
The school has developed innovative academic programs, too. The University Center on campus connects qualified kids with classes at Sonoma State University. The Elsie Allen High School Foundation, whose board includes La Tortilla Factory co-founder Willie Tamayo, awards about $100,000 worth of scholarships every year to deserving students with financial need.
And yet Elsie Allen has frequently been the school that families want to leave. A chart supplied by Santa Rosa City Schools shows that in the current academic year, 170 students living in Elsie Allen's designated area filed requests to attend other high schools. In the other direction, five students requested to leave their own schools of residence and attend Elsie Allen.
Principal Mary Gail Stablein noted that Santa Rosa City Schools has tightened its standards for open-enrollment transfers, and that her school retained year.
"But it has happened," Stablein said. "I think that's definitely something that's pretty common knowledge." This flight only deepens the socio-economic imbalances in the city. Elsie Allen has a far higher share of low-income students and non-English speakers than the other four public high schools in Santa Rosa. One out of every five students at the campus is an English-language learner, according to Stablein, though the state puts that number closer to one out of every three students. Up to 90 percent of Elsie students receive free or reduced-cost lunch, and the state's Department of Education puts the proportion of socio-economically disadvantaged students attending Elsie Allen at 82 percent.
At Maria Carrillo, the corresponding figures are 5 percent Englishlanguage learners and 18.4 percent socio-economically disadvantaged.
The poverty that surrounds the Elsie Allen campus casts its own shadow, including violence that even the rugby squad hasn't escaped. Petty said he has buried 27 students and rugby players during his 22 years at the school.
The sports stadium, at the south end of campus off Bellevue Avenue, sits less than a mile from the vacant lot where, in 2013, 13-year-old Andy Lopez was fatally shot by a Sonoma County sheriff's deputy — a tragedy that somehow is less unthinkable here than it might be in other parts of town.
Many of the Lobos players come from families with little disposable income. Many struggle in the classroom, and too many have lost loved ones to addiction or jail. They are teenagers that the wider community could easily dismiss.
But the kids reject this portrayal. Lobos Rugby has taught them that it isn't always the boys with the expensive cars who win the games; that you can be great at something even if you've been told a hundred times that you'll never amount to anything; that if you have been disappointed by or even abandoned by adults in the past, it isn't going to happen on this field, on this campus.
"The good teachers here don't leave at 3," said Dan Bartholome, Petty's top assistant coach and a math teacher at Elsie Allen.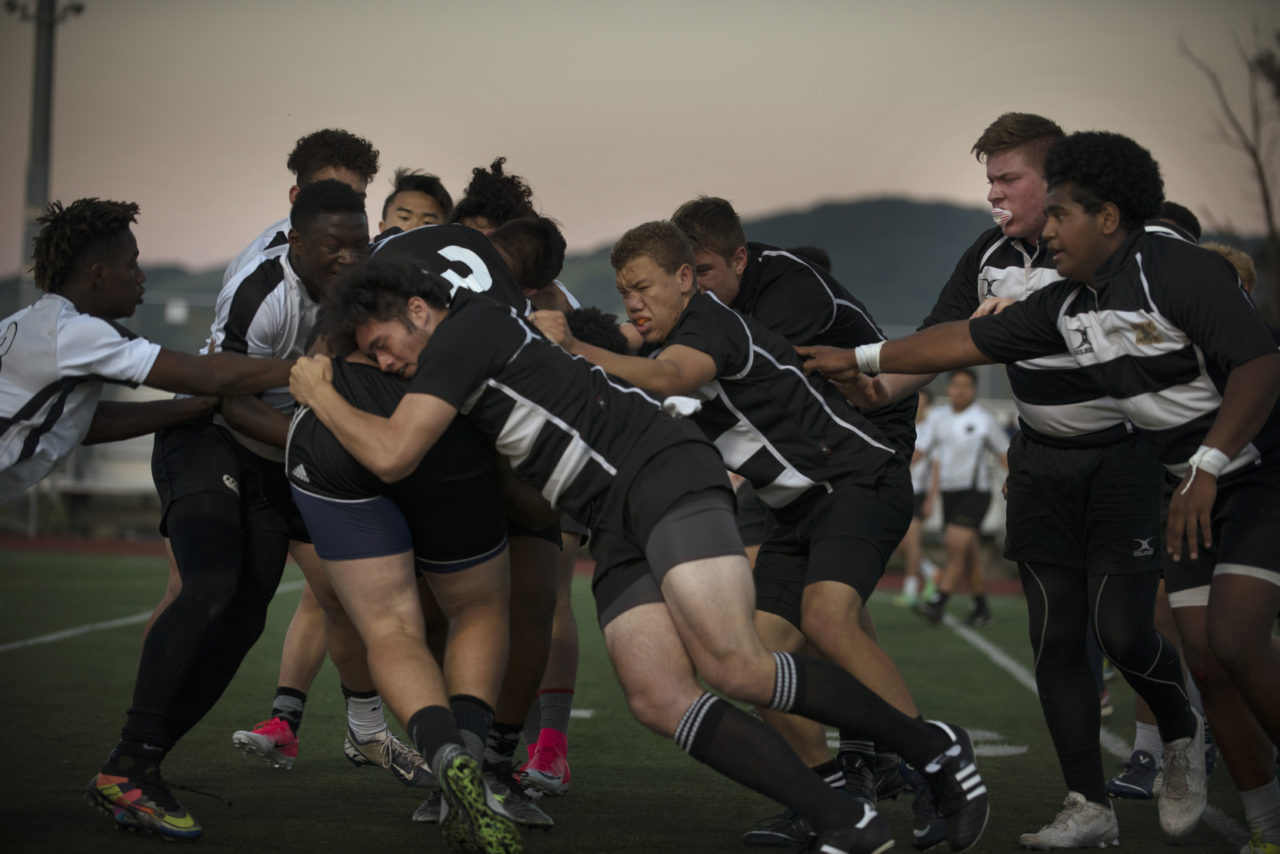 In the Elsie Allen gym, there are no banners celebrating the achievements of Lobos Rugby. That's because it is a club team, outside the governance of the California Interscholastic Federation, which oversees 19 official high school sports.
As a club team, the Lobos are never composed entirely of Elsie Allen students. In the last full season, when the squad allowed Sonoma magazine to tag along for a few months, the team actually had a minority of Elsie kids. The rest came from other neighborhoods in Santa Rosa, from Sebastopol, from Petaluma, even from Napa, 40 miles away.
But don't let the lack of banners fool you. Since Petty founded the program 21 years ago, the Lobos have claimed two state championships, finishing runner-up on another occasion. Three times, they have qualified for the national championships.
"We have won a couple of hundred games," Petty said, nonchalantly. "I quit counting at 100." That was in 2004.
This makes the rugby team an anomaly at Elsie Allen. With a few notable exceptions, like boys' soccer and boys' basketball, the Lobos athletic programs are perpetually overmatched. Neither the football team nor the softball team (as of this writing) has won a league game since 2005, the girls' basketball team since 2011. The baseball team went 6-131 in league play from 2007 to 2017, according to sports clearinghouse MaxPreps.com.
This is not a failing of Elsie Allen coaches or the result of any shortfall in athletic potential. To a large extent, it's another symptom of the emigration that has undercut the school and helped drive the success of others.
Intra-district transfers aren't supposed to be based on sports opportunities. But in reality, many kids move because they want to play for a better basketball or soccer team. It creates a vicious cycle for Elsie Allen.
A Lobos baseball coach once described a scene he said was common at home games. Players from Montgomery High, on Santa Rosa's east side, would arrive at Elsie Allen by bus. They'd play the game, Montgomery would win, and two-thirds of the players would get back on the bus for the return trip. The other third would simply disperse to their houses in the Elsie neighborhood.
"The big issue is keeping kids from trashing our school," Petty said. "If we can keep kids in our district, we'll be fine."
So the rugby team's success stands out. Just as boys in Cardinal Newman High School families dream of playing football and girls in Rincon Valley aspire to play soccer at Maria Carrillo, a lot of boys in south Santa Rosa look forward to digging in on the Elsie rugby field.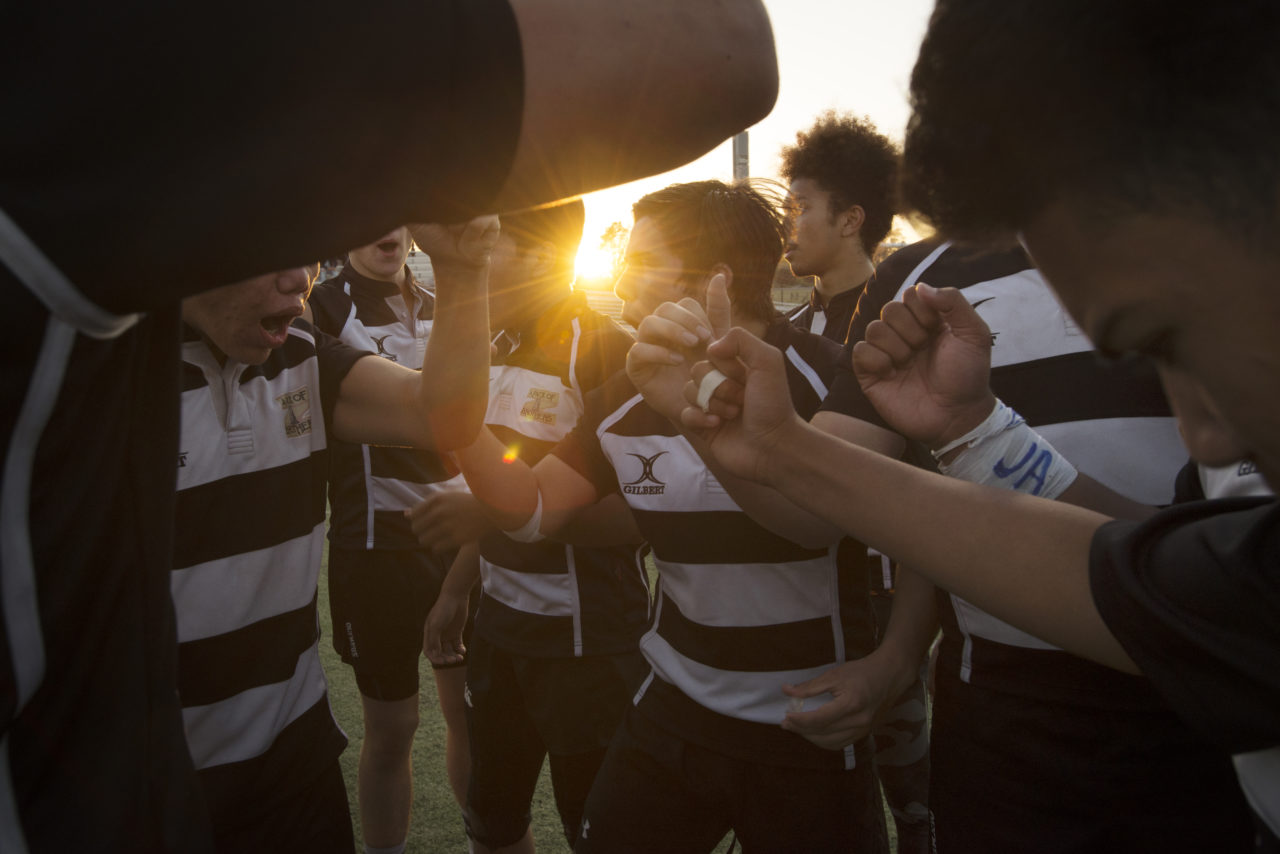 Inside Petty's classroom, a wall is lined with 11 rugby balls, 10 of them covered in signatures. They represent the Lobos' 11 league championships. The classroom is where Petty checks in with his athletes, goes over strategy, reminds them of team guidelines, and nags about missing paperwork.
On an afternoon in late March 2017, the coach had good news. The Lobos had been accepted to play at the Boys High School Rugby National Championships in Kansas City, Missouri, in May. Elsie Allen would be going up against the top teenage competition in the country. It was a huge accomplishment, and the boys greeted it with roars and backslaps.
Much of Petty's message that day was devoted to rules for the trip to Kansas City. "If I catch you with alcohol, I will send you home," Petty said. "I will buy a one-way ticket and put you on a plane."
It would be the first flight for many of the players, and for some their first time out of California. The team, Petty said, would travel as a group in blue blazers, white shirts, and khaki slacks. (Weeks later, as they embarked at San Francisco International Airport, a pilot would notice them, invite them to pre-board, and give them a shout-out over the intercom.) The number of kids bound for Kansas City, Petty added, would necessarily depend on how much money they raised. He hoped to take 26, and would base the final roster on attendance and effort. Some players would be left behind.
As a club team, the Lobos pay their own expenses, excluding a few small outside donations. Every player on the roster had already ponied up a $250 participation fee for the season. It's a considerable sum for many of these kids. When Daniel Nguyen started playing as a sophomore, he knew his parents, Vietnamese immigrants, would be wary. So he asked them for $10 for a meal here, $15 for a book there, and squirreled it away for rugby.
"At first, I had to be a little more surreptitious," Nguyen said. "I'd contribute a few dollars each week and try to be a little sneaky about it. That worked for the first year of me playing rugby. Afterward, I thought it would be a better idea to just come out with it."
This self-supported program couldn't exist without constant shepherding by the coaches. It starts with Petty, a tough-love coach who has extensive ties to collegiate rugby programs. He is regarded as the dean of Bay Area high school rugby, and is the longest-tenured coach in California.
Bartholome, 58, his chief assistant, is a retired Santa Rosa cop who got into teaching as a second career. Petty reveres him. He tells a story about an Elsie Allen kid who developed an infection and went into sepsis, which can be fatal. The parents were too strung out on drugs to help, so Bartholome spent two hours in the boy's hospital room every single day. "He didn't tell me for two weeks," Petty said.
The Lobos have other seasoned assistants and also get contributions from Mick Harrison, a physical trainer originally from New Zealand — a rugby hotbed — who helps out once a week for no charge. Dr. John Tomasin, a Healdsburg orthopedist who played rugby at UC Davis, has treated players with no insurance for at least 20 years, a donation of care that piles up as the injuries come every season. His nephew, Stephen Tomasin, was a high school football star at Cardinal Newman, the local Catholic sports powerhouse, who transitioned to rugby and very nearly made the U.S. Olympic team in 2016.
"I don't think he can be complimented enough," John Tomasin said of Petty. "Elsie Allen doesn't have a lot of positives that come out of it. Other athletic programs there don't do well, and rugby is something they can be proud of."
Petty had one more rule for his players in Kansas City. Should the Lobos pull off an upset and win the national championship, they'd have to stay up all night and celebrate.
"It's the most amazing feeling in life," he told the boys. "I've had three kids. That's cool. You wake up the next day, and it's awesome, but it's not the same. It will never feel like it does that night. So stay up all night and hang out with your friends."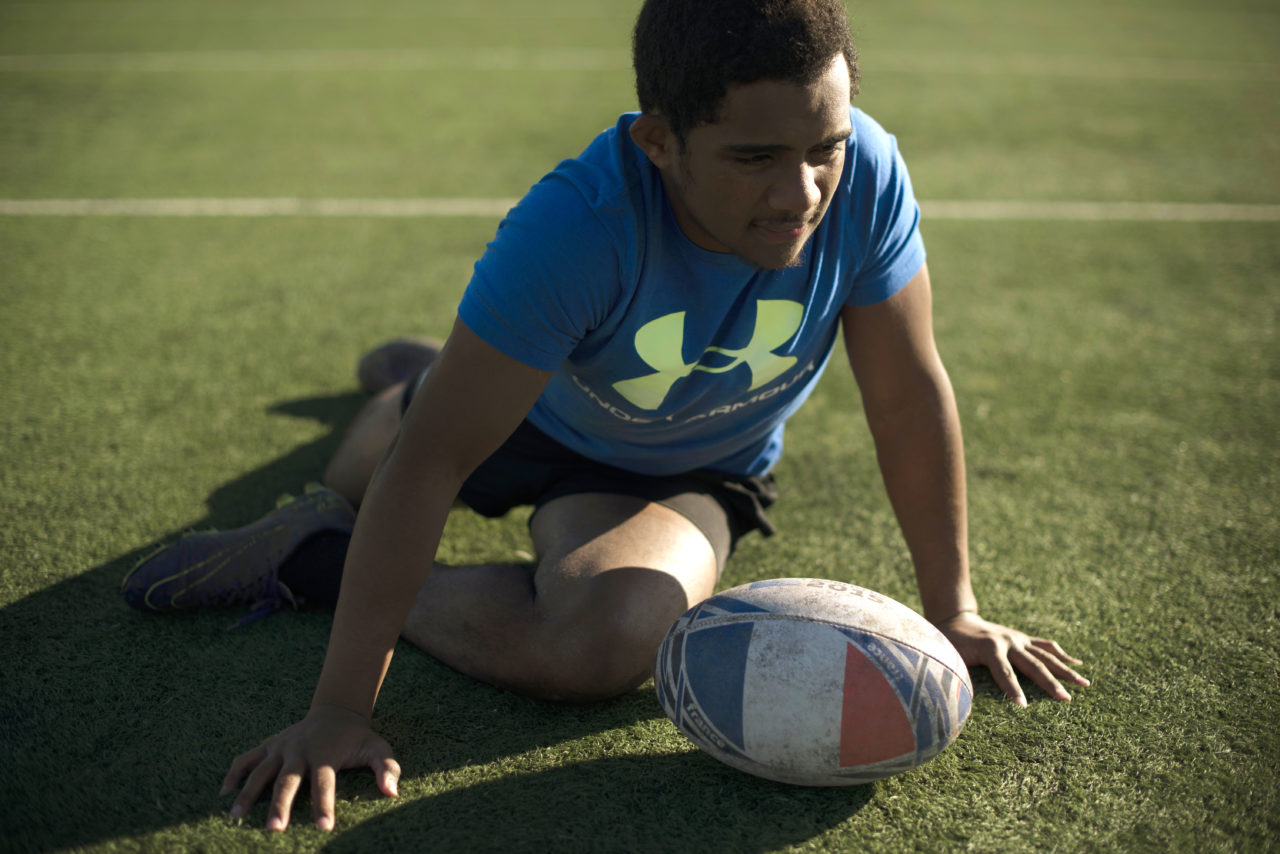 It was a practice in late March, and Petty and Bartholome were not in attendance. They had given the keys to a young assistant, Leroy Lam. On some high school sports teams, that would trigger a mutiny. And there was some grab-ass on the Elsie field, but for the most part kids remained attentive.
The day's drill was centered on the scrum machine, a neo-medieval- looking contraption that might have been borrowed from a Mad Max set. It's a heavy skid of various levers and pads that players were trying to move through the mud of a wet North Bay spring. The boys dug in their cleats, set, grunted, heaved — and moved the scrum machine a couple inches at most.
Lam guided the drill and offered instruction as experienced players pulled younger kids aside to explain the finer points. One, Luke Haggard, a junior at the time, beckoned two teammates. "Lap and talk, lap and talk," he said, before leading them in a tight circle around the drill to quietly hash out a flaw.
Captured in a casual moment, the Lobos' makeup was striking. Bartholome recalled a game against a team from Indiana a few years ago: "The Indiana parents were pissed because they were losing to 'these little Mexican kids.'" Athletes from Latino families are stalwarts of Lobos squads, with agility, speed, and footwork often taken from years on the soccer pitch.
But Islanders make up another sizable block of players. Rugby is the dominant sport in Polynesia and Melanesia. For kids in places like Fiji, Tonga, and Samoa, it can mean a rare chance to attend college abroad. "Rugby is everything in Fiji," said one standout player, Josh Kauvesi, whose uncle has managed the Fijian national team.
That fervor has been transplanted to California, and especially to the North Bay. Nothing cures homesickness like a game of rugby.
The Islanders are among the best players on the team. At times last season the starting lineup featured an all-Fijian back line. They can be massive, as you might expect if you're a fan of NFL football, where Samoans have become staples of the offensive and defensive lines. But there is more to Island rugby than size.
Osei Walker called Fijians the "kings of flair." As an example, he pointed to teammate Epi Feoko, a Rancho Cotate High student with a chipped-tooth smile and gravity-defying hair. On-target passing is a huge element in rugby, but Feoko's passing isn't just accurate. It's beautiful and inventive. Using a ball that resembles a large watermelon, he somehow plays rugby like Stephen Curry plays basketball. Feoko passes over his shoulder and behind his back. He passes left while looking right. He passes after going airborne, and right before absorbing a bone-rattling hit. And his style is infectious.
"Epi joined the team," Bartholome said, "and within a few hours, all of our kids were Fijian."
Feoko, now 18 and a senior, came to the United States, and to Sonoma County, when he was 15. On his first day here, he drove by Elsie Allen with his dad and saw a team practicing. He thought it was football at first. When he realized they were playing rugby, he was overjoyed.
"It's like getting ready for Christmas. I can't wait to play," Feoko said. When he was young he practiced by himself, passing to imaginary teammates. Now his ties to those on the field have deepened his love of the sport. "The bond you have on and off the field. It's a special thing."
The true wealth of diversity in this program is its mosaic of personality and circumstance.
Few high school activities could so smoothly mix kids like Manny Leighton, who was holding down two after-school jobs in Napa last year (CVS and the toney Meadowood Napa Valley resort, where he was a server); Jaden Groesbeck, a Mormon boy who sings bass in the Maria Carrillo choir; and Rashawn Miles, now a Montgomery High sophomore, a gentle, burly African-American kid who wants to be an engineer, and whose single mother juggles college classes and social work to keep them in their Santa Rosa apartment.
As a club sport, Petty's team is not subject to CIF grade standards, and some of the Lobos Rugby players last season were barely hanging on academically. Not so for Nguyen, the Vietnamese-American teen whose parents didn't want him to play. His father works in a factory. His mother is a tailor. They live near Elsie Allen and are of modest means. But Daniel is a classroom superhero with boundless curiosity and energy. He applied to 27 colleges and eventually settled on Harvard, where he is now enrolled. Nguyen called the rugby pitch his "safe haven," a place where he can unclutter his mind.
Then there's Thorton McKay, who on some teams might be regarded simply as a mascot. McKay has a troubled background that his guardians want to safeguard and he currently lives in foster care. In his thoughts and actions, everything about Big Thor is just a little different. When the team goes through "burpee" exercises on the field, he inadvertently adds an extra step to the up-down-up motion, yet still cranks out as many as anyone else.
McKay showed up to one parent meeting wearing a purple velvet suit and a bow tie. He knows what it's like to be an outsider. It's not something he has to worry about with his rugby teammates.
"They let me feel a certain dignity and self-respect for myself," he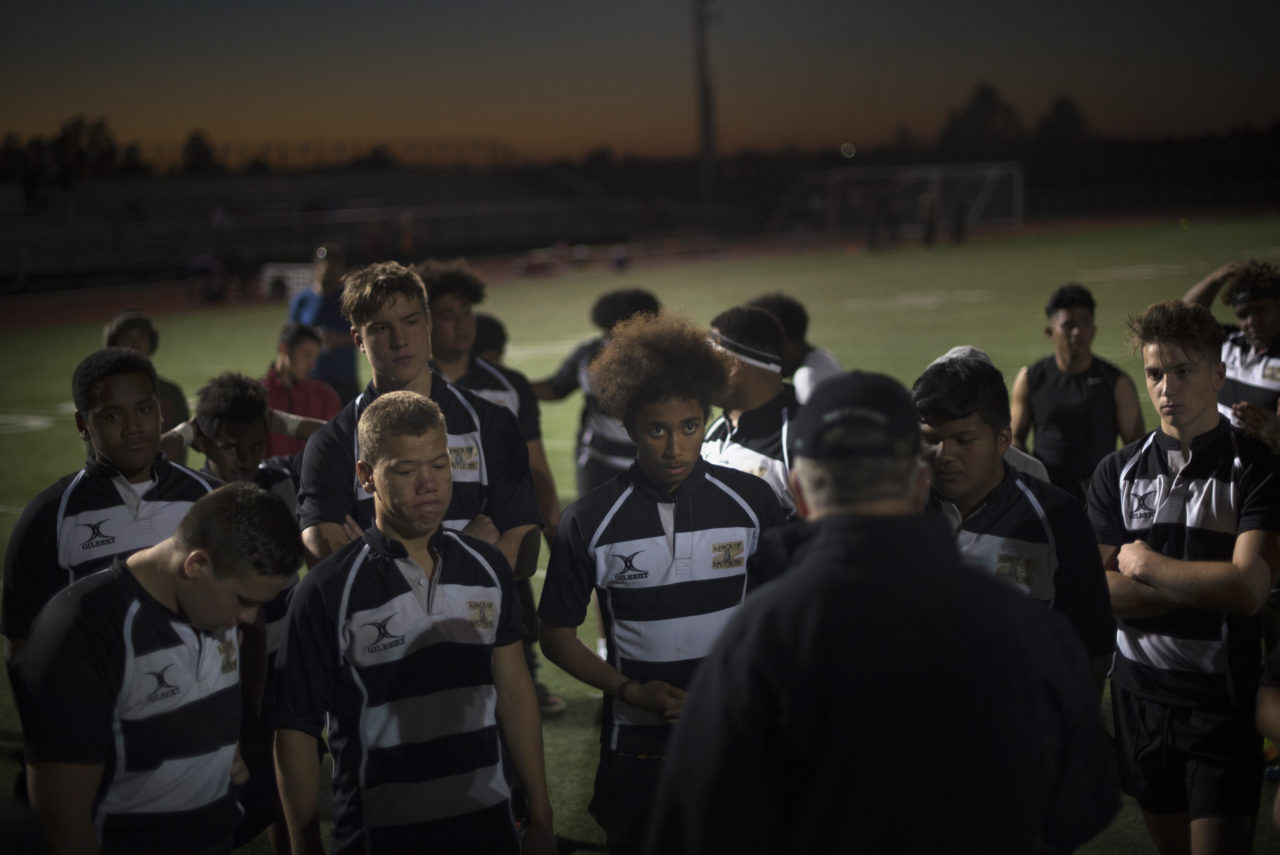 At a playoff game at Elsie Allen in late April last year, perhaps 50 fans sat in the bleachers for a showdown against the Sacramento Harlequins. Elmer Brown Field, Elsie's home turf, is a local rarity — an all-weather field marked for rugby. It was chilly by late afternoon, and a sliver of moon hung over the field like an arched eyebrow.
The Lobos were stronger, both physically and fundamentally. The Harlequins, made up primarily of Islanders, were repeatedly whistled for forward passes, a rugby no-no. But the Sacramento team used its exceptional speed as an equalizer.
"I've never seen us miss so many tackles," Petty said to no one in particular.
Most American sports fans would use football as a reference point when watching rugby. In both games, there is throwing, catching, tackling, and running over the goal line. It's the differences you notice, though. The ball has a similar shape, but appears to have been pumped with too much air. And except for brief interludes that follow scoring plays, the activity is continuous in rugby. This relentless motion is one of the things players say they love about the game.
The action is often frenetic, alternating between full-out sprints off of lateral pitches, and intense closed-space grappling. In the mystifying rugby scrum, teams cluster in interlocking masses and strain one against the other. Not much visibly occurs, and then someone will plop the ball on the ground behind the scrum; another player picks it up and runs, gets tackled, and the whole thing starts over.
Players don't wear helmets or plastic pads in rugby, so everyone leaves the field with bruises, and there are bloody noses and sometimes separated shoulders. And, yes, the occasional concussion. But the lower speed of the contact, and the absence of weaponized helmets, has spared rugby of the existential crisis that currently plagues football. Some even think it can be an alternative.
With a little under 17 minutes to play last April, Pita Mataau scored for the Lobos to put them ahead 23-22. The visitors rallied and regained the lead, 27-23, with 11 minutes remaining. The Lobos needed an answer, but it wasn't to be. Sacramento scored twice more, both on long runs, and won 37-23.
The loss did not signal the end of the Lobos' season, but they were downcast. Taking it hardest of all was Leighton, the Napa boy. He had quit his high school rugby team after playing against Elsie Allen and seeing the camaraderie with which the Lobos played.
His dedication ran so deep that even when Wine Country roads were flooded during last year's historically wet winter, he followed the detours and made it to every practice. "It, like, crushes my heart to see that a lot of guys didn't put in enough effort," Leighton said, explaining why he left Napa for Elsie Allen.
After losing to Sacramento, his heart looked crushed again.
The Elsie players shrugged it off. There was a handshake line after the contest, and it felt less pro forma than what you might have seen at a hundred high school football games.
Petty addressed his players, and both squads assembled at midfield, where the coaches formally complimented their opponents. Then two captains from each side took turns singling out kids from the opposing team for praise, explaining what earned their admiration.
Finally, the two rivals, having pounded one another for 60 minutes, trudged to the snack bar area and mingled. The home team was grilling dinner for the visitors.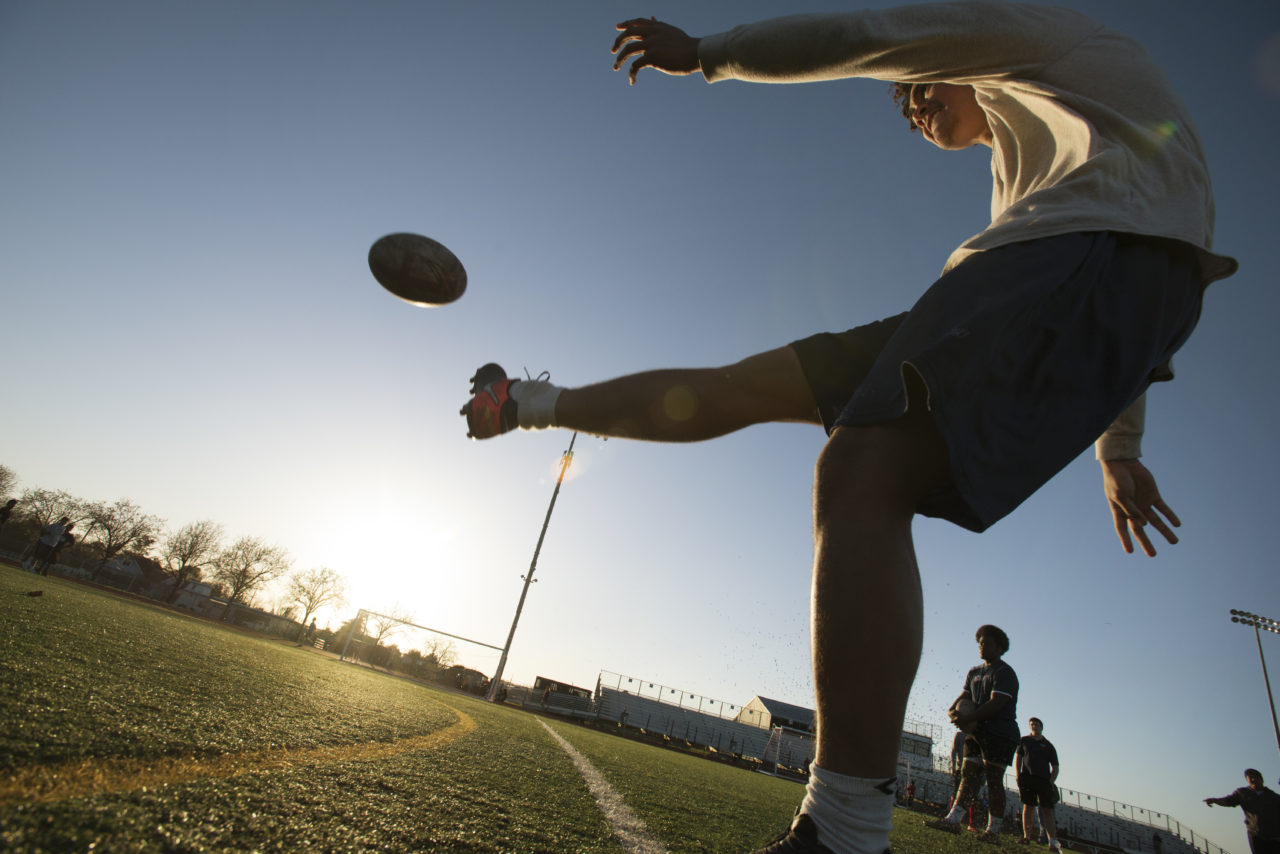 The Lobos' 2016-17 season came to a close last year without the storybook ending. They lost the third-place game in the Northern California playoffs in early May, falling to SacPAL, another Sacramento team, on a field in Stockton. Handed a low seed at nationals a couple weeks later, they had to open the tournament against the No. 1 seed in their division, Fort Hunt of Virginia. The Santa Rosa boys played well but lost 40-15. A slim 18-17 loss to the Kansas City Blues preceded their last match for the season, an exciting 38-34 win over West End, also from Virginia.
The current season started in the wake of the fires that raged through Wine Country in early October. No one on the team lost their home, though it was touch-and-go for Bartholome, the assistant coach who lives in Larkfield.
The morning after the fires erupted, Elsie Allen was used as an evacuation center, and "a bunch of former ruggers," as Petty put it, showed up to attend to senior citizens who had fled Oakmont of Villa Capri, a senior memory care facility in Fountaingrove that burned to the ground.
With a high percentage of returning players, the 2017-18 team has fared better in its early matches, establishing a 10-3 record by late March, with the only losses coming to opponents who were headed to nationals.
Every Lobos season, no matter the success, comes to a close with a team banquet, and the 2017 squad held its party last May at Bethlehem Lutheran Church in east Santa Rosa. There were introductions, speeches, proud parents, and giant pans of pasta and green salad.
Petty's gift to each player was a team photo. "To remind you why you play," he said.
The coaches gave short tributes to each player. Petty recalled how senior Augie Buschman had injured himself during a game, yet managed to lunge for a ball carrier even as he lay on the ground. Bartholome described freshman Jamesa Rogoimuri, so polite that he raised his hand in the back seat during a long drive to an away game, asking meekly if they could stop to pee.
It was perfectly normal night in high school athletics that still offered glimpses of what makes rugby special and Lobos Rugby unique.
Foremost is the atmosphere of respect — for teammates, staff, family, and opponents. It's an ethic that seems to be woven into the sport, and it lends a solemnity to a game played by teenagers.
"(Playing football) at Carrillo, we had some leaders that were kind of full of themselves and prideful," Groesbeck said. "So when the person next to them messed up, they'd get down on them, like, 'What are you doing?' We don't say that here. It's like, 'Get 'em next time.' That's the difference in rugby. People don't tear each other down, they pick each other up."
And the boost can be lasting. Petty spoke of Tyler Ahlborn, a member of his first Lobos team who lugged a 0.3 GPA to the program —lower than a D average.
Ahlborn fell in love with rugby, improved his school attendance, graduated, enrolled at Santa Rosa Junior College, and went on to UC Davis. He now teaches at Midrose High School, an alternative school that shares the Elsie Allen campus.
Petty later shared a letter that he calls one of his most cherished possessions. It was written to him in 2010 by Roberto Aguilar, who at the time was a U.S. Marine deployed in Iraq. Aguilar was scheduled to come home. But the corps had asked for volunteers for a tour in Afghanistan, and he had signed up.
Aguilar had come to Elsie Allen nearly a decade earlier as a wild, directionless boy. Now 30, he has a wife, two children, a steady job and an EMT certification. Aguilar credited the influence of Petty, and of Elsie sports.
"It was you that kept me and my closest friends from serving 15-25 years, or ending up 6 feet below," Aguilar wrote in the letter. "Teaching us rugby and football kept us from ending up like some of the kids that I have read about on The Press Democrat online.
"I guess it's why I feel like I need to go to Afghanistan. You know that when my brothers need me to stand next to them at their time of need, I cannot say no. Whether it is on the field, on the streets, or on the Hindu-Kush mountains of Afghanistan, I cannot say no.
"Part of me would not be able to ever look you in the eye, knowing that I walked away and did nothing when my brothers needed me the most."
The message was clear: The bonds don't fray here. The lessons are remembered, even as one year of rugby bleeds into the next. The sport can't miraculously save these kids, but it can give them some of the tools that will allow them to save themselves.
And behind them, if they are members of Lobos Rugby, will be a big, brawny, loving, many-colored family pushing forward as one.
"Petty used to say, 'Hard work will set you free,' like every time we worked out," Aguilar said by phone. "He showed us that if we worked hard, we could have it. In a lot of ways in life, after rugby and football, that has proven true. If you want to go somewhere in life, you have to work hard for it."