Looking for some inspiration for your next dining out experience? Here are spoon-size portions of Sonoma County restaurant reviews by Jeff Cox (JC) and Carey Sweet (CS), accompanied by the date they originally ran in The Press Democrat. 
Price Guide
$ Entrees under $12
$$ Entrees $12 to $17
$$$ Entrees $17 to $24
$$$$ Entrees $24 and up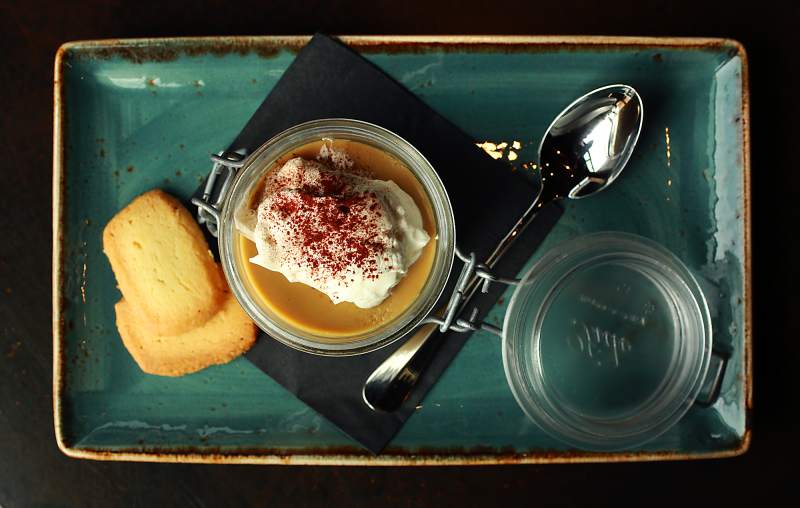 COTATI
Tiny Thai Restaurant
This humble place doesn't scrimp on portions or preparation. The vegetarian fresh rolls come with a great peanut sauce. The usual Thai favorites such as pad Thai, green papaya salad and tom yum soup, street foods including Thai basil, and house-made curries are all here. No beer or wine, but there's always Thai iced tea.
8238 Old Redwood Highway, Cotati, 794-9404, www.facebook.com/The-Tiny-Thai-Restaurant. $$
(Reviewed 11/29/15, JC)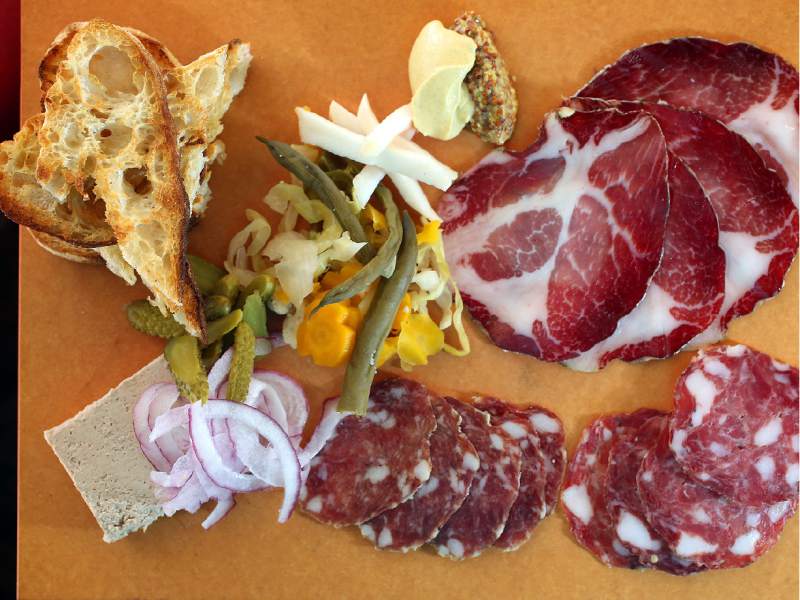 PETALUMA
Central Market
This is a genuine farm-to-table restaurant, as chef Tony Najiola raises pigs, hens and vegetables for the restaurant on his organic farm not far from town. Those pigs become some of the best charcuterie around, and the vegetables are snapping fresh and respected by the cooks. While the menu is local, the wine list is global in scope. Everything is made from scratch daily, even the breads.
42 Petaluma Blvd. N., Petaluma, 707-778-9900, centralmarketpetaluma.com. $$$
(Reviewed 7/6/14, JC)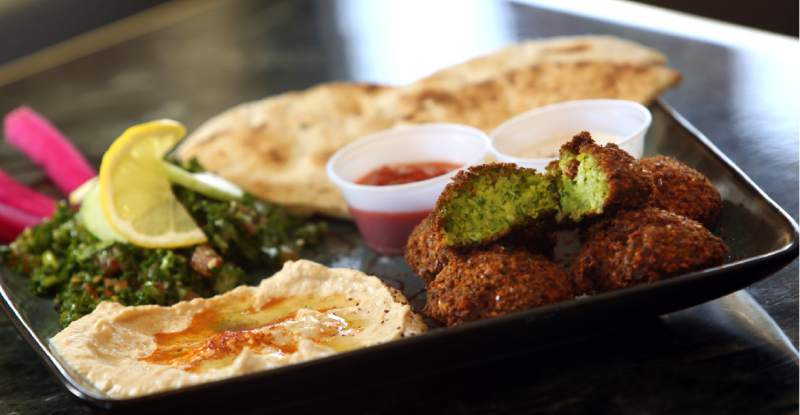 SEBASTOPOL
King Falafel
What the taqueria is to California and the Indian restaurant is to England, the falafel shop is to the Middle East. You can taste the authenticity at King Falafel, where ground chickpeas are flavored with herbs and Indian spices and deepfried. But don't miss the gyro sandwiches, or the lebni sandwich, or the Ultimate Kabob Plate with beef and chicken kabobs paired with tzatziki sauce, hummus, dolmas and more. Baklava awaits you at the end of your meal.
100 Brown St., Sebastopol, 707-824-4800, kingfalafelusa.com. $
(Reviewed 4/5/15, JC)
Marigold Indian Bistro
Chef Uddab Timilsina makes Indian cuisine exciting, not just because he's mastered the art of combining spices in intriguing ways, but also because his dishes are made with top-quality ingredients, which gives them the added appeal of freshness and purity of flavor. Along with the usual Indian dishes, he occasionally ventures into less charted territory. The lamb and apricot combination, for instance, is wonderful.
7225 Healdsburg Ave., Sebastopol, 707329-6965, facebook.com/bistromarigold $$.
(Reviewed 11/9/14, JC)
Ramen Gaijin
It's closed Sunday through Tuesday, so you only have four days to catch the artistry of the two chefs as they innovate their way past traditional American Japanese restaurant fare and think creatively about simple things like rice bowls and ramen bowls. The donburi rice bowl is chockablock with stuff the Japanese like over there, while any of the three ramen bowls will satisfy. There's whiskey to be had, along with beer and sake.
6948 Sebastopol Ave., Sebastopol, 707-827-3609, ramengaijin.com. $$
(Reviewed 5/31/15, JC)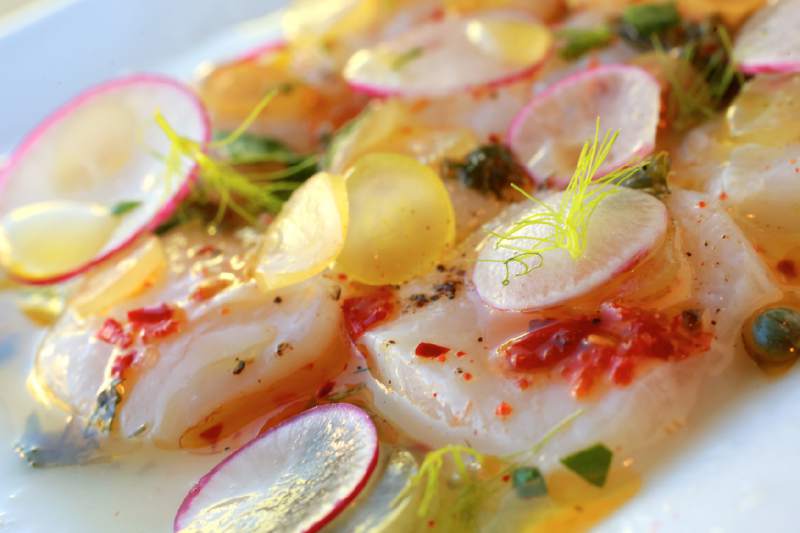 OCCIDENTAL
Hazel
Don't be fooled by the small, nondescript building in the heart of Occidental that is Hazel. It's full of life and great Mediterraneanstyle food. Two wood-fire ovens turn out six kinds of pizza, the starters (especially the cured scallops and grilled pita plates) are superb, and the service is friendly. Chef-owners Jim and Michele Wimborough are transplants from top restaurants in San Francisco and bring considerable culinary expertise to the west county.
3782 Bohemian Highway, Occidental, 707-874-6003, restauranthazel.com. $$-$$$
(Reviewed, 11/15/15, JC)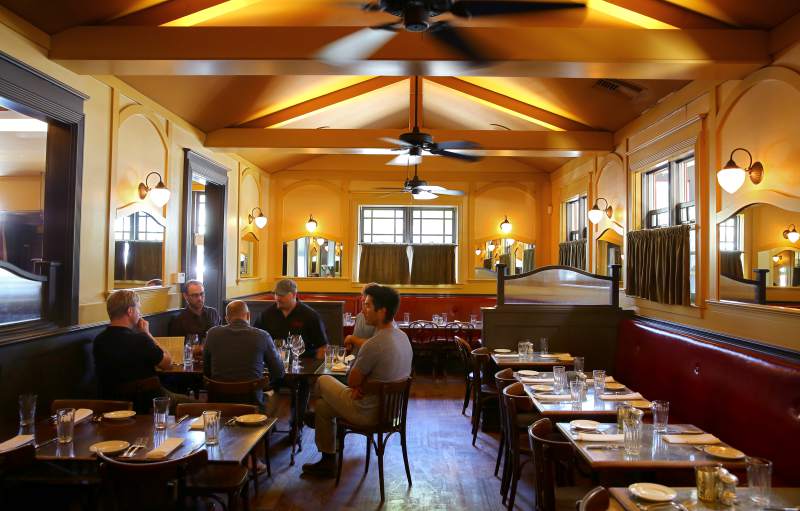 GRATON
Underwood Bar & Bistro
Underwood is the beating heart of the west county social and culinary scene. The entrees are expensive, but tapas and small plates are available. Or hop across Graton Road to proprietor Matthew Greenbaum's other restaurant, Willow Wood Market Café, where prices are moderate. You'll be pleased at the quality of the food at Underwood, however. Chef Mark Miller piles miles of flavor on high-quality ingredients. The wine list is eclectic, the bar offers specialty cocktails, and there's much fun to be had.
9113 Graton Road, Graton, 707-823-7023, underwoodgraton.com. $$$
(Reviewed 5/10/15, JC)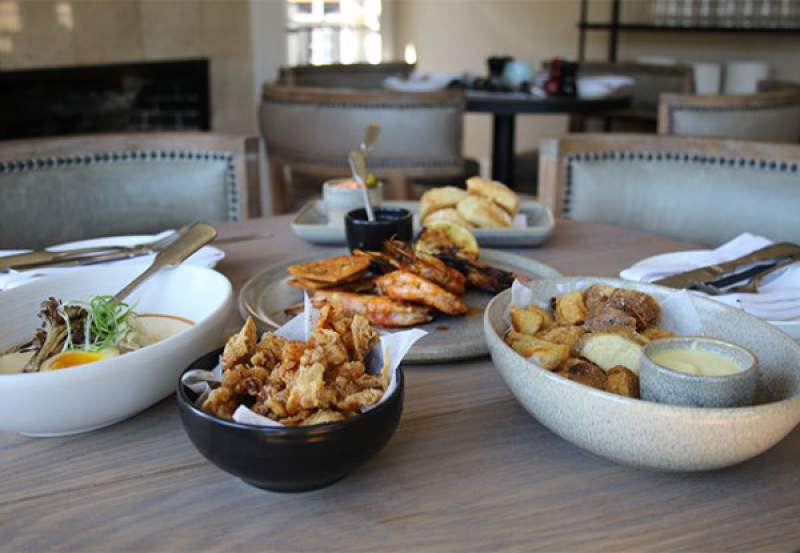 SANTA ROSA
Belly Left Coast Kitchen & Taproom
Choose from 26 beers and ciders on tap and 23 more by the bottle as you enjoy Gray Rollin's spicy, intensely flavored noshes at this excellent hang-out spot. Don't miss the superb kalua pork tacos, loaded with mounds of smoky pulled pork. Eat healthy with garden-fresh salads, rosemary and kale fingerling potatoes, and grilled artichokes. Also try the Carolina-style ribs, burgers and pizzas, prepared by a kitchen that brings the heat.
523 Fourth St., Santa Rosa, 707-5265787, belly707.com. $$
(Reviewed 8/2/15, JC)
Bird & the Bottle
Restaurant maven Mark Stark has another winner on his hands, with this curious-sounding but delicious mix of Asian, American South, East Coast and Jewish comfort food. Set over two floors, it's a mix of hip lounge and chic dining rooms, and the menu holds plenty of surprises such as pickled shrimp with Saltines and Korean chile butter, and a chicken liver schmear with pickled shallots, maple, cracklings and smoked salt. Fried chicken is excellent, atop bean sprout-black-eyed pea slaw.
1055 Fourth St., Santa Rosa, 707-568-4000, birdandthebottle.com. $$$-$$$$,
(Reviewed 1/24/15, CS)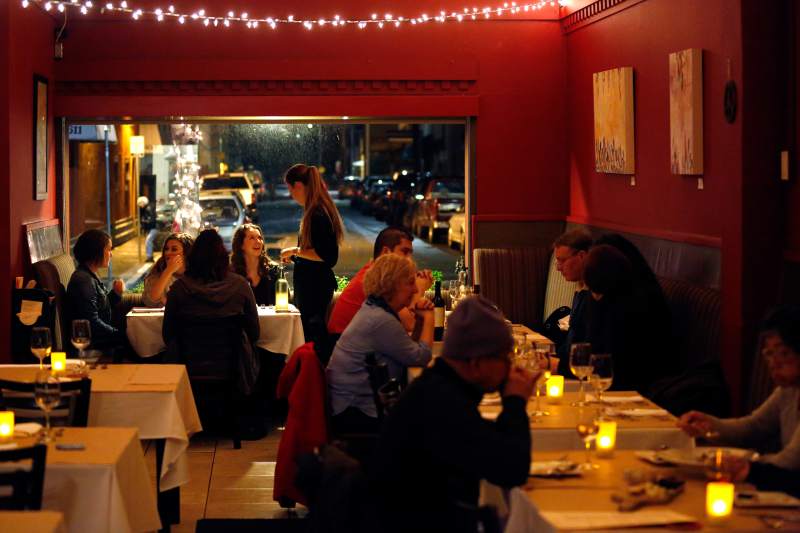 Bistro 29
You need to search out this intimate, tucked-away French cafe, but your hunt is well worth it, delivering Michelin Bib Gourmand-caliber Breton regional cuisine. Chef-owner Brian Anderson consistently wows with signatures such as onion-cider soup capped in Gruyère with buckwheat crêpe dentelle, an inventive take on escargots Bordelaise served with a marrow bone, and slow-braised duck confit cassoulet. The $29 prix fixe is a great value, too.
620 Fifth St., Santa Rosa, 707-546-2929, bistro29.com. $$$$
(Reviewed 2/7/16, CS)
Brasserie Restaurant at the Hyatt Vineyard Creek Hotel & Spa
The kitchen turns out some excellent dishes, including small plates and appetizers such as mini ravioli and Humboldt Fog tomato galette, and main plates that include a near-perfect flatiron steak and herb-roasted chicken. The menu allows diners to select a small or large portion of meat or seafood, choose one of six sauces, and add two side dishes of their choice.
170 Railroad St., Santa Rosa, 707-636-7388, vineyardcreek.hyatt.com. $$-$$$
John Ash & Co.
The premier Santa Rosa spot for deluxe dining and drinking in pampered surroundings continues to please. Chef Tom Schmidt's food covers everyone's favorite basics — chicken breast cordon bleu, steak, sea bass and so on — but in a way that they wow you. Besides the restaurant, you can grab a bite and a drink in The Front Room lounge. The wine list is a veritable tour of Sonoma's wine industry.
4350 Barnes Road, Santa Rosa, 707-527-7687, vintnersinn.com. $$$
(Reviewed 5/24/15, JC)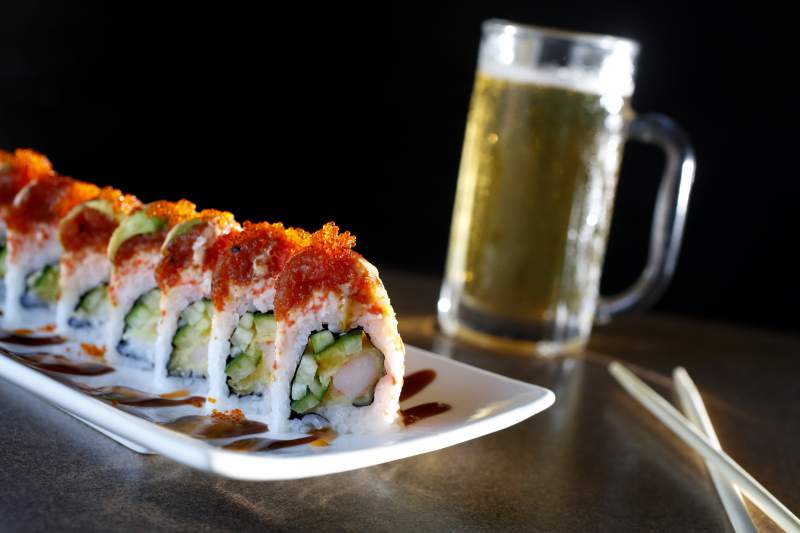 O! Sushi
Chef and owner Billy Chong is from South Korea, but he gets to the soul of Japanese cuisine at his modest sushi restaurant. He's got eight pages of wittily-named sushi rolls on the menu, plus interesting appetizers, specials and nigiri sushi. The fish is fresh and dinner starts with complimentary miso soup and iceberg lettuce salad. The decor is nonexistent, but the food is good.
443 Dutton Ave., Suite 2, Santa Rosa, 707-544-1799, facebook.com/pages/O-Sushi/343557752405993 $$
(Reviewed 6/28/15, JC)
The Spinster Sisters
This is the gem of South A Street's arty little enclave. It's at once a meeting place, fabulous wine bar and fine restaurant, and it's open into the night. Chef Liza Hinman is some sort of magician, coaxing excellence out of familiar ingredients. She claims her cuisine is modern American, but the world's culinary influences are all over the menu, from Tunisian meatballs to French pork terrine. Looking for a great weekend brunch? Try this place.
401 S. A St., Santa Rosa, 707-528-7100, thespinstersisters.com. $$
(Reviewed 4/12/15, JC)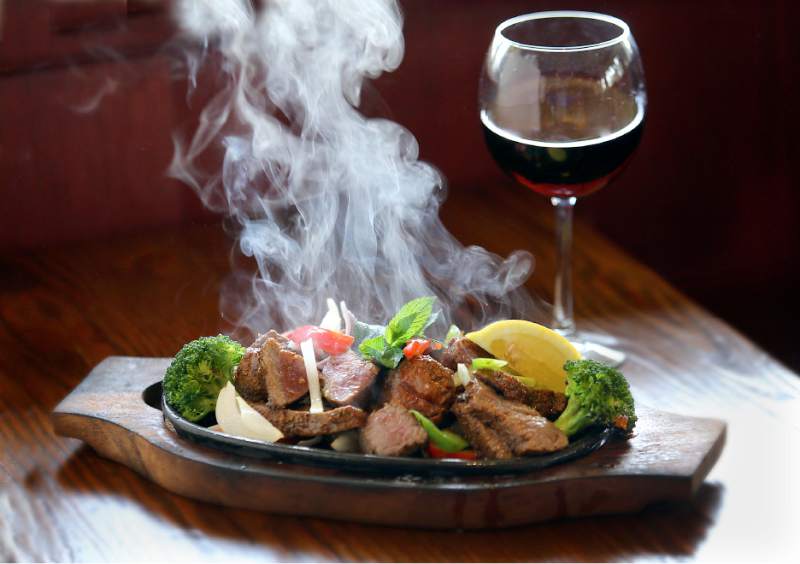 The Pullman Kitchen
Executive chef Darren McRonald and chef John Trunk have worked at some of the nation's finest restaurants, and it shows in the execution of the dishes at their venue in Santa Rosa's Railroad Square district. The menu is full of familiar items such as fish tacos, roast chicken, cheeseburgers, meatballs and so on, but they are all just about perfect versions, including scrumptious desserts. There are unsuspected surprises as well.
205 Fifth St., Santa Rosa, 707-545-4300, thepullmankitchensr.com. $$-$$$
(Reviewed 7/13/14, JC)
Yeti Restaurant
Narayan Somname's Yeti Restaurant in Glen Ellen has been a favorite place there for years, and now the Nepalese owner and chef has opened a more opulent version in Santa Rosa, in the shell of a former Lyons. There's house-brewed beer, cocktails and a good wine list, and the food is three-star Nepalese and Indian cooking. Don't miss the momo and tandoor specialties. There's lots to love, especially for lunch. R
190 Farmers Lane, Santa Rosa, 707-521-9608, yetirestaurant.com. $-$$
(Reviewed 11/1/15, JC)
HEALDSBURG
Bravas Bar de Tapas
This popular spot has indoor seating and outdoor dining in the restaurant's backyard, where a bar has been built. The menu features a wide variety of authentic Spanish tapas (snacks), some cold, some hot, some liquid, some not. There's paella for two or four people, and a wine list with lots of Spanish selections, including 13 Sherries. It's a friendly, relaxing atmosphere for nibbling good food and drinking good wine with friends.
420 Center St., Healdsburg, 707-433-7700, starkrestaurants.com. $$-$$$
(Reviewed 3/22/15, JC)
Dry Creek Kitchen
The cooking is international-Californian, meaning lots of fresh local ingredients handled with sophistication, such as scallops en croute with a black truffle sauce, and house-smoked Liberty duck breast with a confit of duck leg meat and pork belly joining it on the plate. The pastry chef does excellent work with intricate delicacies. There's a list of more than 500 wines, all from Sonoma County, and there is no corkage fee if you bring a Sonoma wine of your own. All this glamour is not inexpensive, so be prepared.
317 Healdsburg Ave., Healdsburg, 707-431-0330, charliepalmer.com. $$$$
(Reviewed 6/1/14, JC)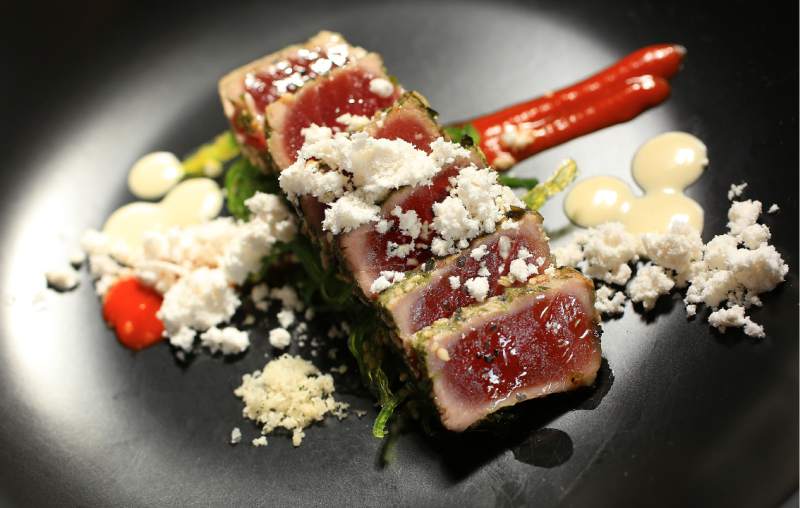 KINSmoke
Barbecue is king at this bistro specializing in wood-smoked ribs, pork, brisket and chicken, and fancier fare such as coffee-rubbed grilled porterhouse and Cajun-dusted scallops. Five homemade sauces are superb, and be sure to get the delicious frickles (fried pickles) to go with the craft beers and wines.
304 Center St., Healdsburg, 707-473-8440, kinsmoke.com. $$-$$$
(Reviewed 12/30/15, CS)
Valette
Chef Dustin Valette and brother Aaron Garzini are from Geyserville, and they operate a restaurant that could be a superstar on any culinary stage in the country. Valette was chef at Dry Creek Kitchen for years, and his skills are honed, and then some. He turns the artisanal bounty of local farms, orchards and wineries into creative and intriguing dishes that seldom miss. Desserts and housemade charcuterie are exceptional.
344 Center St., Healdsburg, 707-473-0946, valettehealdsburg.com. $$$$
(Reviewed 7/19/15, JC)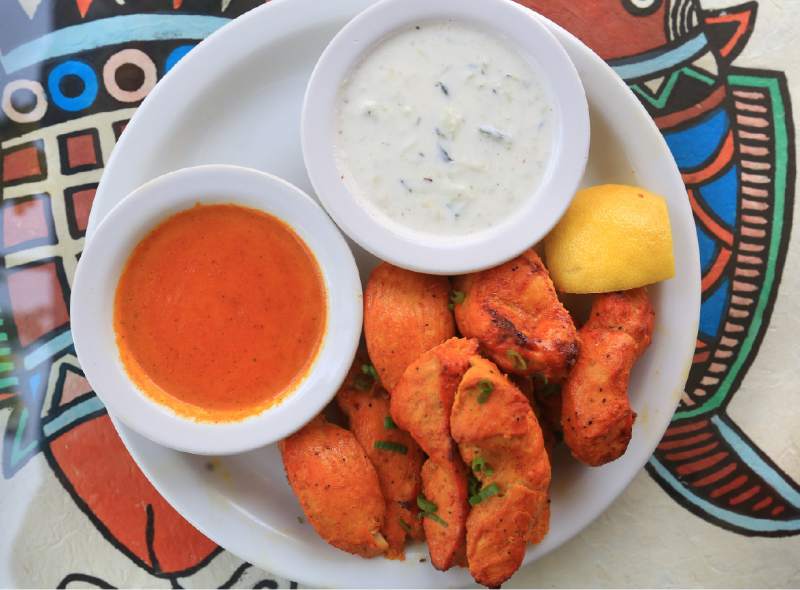 WINDSOR
Himalayan Restaurant
The food is a combination of Nepalese and northeast Indian cuisines. The ingredients are good quality, with tender lamb and juicy chicken in the curries, tandoori specials, kabobs and nightly special entrees. The patio is a pleasant spot for lunch or dinner when the weather cooperates. For light meals, soups and salads are on the menu, and if you're hungry, the entrees tend to be generously proportioned.
810 McClelland Drive, Windsor, 707-838-6746, himalayankabobandcurryhouse.com. $$
(Reviewed 4/26/15, JC)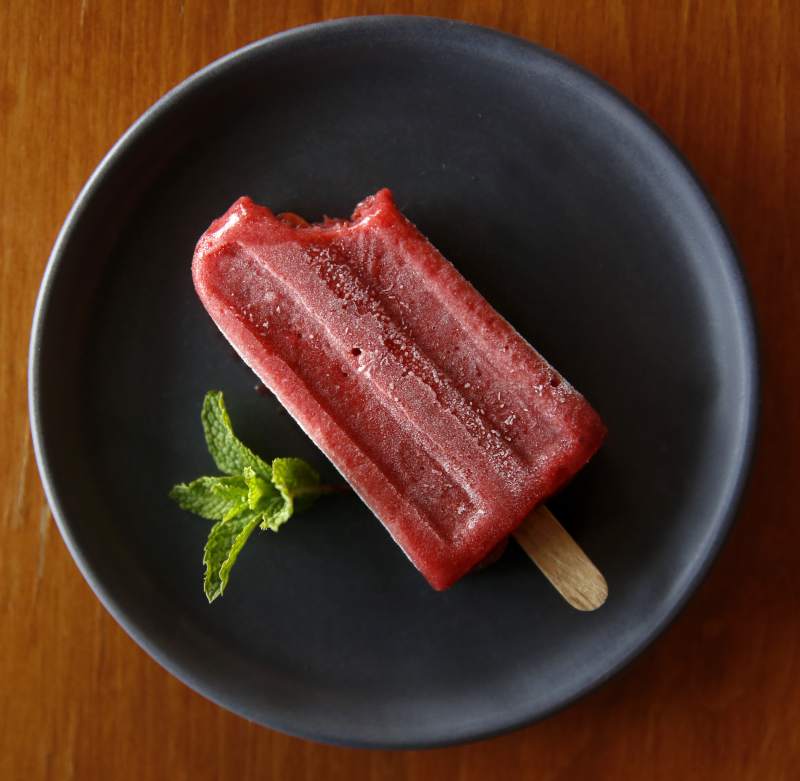 KENWOOD
Kenwood Restaurant
Seafood is the star of this Sonoma Valley staple, now owned by William Foss and headed in the kitchen by Douglas Bernstein. The flavors and textures of the fish dishes are superb. Since the original Kenwood opened in 1987, the heart and soul has been at the bar, and it's still welcoming, trimmed in faux brick and a fireplace. Here's where to go for reliable, if pricey, satisfiers including the half-pound grassfed burger and first-rate crispy fries. The dining room is warm and nicely quiet.
9900 Highway 12, Kenwood, 707-833-6326, kenwoodrestaurant.com. $$$$
(Reviewed 12/15/15, CS)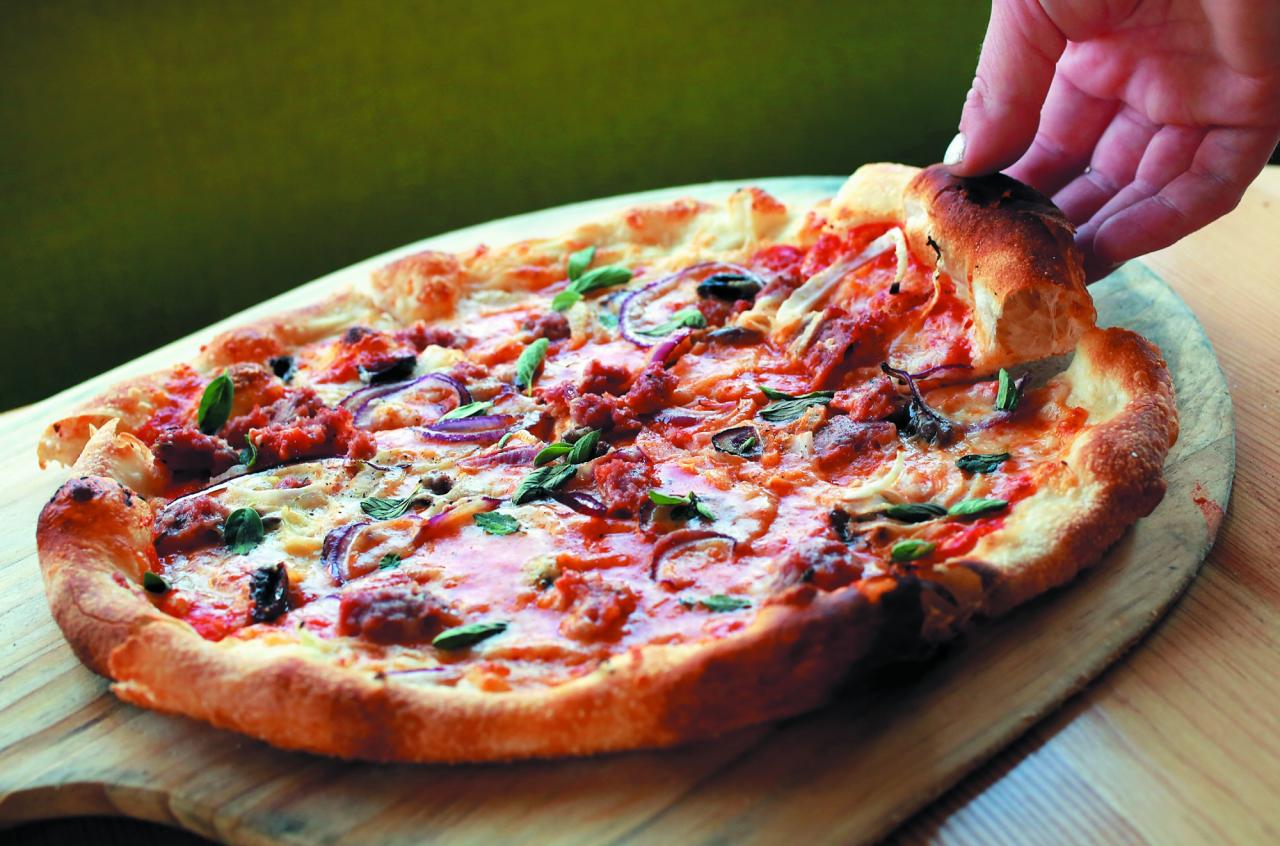 GLEN ELLEN
Aventine Glen Ellen
It's a charming setting in a 170-year-old grist mill brought up to date and surrounded by decking shaded by ancient trees along a year-round creek. The food is Italian aimed at the American palate, with excellent lasagne, wood-fire pizzas and grilled salmon and lamb dishes. A full bar and broad wine list make this place perfect for relaxing after a hard day's wine tasting.
14301 Arnold Drive, Glen Ellen, 707-934-8911, aventinehospitality.com.$$$
(JC)
Glen Ellen Star
It looks like a funky frame shack, but the big star on the front of the building suggests just how good chef Ari Weiswasser's food can be. And that's very good indeed. The wood-fire oven is central to his cooking, and while the dishes seem, at first glance at the menu, to be standard fare, they have surprising flourishes, hidden flavors and are of high quality. The wine list is a trove of little-known treasures.
13648 Arnold Drive, Glen Ellen, 707-343-1384, glenellenstar.com. $$$
(Reviewed 4/19/15, JC)
The Fig Café
After a recent makeover, this restaurant has roared back with really good, well-prepared comfort dishes such as pot roast, trout, steak and fries, and some of the best pizza in the North Bay. There's no corkage fee if you bring your own wine. Seating is first come, first served. The wine list is limited to Rhone varietals. There's also a daily plats du jour, with a starter, entree and dessert for $36.
13690 Arnold Drive, Glen Ellen, 707-938-2130, thefigcafe.com. $$-$$$
(Reviewed 3/1/15, JC)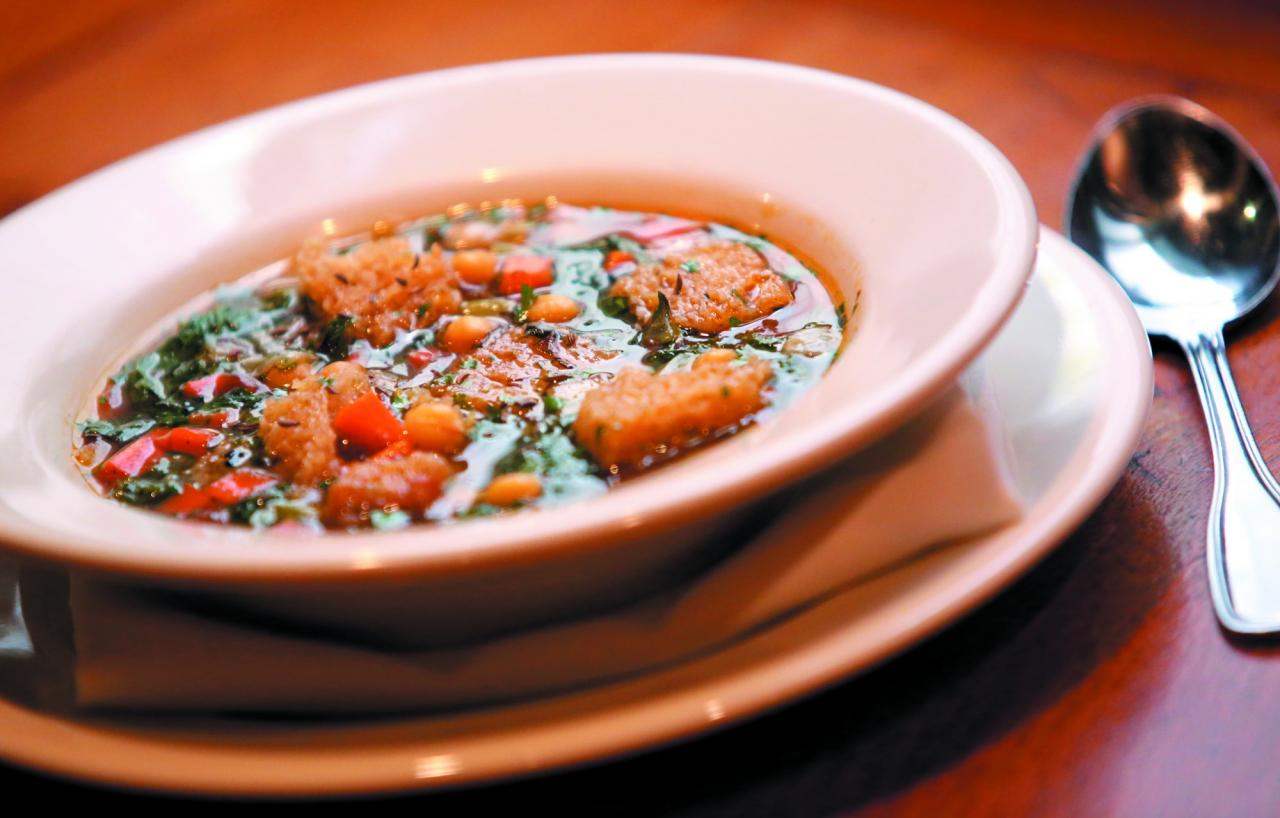 SONOMA
Carneros Bistro & Wine Bar
The most impressive aspect of this restaurant is its eclectic, 400-bottle wine list, with selections not only from this region, but from fine wine areas around the world. The kitchen keeps up with an international version of California cuisine. Ahi tartare, salmon pastrami, Berkshire pork cooked for two days, organic chicken and great desserts are all paired with wines and beers on the menu.
1325 Broadway, Sonoma, 707-931-2042, carnerosbistro.com $$$$
(Reviewed 11/16/14, JC)
Cochon Volant BBQ Smoke House
Longtime barbecue master Rob Larman has transformed his mobile 'cue trailer into a brick-and-mortar, with the same delicious almond smoked meats including beef ribs and pork shoulder. The casual spot has upscale touches, too, such as Sonoma-style sauces, boutique beer and wine.
18350 Sonoma Highway, Sonoma, 707-509-5480, cochonvolantbbq.com. $$$
(Reviewed 2/26/16, CS)
Harvest Moon Cafe
The food at Nick and Jen Demarest's cafe is innovative and always palate-pleasing — not an easy trick to pull off. The menu changes often, sometimes daily, although the rib-eye steak is a constant. Many ingredients are house-made, including the sausage for the chorizo sauté, and the marshmallow fluff for the s'mores. There's alfresco dining on a patio out back and an excellent wine list. $$$
487 First St. W., Sonoma, 707-933-8160, harvestmooncafesonoma.com. $$$
(Reviewed 10/26/14, JC)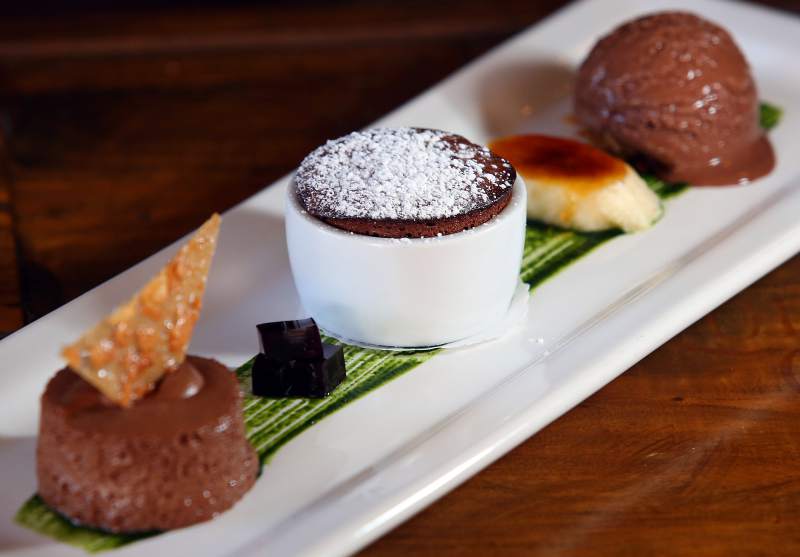 LaSalette
Chef Manuel Azevedo honors his Portuguese heritage by preparing classic and some innovative dishes in the Portuguese style, which means lots of flavor, spicy sausages, fruits de mer and respect for his Azores heritage. And he does it well. Dishes are perfectly cooked, many in the wood-burning oven. The wine list is loaded with Portuguese treasures and the service is snappy. It's a real treat to dine here.
452 First St. E., Suite H, Sonoma, 707-938-1927, lasaletterestaurant.com. $$$
(Reviewed 9/7/14, JC)
OSO
David Bush is a talented chef who creates elaborate plates of food that might better be handled with some restraint. But his eclectic menu is invariably well prepared, with the emphasis on raw seafood and slow-cooked meats. The wine list is a major feature, filled with interesting selections. There's a prix fixe dinner and wine pairing menu, too.
9 E. Napa St., Sonoma, 707-9316926, ososonoma.com $$
(Reviewed 12/21/14, JC)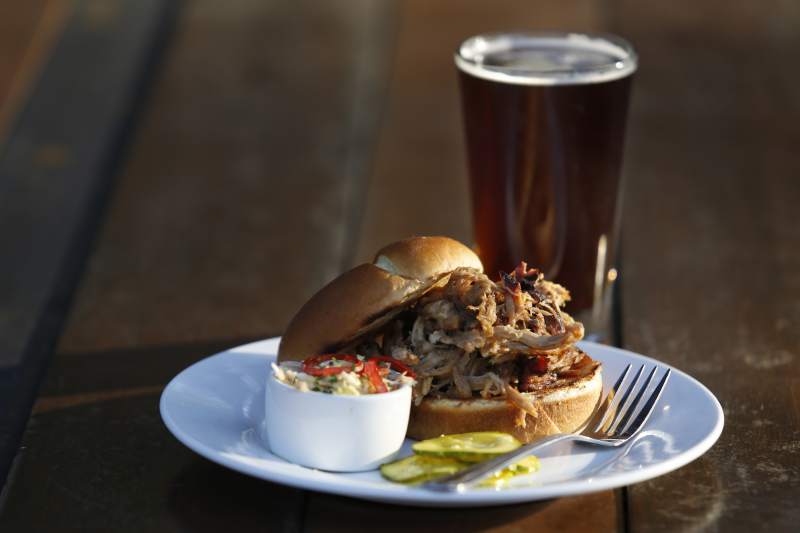 Rossi's 1906
The former Little Switzerland and its polka bands have been transformed into a Southern-style roadhouse with wood-smoked ribs, tri-tip, pork, chicken and shrimp, and live music Thursdays through Sundays starting at 5 p.m. The good barbecue is accompanied by the usuals: fries, mac and cheese, hushpuppies and great onion rings. More than half of the 26 beers available are on tap. This is a fun place with good eats.
401 Grove St., El Verano, 707-343-0044, rossis1906.com $$
(Reviewed 1/4/15, JC)
Shiso Modern Asian Kitchen
Chef Ed Metcalfe cherry-picks items from various Asian cuisines, but with a special emphasis on Japanese dishes. His ingredients are wonderfully fresh and the vegetables are sourced from his own garden. There's a well filled out list of sakes along with beer and wine. His chirashi (chef's choice) may be the best way to go. It's a unique restaurant with this chef's scrumptious take on Asian food.
19161 Sonoma Highway, Sonoma, 707-9339331, shisorestaurant.com. $$
(Reviewed 12/28/14, JC)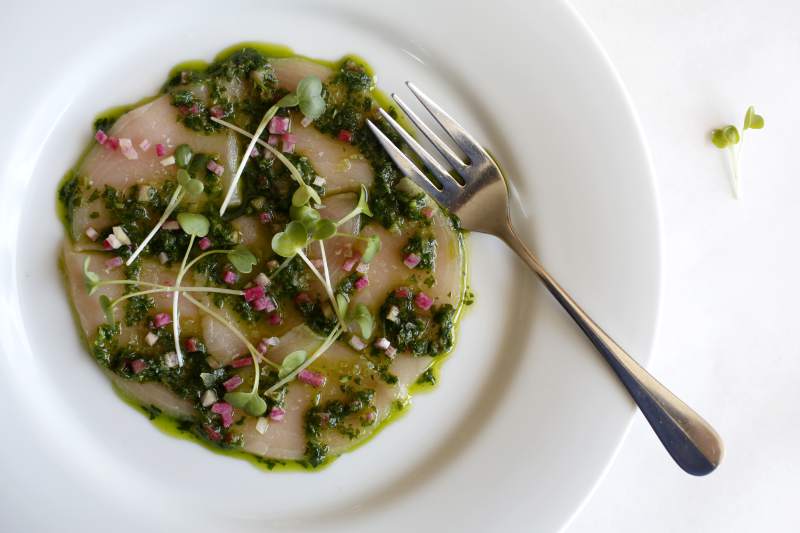 BODEGA BAY
Terrapin Creek
Terrapin Creek is among the crown jewels of Sonoma County restaurants. Owners Liya Lin and Andrew Truong aim for perfection and mostly achieve it. Their cooking is modern American food with international nods, and their execution has earned them a Michelin star. Set on a hill above the Bodega Bay marina, the place is a sanctuary of comfort and good vibes. The wine list is terrific.
1580 Eastshore Road, Bodega Bay, 707-875-2700, terrapincreekcafe.com. $$$
(Reviewed 7/5/15, JC)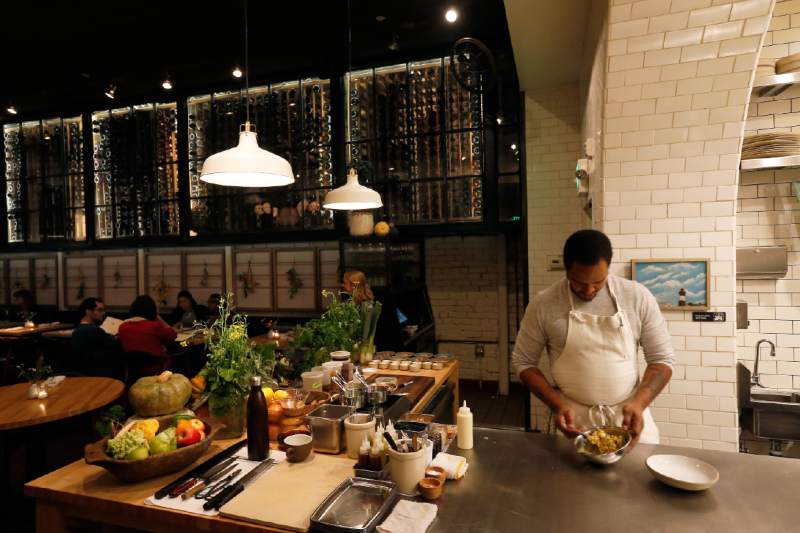 NAPA
Ninebark
With two-Michelin-stars chef Matthew Lightner in the kitchen, the cheeseburger is as excellent as the menu's fanciest smoked duck. Spanning three stories, each level offers a different dining experience from bar to dining room, but all showcase pristine ingredients like heirloom vegetables with inventive recipes, seasoning, and stunning presentation.
813 Main St., Napa, 707226-7821, ninebark-napa.com. $$$$
(Reviewed 01/10/16, CS)
---