Food Sherpas like the Travel Channel's Anthony Bourdain are whetting the appetites of a growing number of culinary tourists, who want to wander off the eaten path in Malaysia and Mexico, Paris and Rome.
In the past decade, food tours have also popped up in the Bay Area, from the back alleys of San Francisco's Chinatown to Berkeley's Gourmet Ghetto.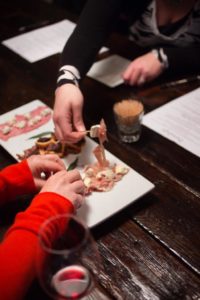 Now, the culinary crossroads of Healdsburg has joined the fun, foodie party, with a few behind-the-scenes tours that explore the region's confluence of farms, restaurants, breweries and wineries.
"When we started in 2004, people didn't get it, but the county now is more recognized as a culinary and wine destination," said Donna del Rey of Relish Culinary Adventures in Healdsburg. "There's so much here."
From June through October, Relish offers two-day tours that first explore the farms, olive oil producers and wineries of the Dry Creek Valley, with participants gathering ingredients for a cooking class that night. The next day, the group heads to West County to visit a cheesemaker, a farm and a winery or brewery, with the option of a side trip to Bodega Bay to get a whole salmon.
Lodging at a Healdsburg bed-and-breakfast is included in the $1,750 per person (double occupancy) price of the tours.
14 Matheson St., Healdsburg, 707-431-9999, relishculinary.com
Savor Healdsburg Food Tours
After moving from Texas to Healdsburg a few years ago, Tammy Gass was surprised to find that there were no tours showcasing the region's renowned restaurants. She had been on many such culinary tours around the world with her husband, a commercial airline pilot, and she recognized a delicious niche waiting to be filled.
"I wanted it to be food-focused and showcase the chefs and the unique options here," Gass said. "There are casual places as well as fine dining."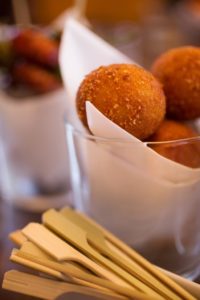 In December, she launched Savor Healdsburg Food Tours, a walking tour in downtown aimed at folks who like to stretch their legs between bites and sips.
"It was terrific to walk everywhere, so we could see the different shops," said Bentley Marane of Atlanta, who went on a recent tour. "We stopped in the plaza and learned more about the vineyards and wineries, so we got a good sense of the area."
The tours are offered in the morning and afternoon, Wednesday through Sunday, for intimate groups of up to eight people.
"That lets people engage and ask questions," Gass said.
A typical morning tour starts at 11 at The Wurst restaurant for some sweet-potato fries and a bite of a Sheboygan bratwurst sourced from Wisconsin by owner Charles Bell, a native of Detroit and former rock 'n' roll guitarist.
Then it's on to Mark and Terri Stark's Bravas Bar de Tapas for three signature bites, such as Chorizo with Padron Peppers, and some tips on what to order at the bar during its popular happy hour.
Thus fortified, the group moves on to a boutique winery, such as Stark Wine Co. or Portalupi Wine Co., for a one-on-one tasting with a winemaker. A sweet treat follows at Costeaux Bakery, where guests learn about the bakery's award-winning breads and get a cookie to go.
Next, the tour heads south of the plaza to Mateo's Cocina Latina for a signature bite from Yucatan chef Mateo Granados: a tacone (crispy corn tortilla) filled with guacamole made with Preston Vineyards olive oil.
The moveable feast concludes at Healdsburg Shed for a tour of its unusual grain mill and the upstairs Grange area, and a refreshing shrub fruit drink at the Fermentation Bar.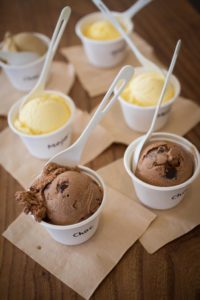 Afternoon tours also stop at Shed, Costeaux and tasting rooms, but veer off to Campo Fina, where chef Ari Rosen serves up his Old School in a Skillet (meatballs with tomato sauce and ciabatta bread), and Spoonbar, for a few bites from "Top Chef" finalist
Louis Maldonado's snack menu.
Savor Healdsburg Food Tours cost $85, including all food, tips and tax.
800-979-3370, savorhealdsburg.com
Gourmet Walks
Gourmet Walks, a company based in San Francisco that offers culinary walking tours in the Bay Area, gives a sweet twist to the outings on foot with a Healdsburg Gourmet Chocolate Tour.
Offered on Fridays and Saturdays, the tour makes eight stops for such goodies as chocolate ice cream, truffles, cupcakes and Port. The tour lasts two-plus hours and costs $55.
415-312-1119, gourmetwalks.com