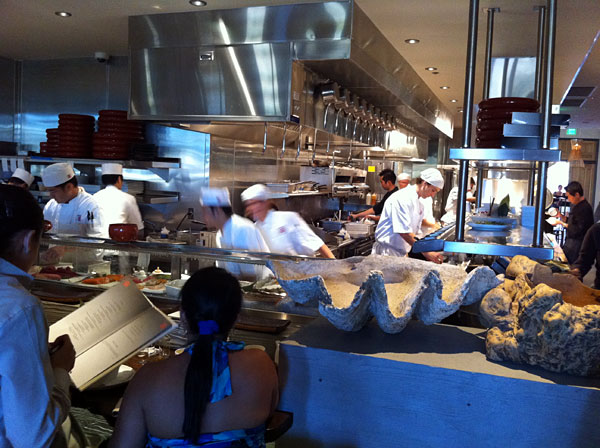 All I can think, walking into Napa's Morimito is…am I really cool enough to eat here? Downbeat music pumps onto the sidewalk, perfectly matching the rhythm of the Furstenberg-esque wedges marching their way toward me. Attached is a faux-hawked Glamazon I'm afraid might either eat me or mock my five-year-old fake alligator pumps from Target. Either way, not a great way to start the night as we — fashion's before and after — enter the weeks-old space.
There's no doubt that Masaharu Morimoto's newest restaurant in Napa's downtown Riverfront development is Wine Country's most, well, un-Wine Country space. There's no stucco or faux-Italian charm, but instead a stark, minimal urban space with concrete floors, vast windows and a clean Japanese sensibility. Several hostesses greet you at the door, while an army of staff line the walls waiting to present masterworks of Japanese/California cuisine to Morimoto's rabid fans.
Morimoto is, as most foodies know, the Iron Chef of Iron chefs. An alum of Nobu and countless other restaurants, he now has several eponymous eateries (Philadelphia, NYC) and is in the works with (we hear) three more just this year. Morimoto, unlike other Food Network personalities, however, has the actual cooking skills to draw serious eaters, rather than celeb-gawkers. During the opening weeks, he's been a constant presence in the kitchen, and spends a considerable amount of time in Napa. (Fellow FN personality Tyler Florence is opening a restaurant next door in the coming months).
Here's the lowdown:
– The menu is classic Morimoto. Cold Appetizer: Toro tartare ($25), Tuna pizza ($16), wagyu beef carpaccio ($21). Hot Appetizer: Bone marrow with five sices ($16); beef tartare with asparagus flan ($18); fig tempure with foie gras peanut butter sauce ($16); kakuni, a 10-hour roasted pork belly with rice congee, soy-scallion jus ($15). Entrees: Whole Roasted Lobster, $35; Duck, duck, goose (duck confit, sliced duck breast, frozen foie gras with a duck egg ($36); Angry Chicken ($26), Wagyu beef (up to $56) Sea Urchin Carbonara ($28); Ishi Yaki Buri Bop, yellowtail on rice cooked tableside; 'Pork Chop and Applesauce' with kimchee, bacon and ginger apple puree ($32). Oysters $18 for six. Maki: California roll with snow crab meat ($7); crispy salmon skin roll; eel avocado roll. Soups and Noodles:  Ramen ($14); Tofu Miso ($14), Duck Meatball Soup ($14). Desserts are yawn-worthy.
– You're here for two things: Seafood (especially sushi and sashimi) and the Waygu beef. Morimoto is a notorious stickler about his fish, usually flying in exceptional seafood from Japan. Waygu is a highly marbled, incredibly tasty kind of beef. It's the breed of cattle used for kobe beef, but typically from America (and therefore not allowed to be called Kobe, which only comes from Japan).
– Okay, there's one other thing Morimoto does really well, and that's duck. Duck, Duck, Goose is dish of duck confit, foie gras (there's a ridiculous amount of foie gras on Morimoto's menu), sliced duck breast, and fried rice with a duck egg on top.
– Service is impeccable, if a bit young. We had a parade of servers bringing us dishes, and some seemed undertrained on what they were serving us, though very accommodating. We were also impressed when we couldn't located the foie gras in Duck, Duck, Goose, the dish was whisked away and we received a completely new entree with a plethora of foie gras.
– Overall, the food quality was very good, but not life-altering. Presentation is awe-inspiring, but the taste of of the food just didn't quite live up to what you're seeing. The duck breast was a bit dry, the fried rice uninspiring. Beef belly with congee was a favorite dish, the toro tuna entertaining, and much care was taken with the oysters and sashimi.
– Sound-levels are a huge problem. The glass and concrete make for a noisy echo chamber, and talking quickly turns into shouting at your table mate. The open kitchen/hallway makes for an awkward entrance, as servers spill into the narrow walkway, chatting and blocking the way. Another huge issue are the plastic chopsticks — did anyone realize that oily pieces of raw fish slide off with a "plop" into your soy sauce, with little chance of recovery?
– The hip-factor is fairly intense: Thus far, this is the spot to be seen in Napa. The bar quickly fills up, as does the sushi bar along the open kitchen. Lounge seats are prime real-estate, and you'll see plenty of the valley's movers schmoozing at their tables. So dress the part.  In other words, don't wear the Target pumps.
The restaurant's off to a solid start, but whether Morimoto can continue to control the quality while opening more restaurants and maintaining his existing properties is yet to be seen. As one of my dining companions said, "It's the kiss of death, opening that many restaurants."
Morimoto, 610 Main St., Napa, (707) 252-1600


Subscribe to Our Newsletters!