The predictable story line of the book talk — author stands at podium, clears throat, reads excerpts, then takes earnest questions from the audience — has been given a delicious new twist in Wine Country.
From brewpubs to restaurants, groups of literati are gathering with their favorite authors over an inspiring glass of wine and a multicourse meal themed to the book at hand.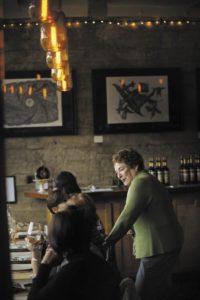 "It's more intimate than going to a store," said Book Passage events director Karen West, who schedules more than a thousand author events each year across the North Bay, "It's a warmer experience."
This spring, the Spinster Sisters restaurant teamed up with Book Passage of Corte Madera to launch a new "Dining with Writers" series at the Santa Rosa dining spot. "Under Magnolia" author Frances Mayes premiered the series with a dinner in April; a lunch followed in May with Ruth Reichl, author of "Delicious!"
"It's different to put together an entire meal," said Giovanni Cerrone, manager at the Spinster Sisters. "You're creating a journey that parallels the story-telling of the author."
The "Dining with Writers" events cost approximately $95, including meal, tax, tip and dessert. Authors generally speak for 20 minutes, then break bread with about 50 guests. Between courses, they talk some more, then sign their books.
"With the vineyards (in Sonoma), it's a natural tie-in to food and wine books," West said. "But in the fall, we hope to open it up to a novelist or a poet."
For more information or to reserve a spot, call 415-927-0960 or visit bookpassage.com.
From ho-hum to delicious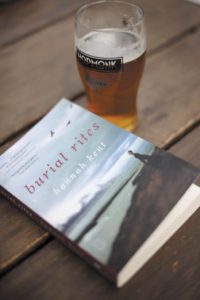 Copperfield's Books, with stores in seven North Bay cities, has served as a pioneer in reinventing the book event from ho-hum lecture to moveable feast.
"What we're trying to do is take the food-and-wine focus of our region and build it into our events," said Vicki DeArmon, Copperfield's marketing and events director.
One of the biggest hits is "Dinners to Die For," a fall series that brings in murder-mystery authors such as Elizabeth George and Michael Connelly. The big-name authors attract up to 150 guests to a three-course dinner and talk at Equus at the Fountaingrove Inn in Santa Rosa.
During a scaled-back "Dinners to Die For" series this summer, Copperfield's in Montgomery Village in Santa Rosa has invited mystery authors to talk at the store, preceded by an optional dinner at Monti's Rotisserie. Jeff Abbott, author of "Inside Man," can be your dinner date on July 15, followed by a free talk at the store at 7 p.m.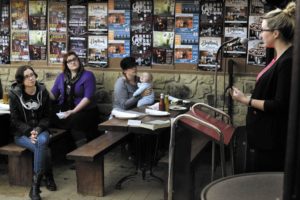 The Equus events cost $75, including dinner and a book; guests must purchase a book and pay for their dinner at Monti's.
Copperfield's monthly "Debut Brews" series highlights rising young authors in the beer garden at HopMonk Tavern in Sebastopol. Pale ale and book lovers can enjoy a cold one with Edan Lepucki, author of "California," on July 29.
For more information or to reserve a spot, email events@copperbook.com or visit copperfieldsbooks.com.