Among the harbingers of winter – the glimmering lights and garlanded trees, the glow of candlelight and the smoky warmth of a fire – is the cool briny sweetness of Dungeness crab, a West Coast indulgence as essential to the holiday season as the tickle of sparkling wine. 
Commercial crab season usually opens in mid-November. Stormy weather can stall kick-off, but a more common delay comes when wholesalers and crabbers can't agree on the dock price; a difference of as little as 10 cents per pound can keep crab off the Thanksgiving table. It's a time of year when crab lovers hold their collective breath.
This year could be tricky, experts say, as it is the bottom of the crab's natural five- to seven-year reproductive cycle and there simply won't be a lot of them to catch.
Yet no matter what phase the crabs are in, as opening day approaches, Bodega Bay is abuzz with activity. At night it comes alive, with illuminated trollers rocking gently on the water as pots are repaired and stacked, and all the tools of the rugged trade put in place.
Crab pots can be baited and lowered 18 hours before the official opening of the season, so boats make their first journey from the Port of Bodega the day before, sometime before dawn, when the seas are calmest. They head out past the rocky shallows into the open ocean to their captains' favorite drop spots. Soon, it is the most exciting and telling moment of the year, the first pull, when the season's abundance or lack of it is revealed.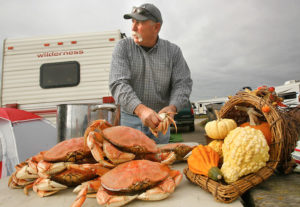 "The first pull is almost always the best," says Dave Legro of the fishing vessel Bumblebee. "This year, there will probably be two good pulls, with 20 to 25 crabs per pot in the first and maybe 18 in the second. After that, it will plummet. It's a down year."
Legro, a former detective sergeant with the Sonoma County Sheriff's Department who retired in 2004, has been fishing commercially since 2002. He is the face of both wild Pacific King salmon and Dungeness crab at local farmers markets, and is the go-to guy for special seafood orders and the real skinny on what is happening in our own harbor and throughout the Bay Area's fisheries. Retired or not, his detective skills are finely honed.
He will happily explain the grades of crab – "cripples" are small, with missing legs and claws; "select" are mixed sizes; "premium" are bigger and more evenly sized. Most retailers don't post grade. He will tell you who is and isn't taking out their boats, and offer tips on how to catch crab without a boat. Head to the pier at Dillon Beach, he says, with a baited snare box. You can take 10 crabs a day; all that's needed is a valid California sport-fishing license.
Although Legro recently sold his crab license – his operation, with just 150 pots, was too small to be financially viable; you need at least 350 to 500 pots to earn a living – he remains one of the best sources for the freshest crab. He buys from fellow fishers, right off the boat.
Many other popular direct-to-consumer sources have vanished. Legendary "Crabby George" no longer sells from the back of a truck on Eastshore Road. No one sells retail off their boats anymore, thanks to the cost of liability insurance and the thefts that were a result of the unlocked dock gates.
Still, our Dungeness crab industry thrives. According to Paul Johnson of Berkeley's Monterey Fish Market and author of "Fish Forever" (Wiley & Sons, 2007), the Pacific Coast Dungeness crab fishery is the most sustainable fishery in the world. Only males are taken; environmentally friendly crab pots have escape rings that allow undersized crabs to exit easily, and size is carefully monitored.
"Crabbers must check size," Legro emphasizes, "because (the state Department of) Fish and Wildlife never gives anyone a break. Ever. And they check."
Commercially caught crab must have hard shells that measure a minimum of 6 1/4 inches across; sport-caught crab must measure at least 5 3/4 inches.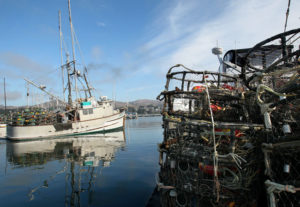 Even in a down year, it is entirely possible to savor local Dungeness crab. Just don't wait. There should be plenty for Thanksgiving and probably enough for Christmas and New Year's Eve, too. By the new year, there may be crab from more northern fisheries, but likely not from home.
Bringing Home the Crab
For crab direct from Bodega Bay, head to Spud Point Crab Co., where Tony Anello and Rich Franceschi sell it live from a little shack in front of the cafe. Inside, Tony's wife, Carol, sells cooked crab caught from their own boats, along with her famous clam chowder, crab cakes and crab sandwiches.
If it's not possible to get to the coast, find Dave Legro or one of his children at the Santa Rosa Farmers Market on Saturday and the Sebastopol Farmers Market on Sunday.
Mike Svedise's Santa Rosa Seafood attends the Redwood Empire Farmers Market on Saturday and Sunday and the Windsor Farmers Market on Sunday. The store on the edge of downtown Santa Rosa is open Tuesday through Saturday.
Svedise, whom Dave Legro credits with teaching him almost everything he knows about crabbing, operates his own fishing vessels and buys directly off the dock. He can hold up to 4,000 pounds of crab in his live tanks and, when he cooks crab, he's careful to keep the water at a gentle simmer.
"If crab is cooked at a hard boil, its fat is released and the meat is dry," he says.
Svedise cooks large batches of 100 to 150 pounds for 26 to 28 minutes. At home, he cooks enough for himself and his family for 15 to 16 minutes, as most experts, including Legro, recommend for the most succulent results. It is also essential to cook the crab in heavily salted water.
G & G Market in Santa Rosa sells up to 20,000 pounds a week of both live and cooked crab. In Healdsburg, Big John's has cooked crab from The Tides in Bodega Bay and the market is happy to order live crab. A few days' notice is always best, but orders placed early on a weekday morning can generally be filled by that afternoon.
Everyone who understands crab offers a warning: Reject cooked crabs with loose legs and claws. Healthy crabs that have been cooked live have legs and claws tight against their bodies. Loose limbs indicate the crab was dead when it was cooked; it will likely have a bitter taste and, possibly, mushy meat. Similarly, reject crabs with spongy or cracked shells, or shells with barnacles attached.