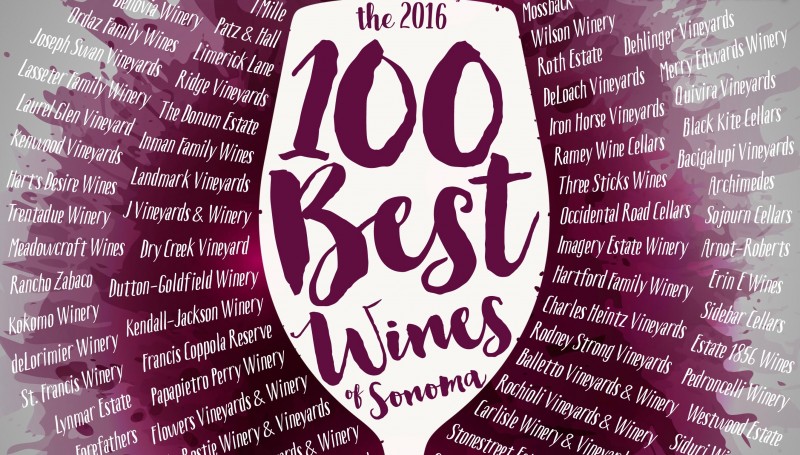 METHODOLOGY NOTE
Sonoma wine critics Virginie Boone and Linda Murphy selected the Top 100 Wines from their extensive tastings and winery visits throughout 2016, and considered 95-point-and-higher scorers at The Press Democrat 2016 North Coast Wine Challenge (which Boone and Murphy helped judge).
Boone is a frequent contributor to Sonoma magazine, and the Sonoma and Napa critic for Wine Enthusiast magazine. She is a former Press Democrat wine writer, and contributes the LikeWine feature for Sonoma magazine. Murphy, Sonoma magazine's managing editor, was the founding editor of the San Francisco Chronicle's wine section, contributes to Decanter magazine and Food & Wine magazine's annual wine guide, and is a wine consultant for Air New Zealand.
Only wines produced from Sonoma County grapes, by wineries located in the county, were eligible for the Top 100. Diversity in price, varietal and geography were important factors in determining the list. Sonoma magazine could have easily come up with a Top 300, so high is the quality of the local vino.
All Top 100 Wines were released in 2016, although some may no longer be in the marketplace. If you have difficulty finding a wine, contact the winery's tasting room for availability. Also consider purchasing a newer vintage of the wine, as the 2013, 2014 and 2015 harvests were spectacular throughout Sonoma.
Note: Initials after each wine description are for reviewers Virginie Boone (VB) and Linda Murphy (LM).
Wines produced in Sonoma County, from Sonoma County grapes, are legally required to include "Sonoma County" on their labels.
For brevity, "Sonoma County" has been omitted from the wine names.