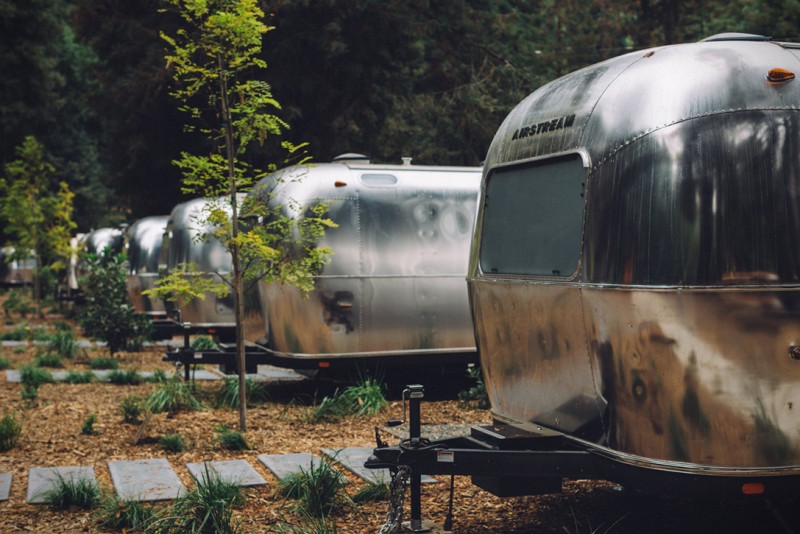 Camping always sounds like a good idea – until you get to the site and try to set up your tent on ground that's harder than concrete, you realize you forgot your sleeping bag and, after a ten-mile hike, you really want a shower. If you'd like to add a little luxury to your next outdoor adventure, here are three "glamping" (glamorous camping) destinations in Sonoma County that will do the trick:
AutoCamp Russian River – Guerneville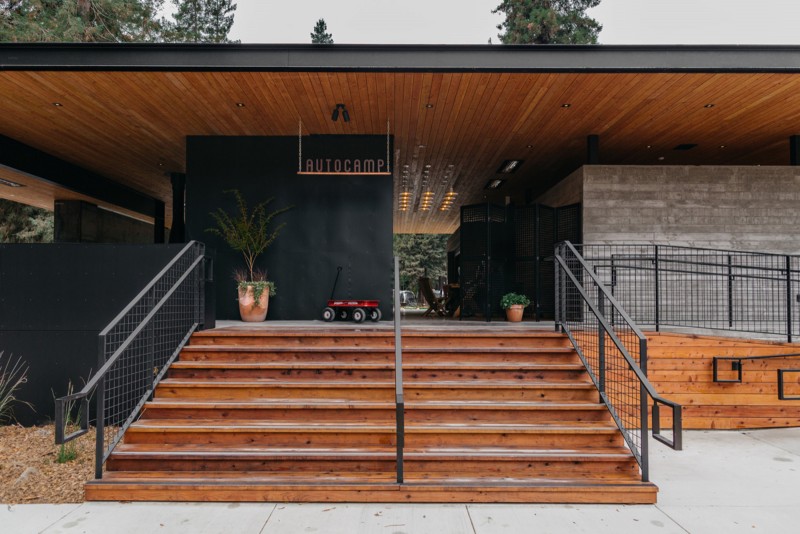 The first hint that you've not arrived at a regular campground when staying at AutoCamp in Guerneville is this midcentury modern contemporary clubhouse and reception. Whether you've chosen to stay in a luxuriously appointed Airstream trailer, designed by Dan Weber Architecture, or one of the luxe tents, everything you need – from wine to s'mores kits – is available here.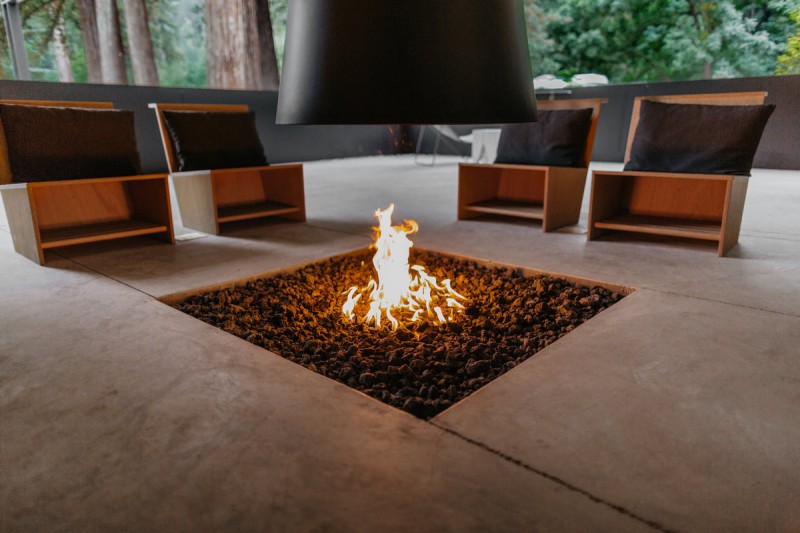 With a fire pit like this communal one, there's no need to try to build one outside in the cold air – and each Airstreamer and luxe text is equipped with a private pit.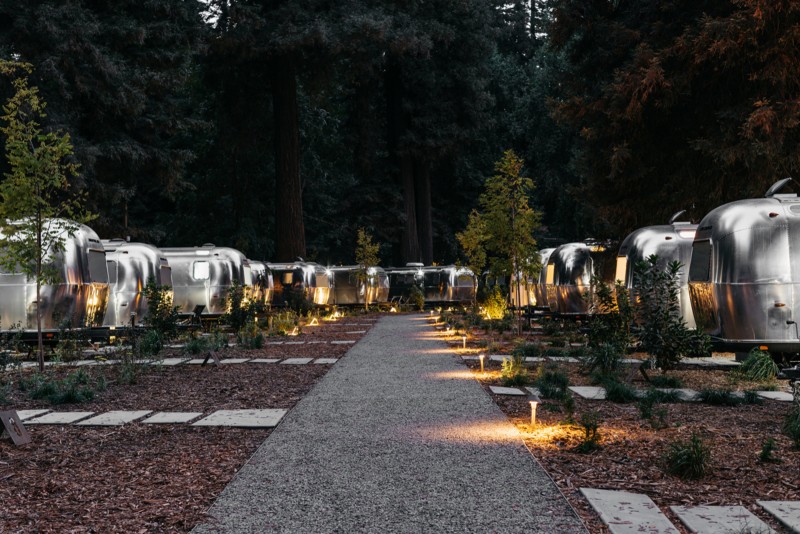 AutoCamp Airstreamers come with a private patio, beds with hotel quality linens and a bathroom with fluffy bathrobes and Malin+Goetz luxury beauty products.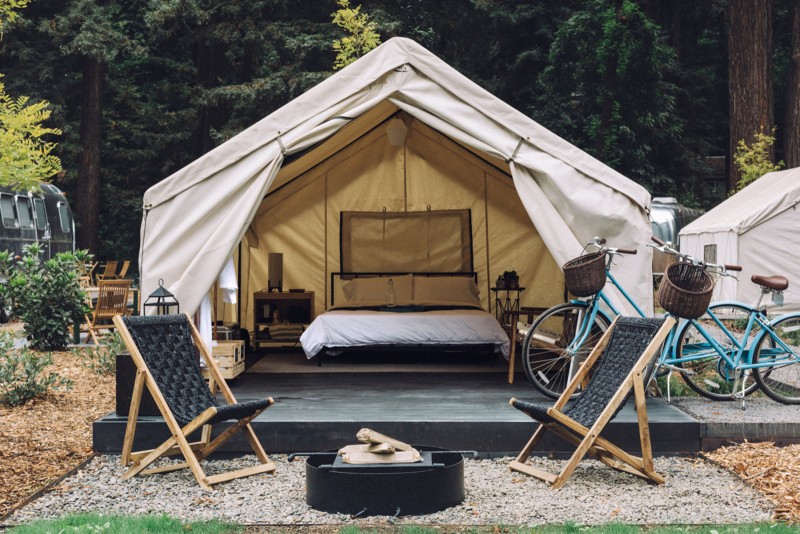 If you choose to stay in the AutoCamp tents, you'll have to use the bathrooms in the clubhouse, but you'll still have lighting, a patio complete with fire-pit, and a comfortable queen-size bed to sleep on.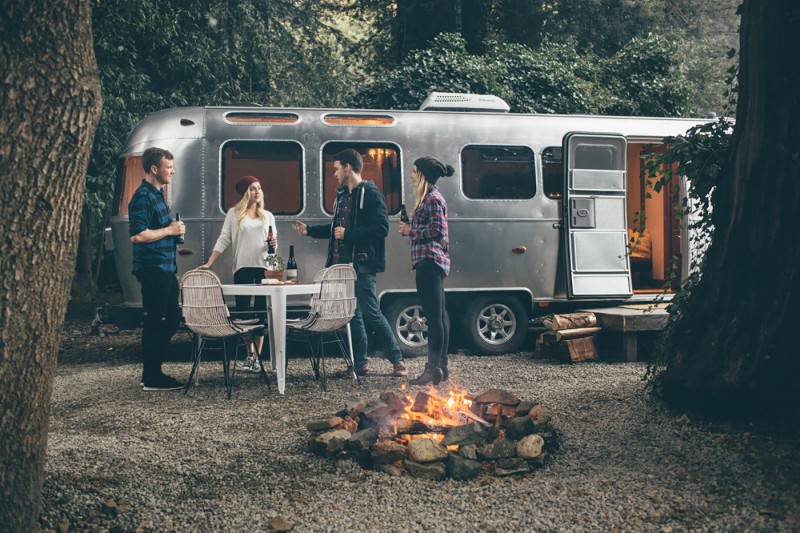 The setting of the AutoCamp campsite lends itself to a weekend reconnecting with old friends, or making new ones. If you get tired of cooking your own meals, you can head a mile down the road to Boon Eat + Drink  in Guerneville for some hip, seasonal California cuisine.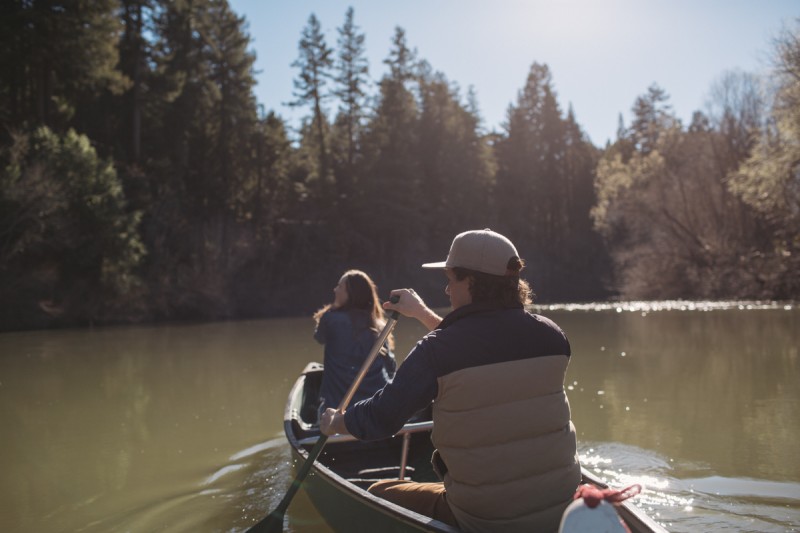 If adventure is on your list, the Russian River is less than a mile away. Spend an afternoon canoeing, hiking, or exploring the river area. AutoCamp also has bicycles if you'd like to venture a little further.
AutoCamp Russian River, 14120 Old Cazadero Road, Guerneville, 707-604-6103, autocamp.com


Safari West – Santa Rosa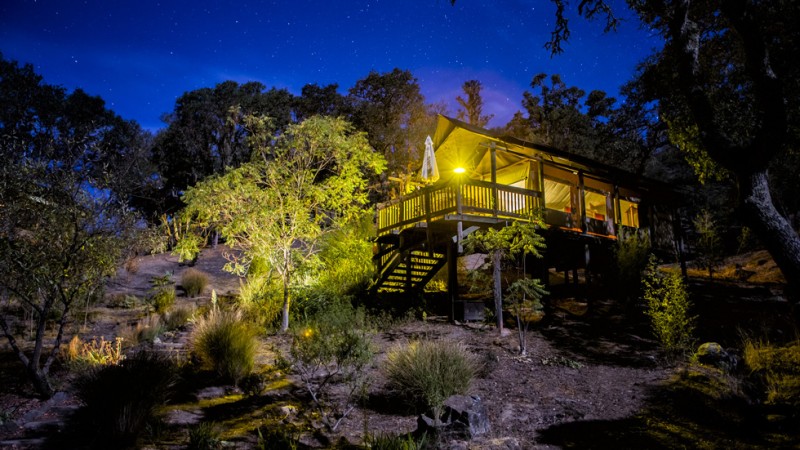 Often referred to as "Sonoma Serengeti," Safari West bills itself as an "African adventure in the heart of California wine country." This wildlife preserve is not only host to herds of exotic animals, it also comes with a a selection of luxury tents for the ultimate glamping experience.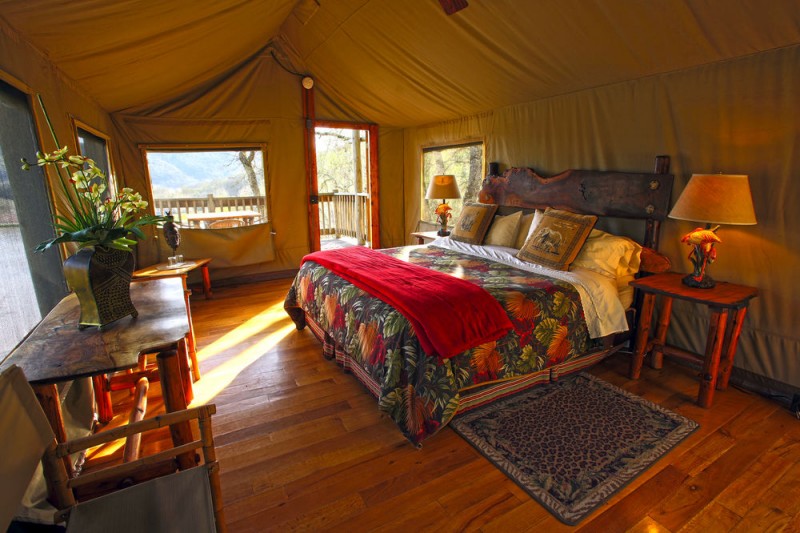 While the Safari West tents have canvas walls, the inside resembles a luxury hotel room in every sense with polished wood floors, private bathrooms and custom wood furniture. The rates are seasonal and range from $260 to $425 – well worth it for a once in a lifetime experience.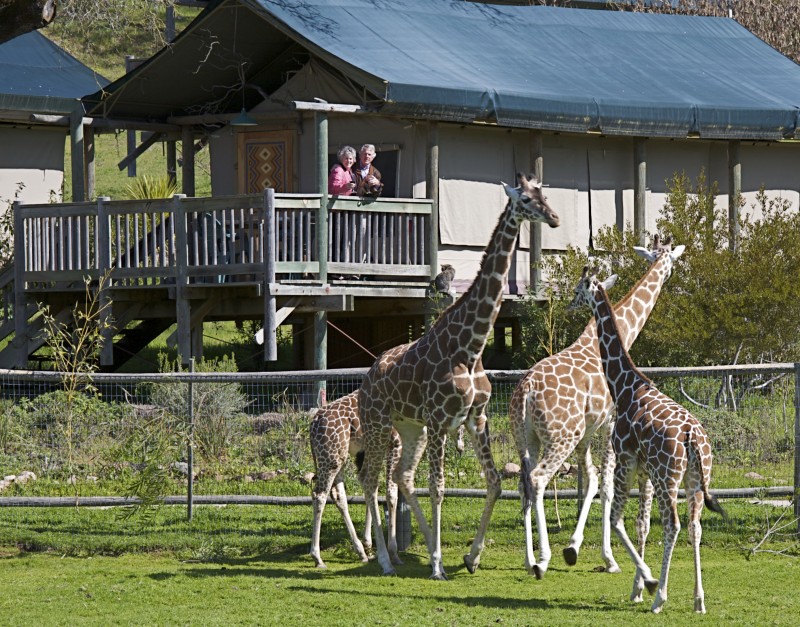 After a restful night's sleep, spend the morning watching the animals as they start their day. At Safari West, you'll be staying in an environment closely resembling the animals' natural habitat in Africa. This is the kind of wildlife experience you'd want when camping – beautiful wild animals within close proximity, but not in your tent!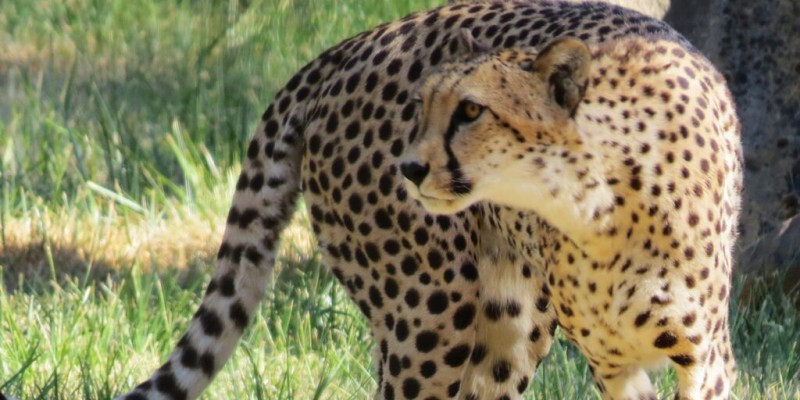 Some of the animals can get a little noisy at night, especially the flamingos and the Sirus crane, but give it just a little time and you'll soon find the wildlife sounds soothing.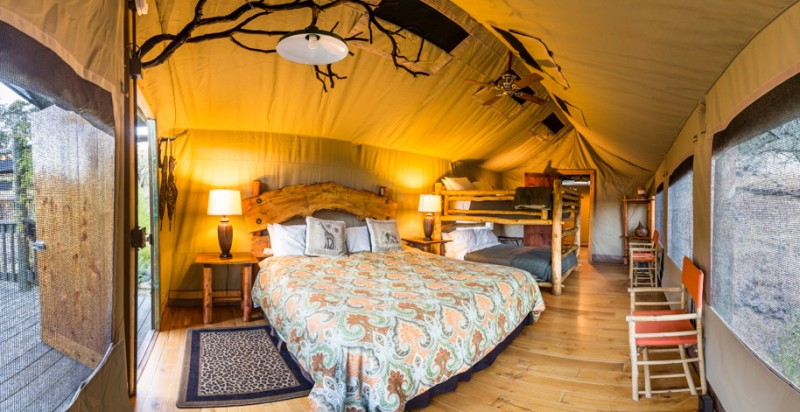 To add an extra pinch of luxury, schedule a Swedish massage with pressure point therapy in the privacy of your luxury tent. A one-hour massage is $100.00, a 90-minute massage is $150.00 – the experience is priceless.
Safari West, 3115 Porter Creek Road, Santa Rosa, CA 95404, 707-579-2551. safariwest.com


Cloverdale KOA's Deluxe & Luxury Lodges – Cloverdale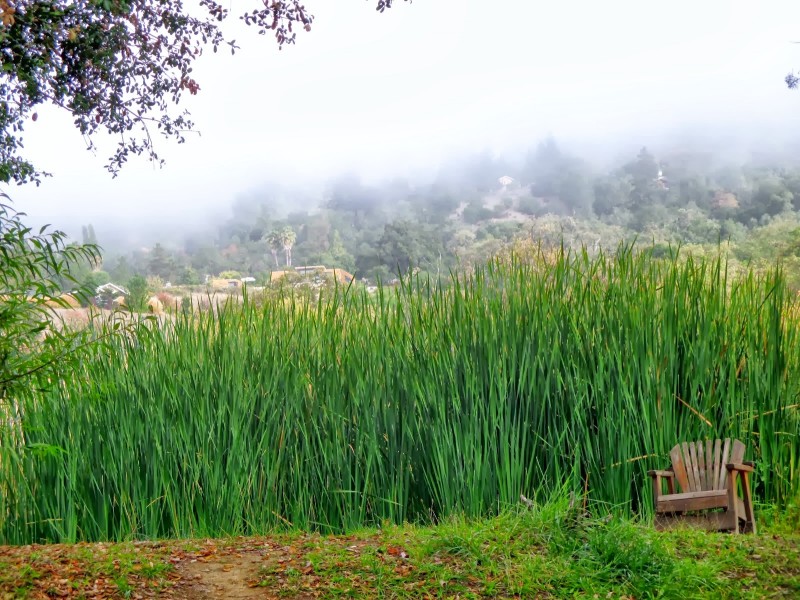 If you're into camping, but your partner wants something a bit more civilized, the Cloverdale KOA offers the best of both worlds. There's the beauty of Sonoma County all around, and you can choose to stay in your RV, pitch a tent, or stay in a 'luxury cabin'. However you choose to stay, the amenities will include a hot tub and sauna, bike rentals, Wi-Fi, snack bar, and mini golf.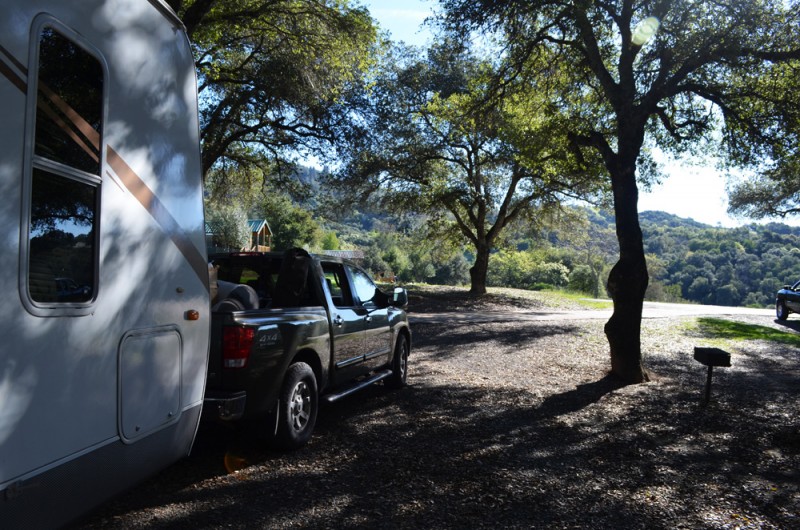 The KOA campground is sizable, allowing you to keep the distance for a truly private retreat.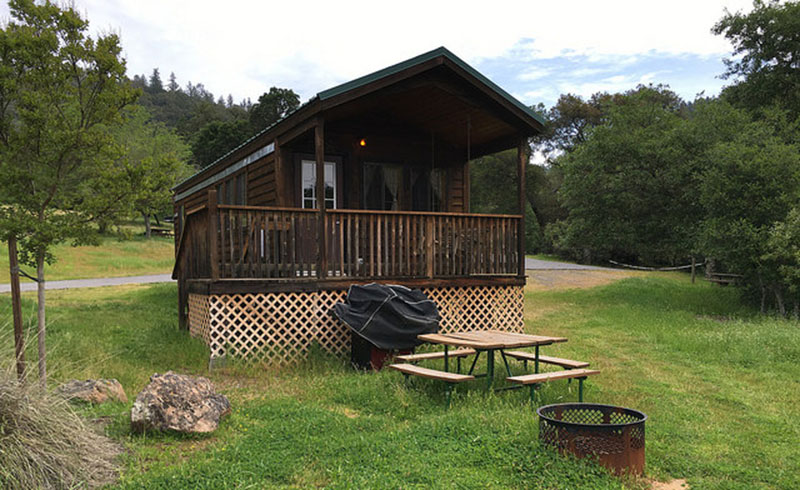 If you don't have an RV, the Cloverdale KOA offers deluxe cabins where you can relax in style with a large separate deck, fully equipped kitchen, bath, master bedroom, bunk beds, screened in porch with a swing, fire pit, and BBQ. This is a home away from home in Sonoma County nature.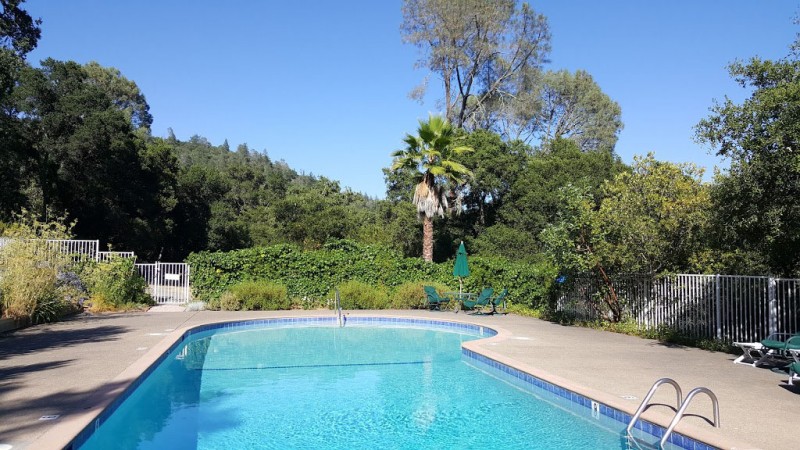 If you're worried about falling behind on your fitness routine, the Cloverdale KOA has s pool where you can do laps, or just relax if the weather's right.KOA's Deluxe & Luxury Lodges, 1166 Asti Ridge Road, Cloverdale, CA 95425, 707-894-3337. koa.com
Looking for more things to do in Sonoma County? Click here